11 Years Later, These Are Still Some of the Best 'Jersey Shore' Quotes
Over the last 11 years, the 'Jersey Shore' roommates have given fans so many quotes and catchphrases. These are some of the most memorable.
On Dec. 3, 2009, MTV introduced the world to Jersey Shore. Now, 11 years later, the roommates are still going strong with Jersey Shore: Family Vacation. To celebrate the anniversary of this iconic reality series, these are some of the most memorable Jersey Shore quotes.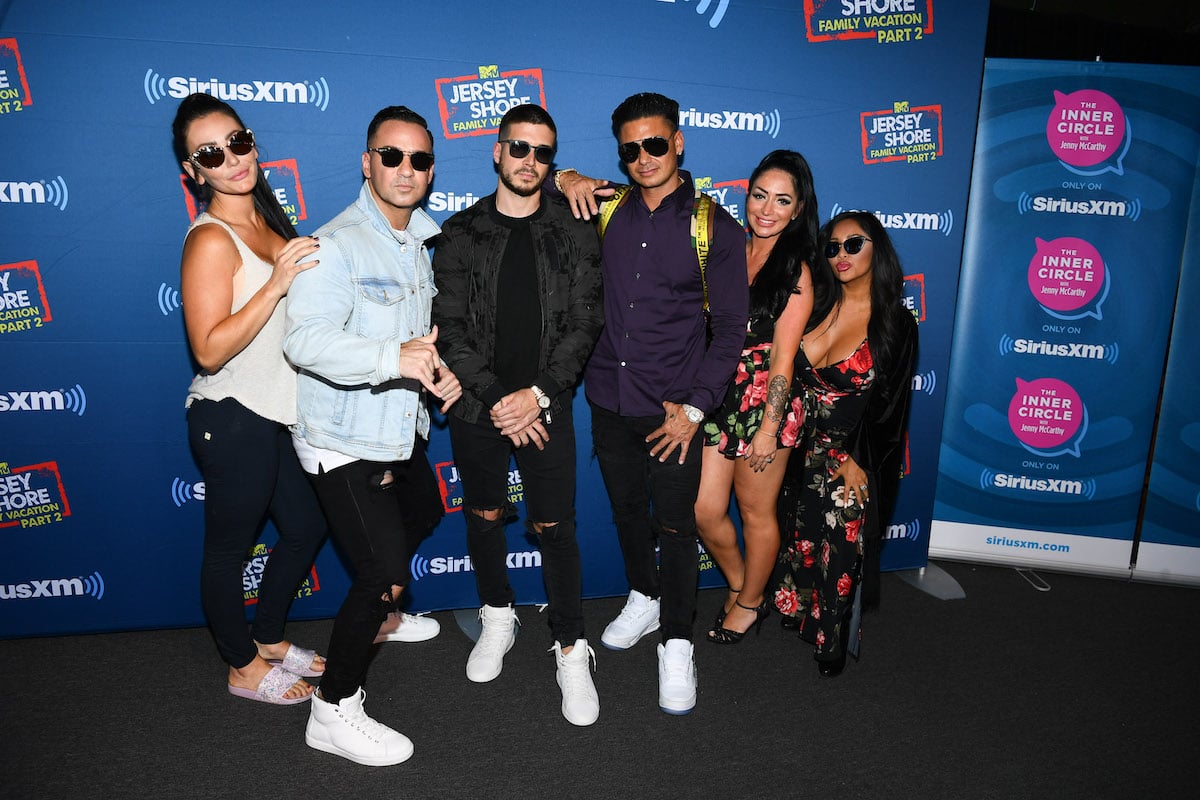 'Um, hello!?' — Angelina Pivarnick
Angelina Pivarnick didn't make the best impression on her roommates in season 1 or 2 of Jersey Shore. Now, 11 years later, she's considered part of the family on Jersey Shore: Family Vacation. Despite Pivarnick's lack of a presence for a majority of Jersey Shore's time on television, there is one quote any fan can identify Pivarnick by — "Um, hello?!" 
She uttered those words when Mike "The Situation" Sorrentino and Pauly DelVecchio welcomed a swarm of women into their shore house hot tub. In a heated conversation about Sorrentino and DelVecchio's actions with Ronnie Ortiz-Magro, Pivarnick yelled: "Um, hello?! Are you stupid?" Her quintessential quote still plays during the show's title sequence. 
'You stalked my whole life on the boardwalk' — DJ Pauly D
For many of the men on Jersey Shore, summers in Seaside Heights, New Jersey were about hooking up with women. DelVecchio certainly felt that way until he met a woman named Danielle. 
At first, it seemed like the two might explore a relationship. But when DelVecchio dubbed her a "Stage 5 Clinger" who wanted a commitment, things changed.
After Danielle gave him a shirt that read "I Heart Jewish Girls" and talked about going to Israel, DelVecchio changed his tune. And when Danielle called the shore house inquiring about DelVecchio's whereabouts, he gave fans another iconic Jersey Shore line: "You stalked my whole life on the boardwalk." 
As Sammi "Sweetheart" Giancola, Vinny Guadagnino, and Sorrentino enjoyed sausage and pepper sandwiches on the couch, DelVecchio was ending things with Danielle.
"It's my turn to talk yet?" is another close contender in terms of iconic DelVecchio quotes, but "You stalked my whole life on the boardwalk" speaks volumes.  
'Where's the beach?' — Nicole 'Snooki' Polizzi
No Jersey Shore quote roundup would be complete without this gem from Nicole "Snooki" Polizzi. She showed up to Danny Merk's Shore Store after a night of partying and certainly not ready to work. Naturally, Polizzi nursed her hangover the only way she knew how — with more alcohol. She snuck into the back of the T-shirt shop to funnel a beer, then left to do shots at a boardwalk bar. 
Polizzi's drinking continued well after her shift. Luckily, Jenni "JWoww" Farley and Deena Cortese showed up to help Polizzi out. But they couldn't stop her from sprinting across the boardwalk and asking random passerby, "Where's the beach?" 
'Yeah buddy' — Pauly DelVecchio
It's imperative that DelVecchio make the quote list more than once. Considering how often he repeats himself, it's hard not to quote DJ Pauly D. "Yeah buddy" has become more than a catchphrase — it's a way of life. 
Not only does "Yeah buddy" apply when you agree with someone. The saying applies in virtually any capacity, whether you're excited about something or you simply want your presence to be known. DelVecchio's other catchphrase, "Oh yeah!" also works in a similar way.