13 Celebrities Jimmy Fallon Has Impersonated Over the Years
Jimmy Fallon is known as one of the most talented mimics to come out of  Saturday Night Live.  And over the years, he's taken on a number of legendary politicians, Hollywood stars, and musicians. From Adam Sandler to Mick Jagger, here are 13 famous celebrities Fallon has impersonated.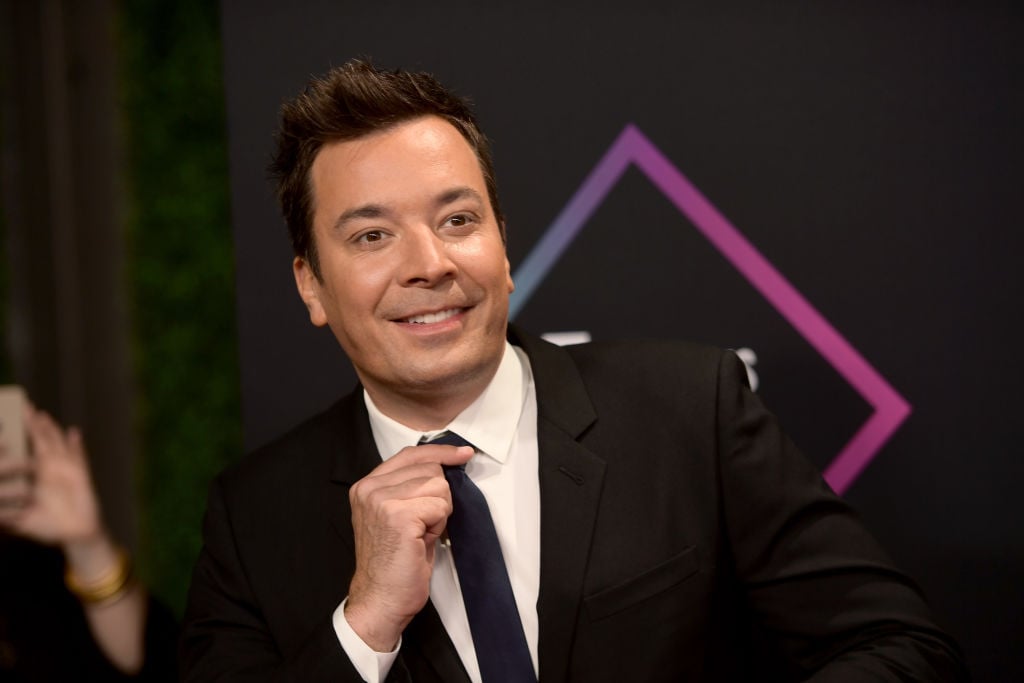 Adam Sandler 
By now, fans have seen Fallon do various impressions of his SNL co-star, Adam Sandler. But he was impersonating the comedian long before that. In fact, during his audition, he did a spot-on emulation of Sandler, which ultimately landed him a spot on the series. 
In 2019, when Sandler returned to host SNL, Fallon returned to impersonate him in a sketch called "Sandler Family Reunion." Other SNL stars, including Kristen Wiig,  Pete Davidson, and Kenan Thompson also joined in to play various Sandler movie characters. 
Jerry Seinfeld
One of Fallon's most iconic moments on SNL was his Weekend Update impersonation of comedian Jerry Seinfeld. Seinfeld, who was hosting the show that week, joined Fallon in a bit titled, "Jerry and Jerry." In the short sketch, the two Jerry's debate campaign finance reform and the Gap's emerging fashion trends. 
RELATED:  '23 Hours to Kill' Trailer: Jerry Seinfeld on Why It's Ok If Your Life Sucks
Mick Jagger 
Fallon's impression of The Rolling Stone's frontman, Mick Jagger, is known as one of his funniest. In a 2001 episode, Fallon joined Jagger in a skit where the rock legend is talking to himself in the mirror. The two Jaggers hype each other up and make up a song about pointing fingers.
Donald Trump 
Similar to his SNL skit with Mick Jagger, Fallon did another mirror bit with Donald Trump on The Tonight Show. The episode aired ahead of the 2015 Republican Presidential debate. And in it, Trump and Fallon both talk themselves up, calling each other "geniuses." 
Barry Gibb
Justin Timberlake and Fallon are known for their bromance and their incredible comedic chemistry. One of their most memorable running sketches on SNL is "The Barry Gibb Talk Show." In the sketches, Fallon impersonates Bee Gee's singer, Barry Gibb, and Timberlake plays his fictional brother, Robin. 
Justin Bieber, Sting, and Russell Brand 
When Fallon hosted SNL's Christmas episode in 2012, he made a digital short with musical guest Michael Bublé. In the video, which is meant to be a promo for Bublé's Christmas album, Fallon appears as music legend Sting, comedian Russell Brand, and dancing popstar and heartthrob, Justin Bieber. 
Michael Bublé, Alan Rickman, Pitbull, Van Morrison, and Harry Styles
In 2013, Fallon hosted SNL once again for their Christmas episode. He created another holiday album digital short, in which he emulated a number of celebrities. In the video, alongside co-stars Jay Pharoah and Kate McKinnon, Fall does hilarious impressions of Michael Bublé, Alan Rickman as Professor Snape, Pitbull, Van Morrison, and pop star Harry Styles.

RELATED: How 'Saturday Night Live' Has Changed Throughout the Years