'13 Going on 30′ Put a Lot of Meaning Into Jenna's Wardrobe
The '00s flick '13 Going on 30' still resonates for audiences today. Those who loved it back then will enjoy learning about some of the Easter eggs in it.
This iconic movie 13 Going on 30 remains a cult classic. Starring Jennifer Garner, Mark Ruffalo, and Judy Greer, the film about a teenager who wakes up in an adult body struck a chord with many. As it turns out, in making this movie, the producers and costume designers took this tween thinking and lessons learned to a whole new level. You may not have noticed before, but there's a lot of meaning behind Jenna Rink's wardrobe. And it says so much about those formative years.
How '13 Going on 30′ reflected characters through their clothes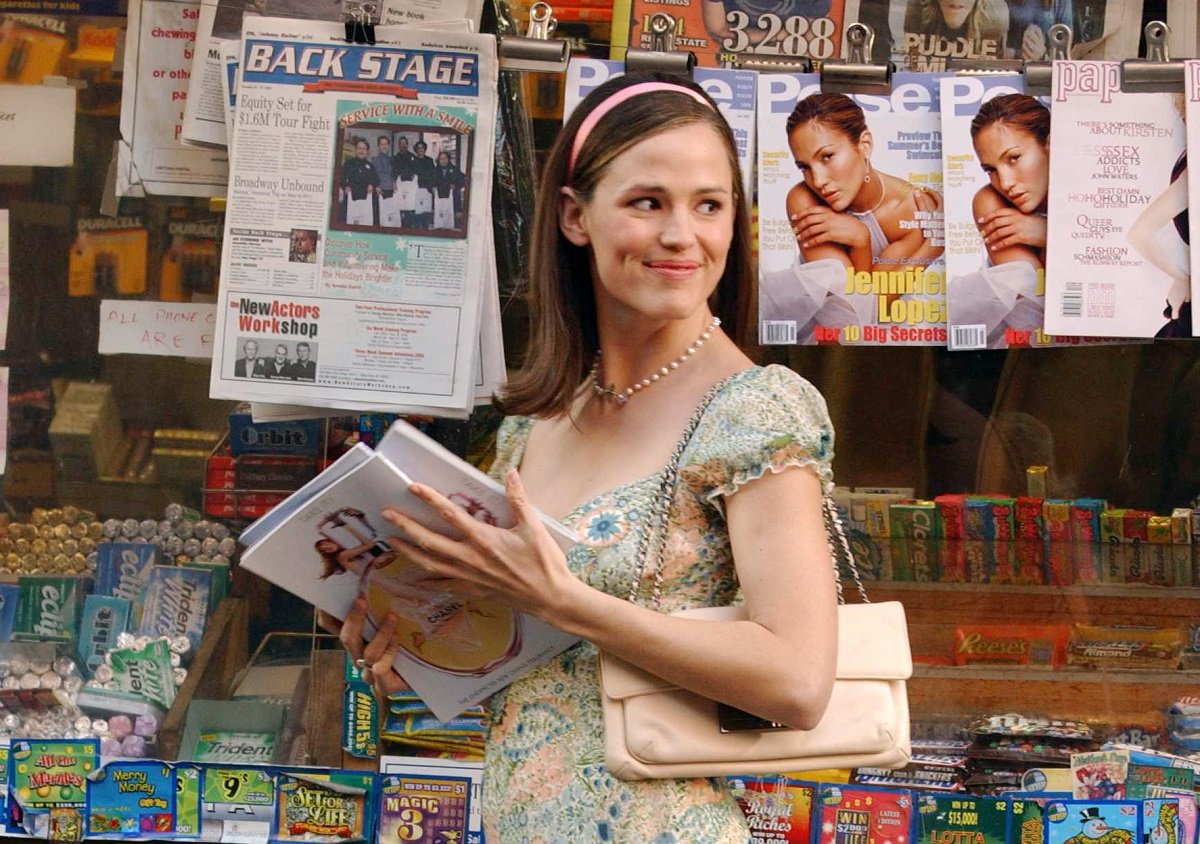 The costume designer on set for 13 Going on 30, Susie Desanto, talks about the deeper meaning behind the casts' wardrobe selections. Insider shares that, according to the documentary Making of a Teenage Dream, a lot of thought went into choosing ensembles that best represent each character's growth and maturity. Each decision would lend more credibility to each role's personality throughout the over-arching narratives.
For example, Jenna Rink's closet is full of soft fabrics, pinks, and pastels, representing what a 13-year-old Jenna would like. Lucy's wardrobe, alternatively, is more stark colors like reds and blacks, supporting her "cutthroat tendencies." Desanto says that Jennifer Garner's character has a lot of changes to go through. And her chosen costumes play a direct role in supporting those changes and "telling that story."
Some items followed Jenna into her adult transformation
Some of Jenna Rink's items follow her into adulthood, where Jennifer Garner assumes the role, as MsMojo points out in a video. In a recent roster of "details you missed" in your favorite teen movies, this Easter egg might have gone unnoticed. Some of Jenna's things she carried over into her adulthood transformation include her eye mask. It looks an awful lot like the blindfold used at her 13-year-old self's birthday party.
Additionally, the magazine cover living room Jenna admired as a teen looked remarkably similar to her 30-year-old self's adult living room setup. These details were intended to remind audiences of the similarities between the younger and older versions of Jenna.
The dress became iconic, transcending time
Fans of the film remember the scene where Jennifer Garner receives a compliment on her dress while riding in an elevator with a young girl. Jenna grabs her chest enthusiastically, sharing how she's finally able to "fill it out." That scene is notably a favorite for fans. And the dress she wore continues to live on in infamy.
With the early '00s coming back into fashion, the dress took on its own renaissance. Christa B. Allen, who played young Jenna Rink in the film, turned 30 in 2021. In honor of the occasion, she donned the dress, recreating a scene from the movie.
It's not just the stars of 13 Going on 30 who show it love. Ariana Grande paid homage to the film in her "Thank U, Next" music video back in 2019. Years later, she wore the dress during an episode of The Voice while serving as a coach during season 21.