13 Shows Like 'The Bachelor' for Fans of the ABC Reality TV Series
Fans of 'The Bachelor' on ABC should consider these 13 shows.
When The Bachelor premiered in 2002, no one could have predicted how much it would set the stage for the future of reality TV. Sure, there had been dating shows for decades, but The Bachelor brought a kind of close intimacy and ongoing drama that kept fans glued to the screen week after week. 
The general premise of the show is deceptively simple. One single man will get to know a pool of women who are hoping he'll choose them as the lucky lady to get a proposal at the end of the series. In each episode, a woman (or sometimes more if there's a surprise twist) is eliminated, whittling down the participants until only one is left standing. 
The show proved so popular that there have been many spinoffs and even more shows trying to capture similar magic and appeal for the same audience. Fans of the series should definitely check out these other shows like The Bachelor.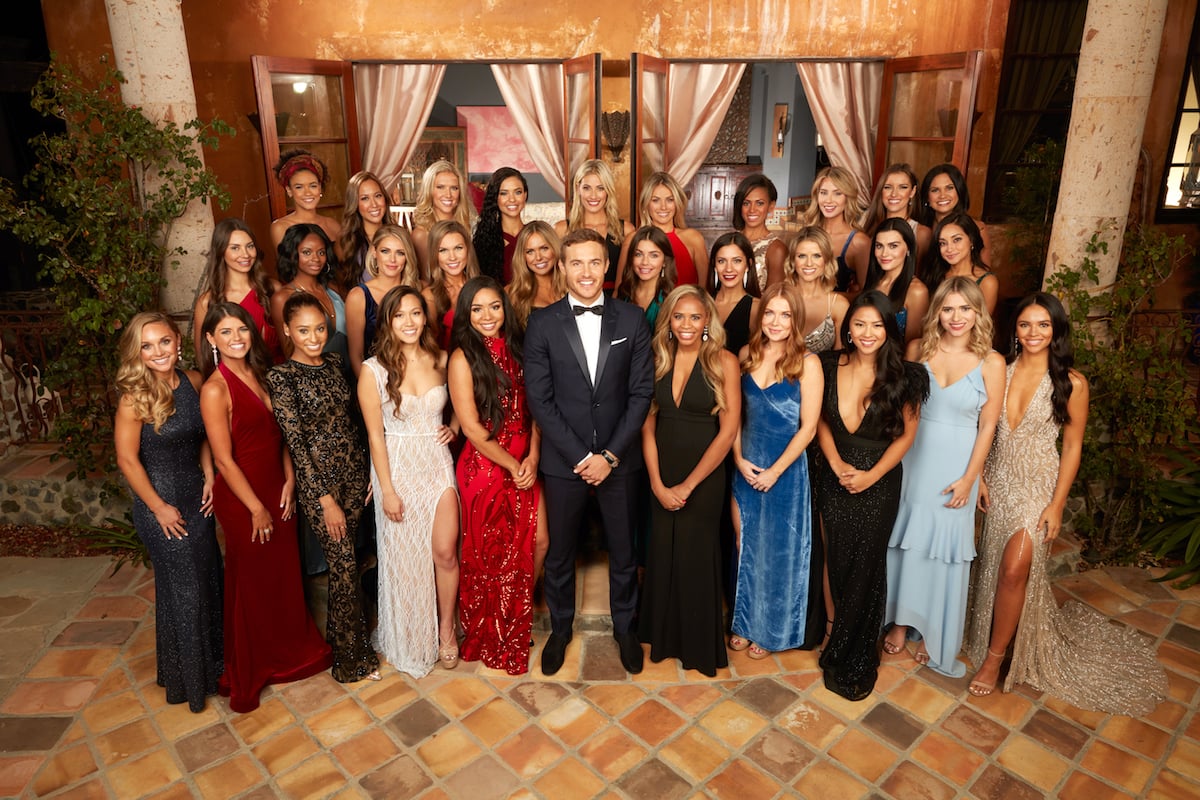 'The Bachelorette' 
Perhaps the most obvious choice for fans of The Bachelor who can't get enough is its spinoff series, The Bachelorette. As the title suggests, the show takes the same premise as the original but swaps the roles. This time, it's one single woman who has a cadre of hopeful men vying for her undying affection.
The show originally premiered on the heels of its predecessor in 2003 on ABC. It had a short run before wrapping up in 2005, but then it returned in 2008. To date, 16 seasons have come and gone. Season 17 is currently airing, and Season 18 has been announced. 
Fans can watch current episodes as they air on ABC. Previous seasons are available to stream on Netflix and Hulu. 
'Too Hot to Handle'
It didn't take Netflix long to realize that reality TV was a lucrative and popular genre, and they've come out swinging with competition for the primetime networks. Too Hot to Handle ups the ante on the steamy nature of these close quarters reality series.
Ten hot singles are lured into what they think is going to be a "sexcation," but when they get there, they find out the twist. They can't hook up. Even a kiss will cost them when it comes to the coveted prize money. Who can resist? 
Seasons 1 and 2 are available on Netflix now, and it has been renewed for a third season. 
'Bachelor in Paradise'
The Bachelor and The Bachelorette leave a lot of broken hearts in their wake. For every hopeful contestant that gets picked, there are many more who get sent packing. Bachelor in Paradise offers those sulking singles another shot at love — this time in an exotic locale in secluded Mexico. Previous contestants are given the chance to fall for one another in a series that follows the elimination-style format of the original to keep the suspense going. 
The series premiered in 2014 and has run for six seasons. In June 2021, it was announced that Season 7 would bring in a rotating set of new hosts. New episodes air on ABC. Fans can stream it on Hulu. 
'Back with the Ex'
If the part you like the most about The Bachelor is the tense dynamic between the potential couple as they near the finish line, then Australian reality show Back with the Ex is an excellent choice as your next binge-watch. The show's single season spans seven episodes, making it long enough to get into the juicy details of the couples' former and potential future lives together but not so long that you'll be overwhelmed by the commitment. Watch four couples decide if they want to rekindle old flames or douse them with water for good. Stream all episodes on Netflix. 
'Love Island' 
If what you like most about The Bachelor is the interplay and competition between the participants, then Love Island will put those nefarious elements on overdrive. In this show, 10 singles are brought to a gorgeous villa where they're expected to couple up.
The chance to "re-couple" and pick someone else periodically arises, and those who fail to find a partner will be eliminated. Likewise, the public can vote off those who they dislike, so couples need to make sure they're pairing up in a way that rings authentic as they're under constant surveillance, and someone who is just after the prize money likely won't win much favor with the viewers. 
The British show is a reboot of an earlier version. The current iteration is in its seventh season. An American version of the show is airing on CBS and has completed two seasons with the third kicking off July 7, 2021. The U.K. version is streaming on Hulu. 
'Siesta Key'
A major appeal of these reality TV shows is getting the chance to see relationships deepen over time. Siesta Key takes that concept even further. Instead of focusing on how participants can compete to win the love of a single main attraction, Siesta Key puts together a group of young adults and just waits to see what will happen.
Relationships of all types — from the fast and furious to the deep and meaningful — form and fall apart as the cameras roll. The show airs on MTV and was picked up for a fourth season that is currently airing. Previous seasons are streaming on Paramount+. 
'Ex on the Beach'
Another MTV series, Ex on the Beach takes the familiar format of bringing a bunch of hopeful singles together in a fun and exotic locale and letting the sparks fly. The twist of this show — as the name suggests — is that they aren't going to stay alone for long.
Once they've found some chemistry among the group, their exes will start showing up to throw the budding romances for a loop. Who will get back together? Who will be able to navigate the rocky dynamics these exes present? 
The show was taken from a British reality TV series of the same name and aired on MTV beginning in 2018. It ran for four seasons. The fifth season was in the works but was delayed because of the pandemic, so it's likely the series will return at some point. Fans can stream it on Paramount+. 
'Love is Blind'
Speaking to each other through the wall of a "pod" that allows potential couples to hear one another without catching a glimpse is the main premise of Netflix's Love is Blind. The series takes couples through an initial phase of getting to know several of their potential partners as they narrow it down and decide who clicks best.
Over time, the intensity picks up as those who have honed in on one another spend more and more time chatting in order to figure out if their hopes and dreams are compatible — all without ever laying eyes on one another. 
By the time the big reveal comes, they'll have to decide if the romance they built through the wall was real or if physical attraction and looks change the equation. 
The series has aired for one season so far, but future seasons are already in the works, and its success — including two primetime Emmy nominations — suggests it will be around for a while. 
'Married at First Sight' 
Desperate for love and sick of the dating game that has left them striking out time and again, the participants on Married at First Sight are ready to hand their fate over to the experts. After they are evaluated by psychologists and fill out forms that reveal what makes them tick, they're paired up with other singles seeking the real deal. Putting their faith in the experts' ability to determine a match based on their personalities and individual quirks, the couple has to make a tremendous decision. Will they say "I do" the moment they meet? 
Starting at the finish line, so to speak, this series puts the newly married — and newly met — pairs to the test by accelerating their relationship and having them experience major milestones while the cameras roll and capture it all. By the time the season has wrapped up, the duos will have to decide if they're going to stay married or call it quits. 
The concept has been popular across the globe and is based on a Danish program of the same name. The U.S. version is in its 13th season and airs on Lifetime. Previous seasons can be caught on Hulu. 
'Temptation Island' 
Back in 2001, a reality TV series (one that predates even The Bachelor) aired. Temptation Island takes real-life couples at a crossroads in their relationship and flies them out to a tropical locale in order to make the decision of a lifetime: will they stay or will they split?
The series was based on a Dutch show with a similar name and concept and ran for three seasons before concluding in 2003. Then, amidst the wave of love-themed reality TV shows, it was revived in 2019 and has been running ever since.
Getting to watch people who already have a history and a relationship on the line gives this show a different flavor than many of the others on the list, but what it lacks in competition makes up for in heart and high stakes. Temptation Island airs on the USA Network and can be found streaming on Peacock. 
'The Circle'
Created with the era of social media top of mind, The Circle stands out as unique on this list. While most of these series are based on finding romance and whether couples will stay together or split, The Circle isn't themed around love. Instead, it's all about what versions of ourselves we portray to others and whether our honesty — or lack thereof — will cost us friends and influence.
The participants on The Circle have agreed to stay in a high-tech space where they can't see one another and communicate only via a social media platform. They can play as themselves or make up a fake persona. Along the way, they rack up influence, and a failure to win over their fellow participants can result in elimination. 
The series can be streamed on Netflix and has so far run for two seasons, but casting opened up earlier this year, so a third season is well underway. 
'90 Day Fiancé'
The TLC series 90 Day Fiancé is another show that takes couples who already have a history and puts their love to the test for the entertainment of viewers watching along at home. When couples who live in different countries and have previously only known each other through online dating decide to take it to the next level, the show asks them to answer the big question looming over everyone's minds: Are they ready to commit for life?
The title comes from a special 90-day visa that allows someone to live in America with their spouse-to-be if they are engaged. At the end of 90 days, however, the visa expires, and the couple will have to decide whether they're ready to take wedding vows. 
90 Day Fiancé has been immensely successful — though, much of the drama has been around the participants themselves rather than their love lives. Eight seasons have aired already, and we can expect TLC to continue the popular series. Fans can catch previous seasons on Hulu. 
'Dating Around' 
With so much pressure on marriage and staying together forever, sometimes it's nice to relax with a reality show that sets the bar a little lower. In Dating Around, the participants aren't necessarily trying to stay together for the rest of their lives — they're just trying to find someone worthy of a second date!
Six singles navigate five blind dates in an effort to find someone who sparks enough chemistry to keep going. The show has been praised for its earnestness as well as its diverse cast of participants. This show doesn't have the high-stakes drama of many others on the list, but if what gets your reality TV blood pumping is a look at real-life situations, this show does the work better than the rest. 
The Netflix original has so far run for two seasons, which are both available on the platform in their entirety.