15 Iconic Moments to Celebrate 15 Years of 'The Real Housewives of Orange County'
It's been 15 years of 'The Real Housewives' and the Orange County franchise was the one that started it all. Check out some of the most iconic clips from he show's history here!
It was in 2006 when The Real Housewives of Orange County made its debut on Bravo. March 21 was the day the franchise was born with Vicki Gunvalson, Kimberly Bryant, Jo de la Rosa, Lauri Waring, and Jeana Keough. The trailblazing ladies would pave the way for the network to create spinoffs and set them in other cities like New York City, Atlanta, New Jersey, Beverly Hills, D.C., Miami, Potomac, Dallas, and Salt Lake City.
With its 15th anniversary this year, we are taking a look back over the years to remember some of the most iconic moments from O.C. history.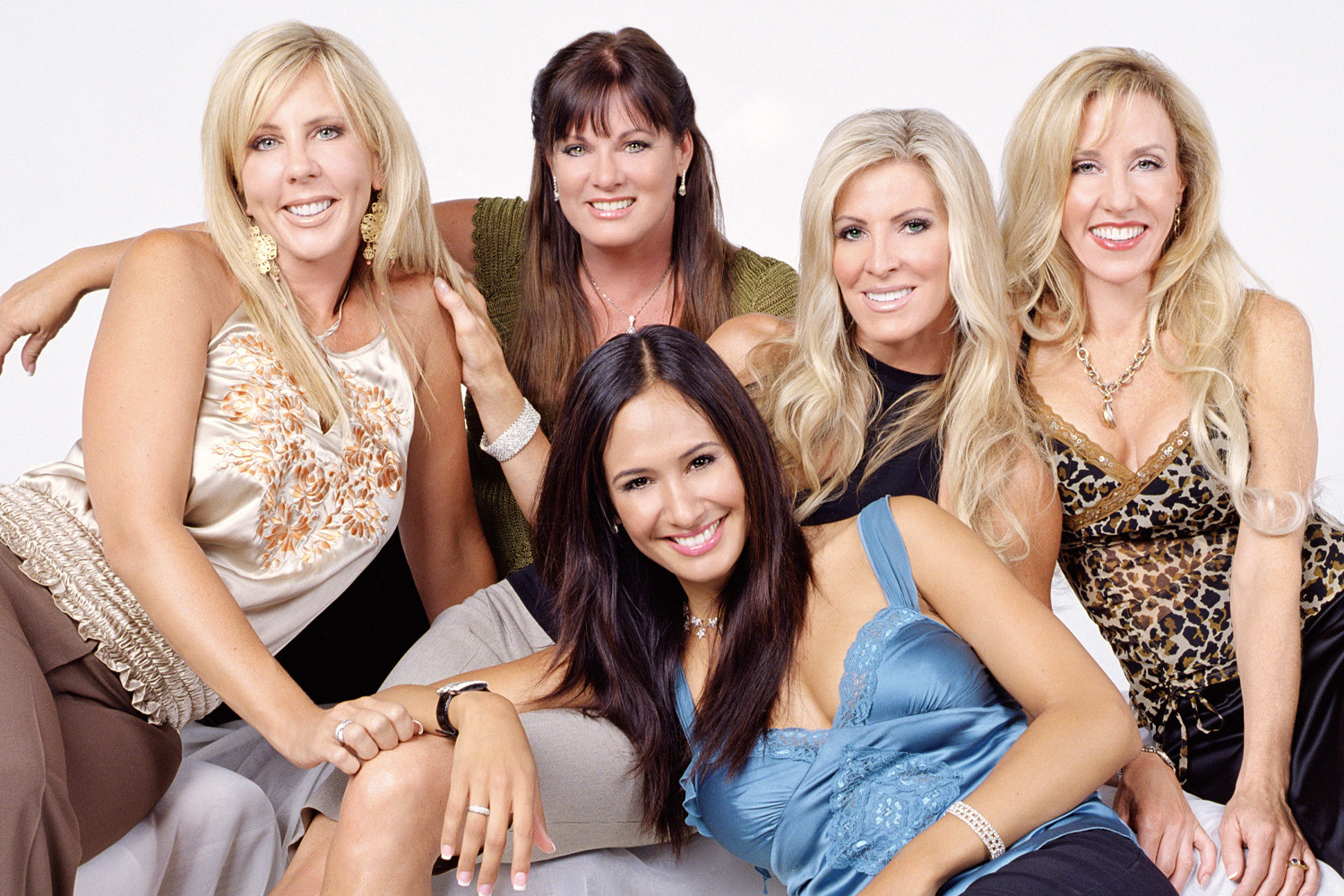 1. Family Van
There was no bigger freakout than when Gunvalson planned a trip with her family. The RHOC star, her husband, and kids were going on a cruise, but to get there they needed transportation.
Gunvalson arranged for a vehicle to pick the family up but when they got there, the car turned up to be a family van. The insurance maven called the company that booked the transportation to complain it was a family van, which was not suitable for her lush lifestyle.
2. Bus Ride from Hell
In Season 11, the RHOC cast traveled to Ireland and the tension was flying high. Some of the ladies were clashing with Kelly Dodd who also felt alienated by the rest of her co-stars. The ladies were done officially filming for the trip but the drama didn't stop on their way to the airport.
That's where the "bus ride from hell" came up. With a smartphone camera, they were able to catch all the feuds that broke out during the bus ride. Dodd called out Shannon Beador's "chin hair," while Heather Dubrow judged them from afar.
However, Dodd turned the tables on Gunvalson who told Beador that she said her husband physically attacked her. So now Beador and Gunvalson had a go.
In addition, Dodd told Tamra Judge that Gunvalson was questioning her husband's sexuality, which broke another fight. This time, Judge yelled at Gunvalson's face really loudly in one of the most iconic moments of the franchise.
3. Cake-gate
Dubrow threw some of the fanciest parties in Orange County and brought the class to the franchise. In season 7 of the series, she celebrated her birthday and had a beautiful cake made for all of her guests.
Things went south when another guest saw "friend of" Sarah take a bow off the cake and eat it before it was time to cut the cake. Sarah said she had to eat something because she hadn't eaten anything. Dubrow said there was plenty of food, she could've asked her for some.
The whole thing is so petty and that's the exact reason why people love The Real Housewives.
4. Tamra Judge gives 'the evil eye'
At the same party for Dubrow, a fight breaks out between Judge and Gunvalson over Brooks Ayers. The latter said that Judge gave Gunvalson "the evil eye." When Judge tells Gunvalson that Brooks tells her what to think, Gunvalson completely loses it. You can watch that scene here!
5. Vicki Gunvalson vs Gretchen Rossi
In Season 7, Gunvalson confronts Gretchen Rossi's husband, Slade for the comments he made about her physical appearance. Things get into a screaming match when Rossi jumps in to call out Gunvalson for all the jabs she's taken at her husband. This moment is iconic but what elevates it, is the 80s costumes everyone is wearing.
6. Vicki Gunvalson finds out her mother died
One of the most heartbreaking moments of the whole franchise was when Gunvalson got a call that her mother had died. The raw emotion was caught on camera in this intimate moment by the OG of the OC.
7. ATV Accident
One of the scariest moments in RHOC history was when some of the ladies took a trip to Glamis, California to explore the sand dunes. However, things got out of hand when an ATV driven by Judge and carrying Dubrow, Dodd, and Gunvalson, flipped over. Gunvalson had to be airlifted to the hospital after going unconscious, making it one of the most difficult moments of the franchise.
8. Bass Lake
Judge and Rossi had a tumultuous relationship right from the start. Things heat up when Judge called out Rossi for going to Bass Lake while her significant other was not doing well.
9. Psychic calls out Brooks
Detective Meghan King was onto something when she questioned Brooks' alleged cancer treatment. Most of the RHOC ladies didn't believe him and when a psychic said Brooks was lying, it only solidified what they had already been suspecting.
10. Girth-Brooks
At the RHOC reunion, Brianna reveals that Brooks hit on her while she was pregnant. Brianna told Gunvalson but she didn't believe it. Judge jumped in and said that Brooks wanted to show her his penis and Brianna added that he told her he called it "Girth Brooks."
11. The Quiet Woman
Things kicked off when some of the RHOC ladies got together at The Quiet Woman restaurant. One uninvited guest at the dinner was Dodd, who was not in good terms with Beador. The latter was having issues with her weight and Dodd was aware of this.
It all reached a boiling point when Dodd went back to the table where the other ladies were having dinner. The arguing between Beador and Dodd continued and the latter taunted the former by telling her to "keep eating." Beador got so upset that she threw the plate of food that was in front of her telling her that wasn't hers.
12. Mrs. Roper
Dodd came in hot to RHOC and when Beador hosted a 70's themed party, Dodd didn't miss a beat in calling out Beador for looking like Mrs. Roper from Three's Company.
13. Vicki Gunvalson had a threesome?
In Season 8 of the show, Lauri Peterson returned to the franchise after officially leaving after season 4. Peterson brought some drama when she said Gunvalson was having some sort of threesome. It all exploded when the ladies went on a ski trip and Gunvalson yelled at Peterson denying she had ever been with multiple partners.
14. Tamra Judge runs away
Lizzie Rovsek didn't cause too many waves during her sting on RHOC but she did once get Judge together. Rovsek got Judge so upset that she got up the table and ran away yelling that nobody would ever see her again… until the next morning. Judge running is one of the most iconic scenes in RHOC history.
15. Heather Dubrow vs Kelly Dodd
Dodd joined RHOC in season 11 as the antithesis of Dubrow. The latter was proper, spoke well, and tried to control situations, while Dodd cussed, didn't hold back, and created drama. It was obvious these two ladies would clash and when they were at a sushi party, things came to a screeching halt. Dodd used the "C-word" to refer to Beador and Dubrow let it be known she was not going to have it.