18 Celebrity Couples Who Got Married in Las Vegas Like Kourtney Kardashian and Travis Barker
Since Kourtney Kardashian and Travis Barker tied the knot in Las Vegas with the help of an Elvis impersonator, you might be curious about the other celebrities who have gotten married in a similar fashion. Here's a list of celebrity weddings that took place in Sin City.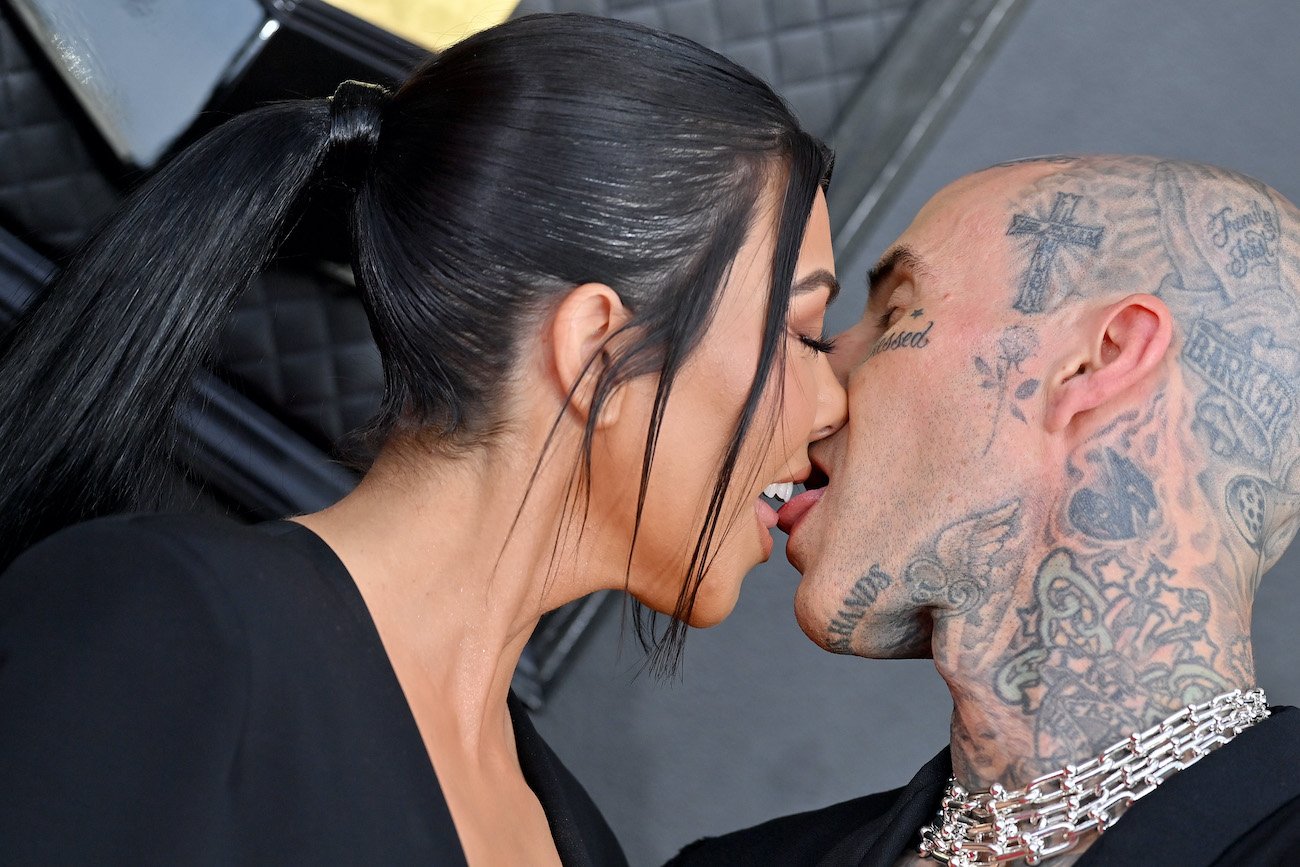 Kourtney Kardashian married Travis Barker at the One Love Wedding Chapel
Hours after the 2022 Grammy Awards, the drummer and reality TV star tied the knot at One Love Wedding Chapel around 1:30 a.m. dressed in the same clothes they wore to the awards show (via TMZ). Chapel owner Marty Frierson spoke with People about his shock at their arrival. 
According to Frierson, cameras caught the entire ceremony. "They all had iPhones, taking pictures and videos from every angle," he told People.
"I don't know if they were the friends or their social media team. They filmed everything from the time they walked in, to the time they walked out. The vows, the kiss, the rose bouquet toss, the dancing." 
According to the chapel proprietor, Elvis Presley was "mandatory" for the ceremony. Whether The Kardashians fans will see any of this footage in the forthcoming Hulu series remains unclear.
This is Kourtney's first marriage. Barker was previously married twice to Melissa Kennedy (2001-2002) and Shanna Moakler (2004-2008). 
An Elvis impersonator married David Harbour and Lily Allen
Singer Lily Allen and Stranger Things star David Harbour said "I do" with an Elvis impersonator in September 2020. "In a wedding officiated by the king himself, the people's princess wed her devoted, low born, but kind credit card holder in a beautiful ceremony lit by the ashen skies courtesy of a burning state miles away in the midst of a global pandemic," Harbour wrote on Instagram. 
He added: "Refreshments were served at a small reception following." Their reception took place at an In-N-Out, the west-coast's quintessential burger joint. 
Joe Jonas and Sophie Turner got married after the Billboard Music Awards in 2019 
Before Kravis, Joe Jonas and Game of Thrones star Sophie Turner tied the knot in a surprise Las Vegas ceremony after in May 2019. The couple said their vows at Chapel L'Amour inside A Little White Wedding Chapel. Of course, the couple had an Elvis impersonator present. 
Jonas and Turner had a bigger wedding a month later in France. Kourtney and Barker will most likely have another wedding ceremony in the future.
Shortest celebrity Las Vegas marriages
In 2019, Nicolas Cage married his then-girlfriend Erika Koike in March. Four days later, Cage filed for an annulment from the makeup artist. According to court documents, the Face/Off star was too drunk to understand his actions when he married Koike (via USA Today). 
Britney Spears is another celebrity with one of the briefest marriages to come out of Las Vegas. She and Jason Alexander got married in 2004, but annulled the marriage 55 hours later.
Other celebrities married in Las Vegas
Several other celebrity couples have come before The Kardashians stars. These are a few other famous couples who have tied the knot in Las Vegas:
Paul Newman and Joanne Woodward (1958)
Frank Sinatra and Mia Farrow (1966)
Bette Midler and Martin von Haselberg (1984)
Demi Moore and Bruce Willis (1987)
Jon Bon Jovi and Dorothea Hurley (1989)
Cindy Crawford and Richard Gere (1991)
Kelly Ripa and Mark Consuelos (1996)
Angelina Jolie and Billy Bob Thornton (2000)
Nicky Hilton and Todd Andrew Meister (2004)
Jane Stuart and Kevin Dillon (2006)
Jodie Sweetin and Cody Herpin (2007)
Rick Salomon and Pamela Anderson (2007)
Terius "The-Dream" Nash and Christina Milian (2009)
Shia LaBeouf and Mia Goth (2016)
Stay tuned for updates on Kravis' future wedding plans. Watch The Kardashians on Hulu beginning April 14. 
RELATED: Scott Disick is Reportedly 'Still So Upset' Over Kourtney Kardashian and Travis Barker's Engagement