'1883' Finale: Faith Hill Realizes Margaret May Have Sealed Elsa's Fate — 'My God, It's My Fault!'
The 1883 finale came as a shock to many fans, despite the heavy foreshadowing of what was to come. Elsa was shot with a Lakota arrow due to a misunderstanding in episode 9. James and Margaret quickly come to the realization that Elsa won't survive for long. The events that led to Elsa's fate seem to be chance circumstances. However, Faith Hill realized that her character could have made a deadly mistake.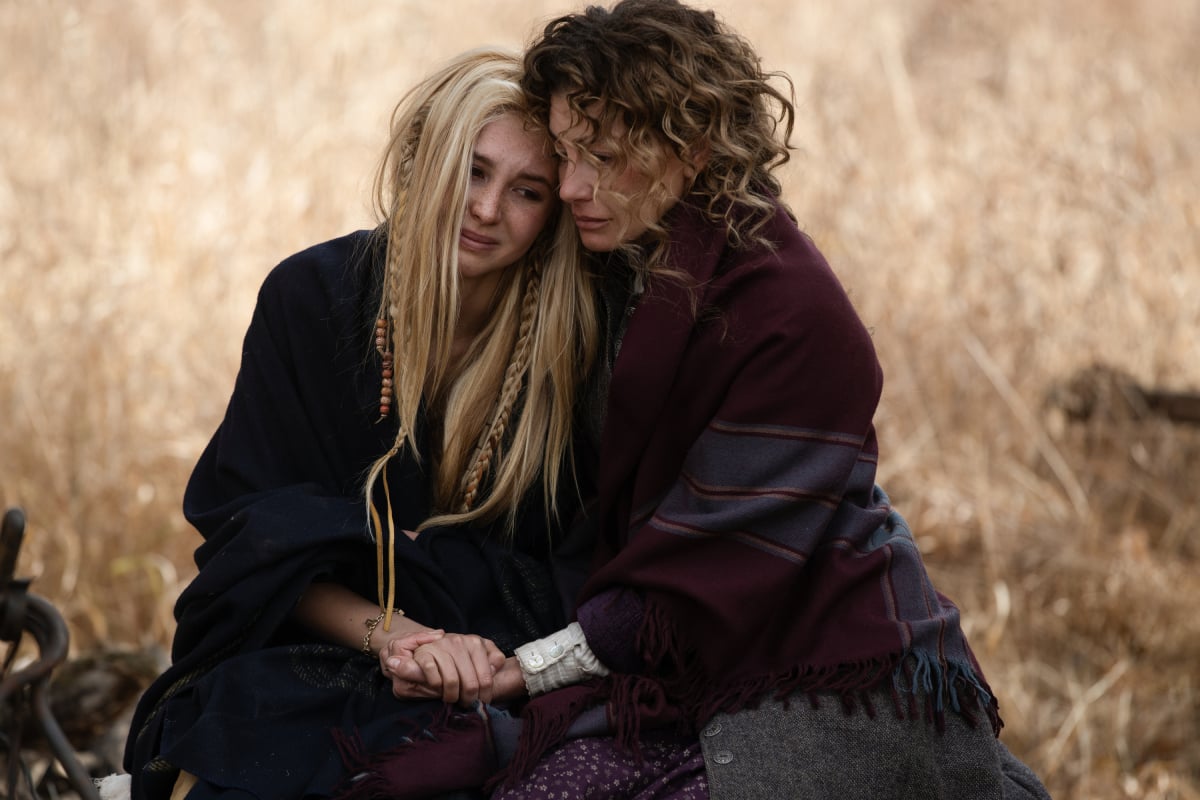 Did Elsa die in the '1883' finale?
In 1883 Episode 9, Shea finds a group of murdered Lakota women and children. He realizes too late that the Lakota will think his group inflicted the horrific attack. The Lakota go after Shea's group, and Elsa was shot through the stomach with an arrow.
Though Elsa survives the initial attack, her strength begins to fail. In the 1883 finale, a member of the Crow tribe named Spotted Eagle informs the Duttons of a nearby place in Montana where they can settle and bury Elsa. James takes her to Paradise Valley in Montana, where she dies in his arms.
Tim McGraw and Faith Hill both had a pretty hard time when the 1883 finale script came into their hands. "He couldn't read it because he was bawling," Hill said of her husband, McGraw in an interview with Variety. "It took me about an hour to read it to him because most of the time, I couldn't catch my breath I was crying so hard."
'1883' star Faith Hill realized Margaret may have made a fatal mistake
Elsa's death in the 1883 finale occurred because of an unfortunate misunderstanding between Shea's group and the Lakota. Still, Hill eventually realized that her character may have made a fatal mistake. As the group approaches Fort Caspar, Margaret instructs Elsa to change from Sam's Comanche vest into a dress.
Margaret's request makes sense at the time. Elsa was gawked at when she rode into Doan's Crossing in her cowboy getup, and the Duttons don't need any more trouble. Still, the outfit change perhaps came too early.
"It didn't even occur to me when I read the script. I read it a million times. It didn't occur to me even after we filmed it," Hill told TV Line. "It only occurred to me after I saw it: My God, it's my fault she was shot and killed, because had she had her vest on that was meant to protect her, given to her by Sam, maybe she could have survived."
The Lakota stopped their attack when Elsa spoke Comanche. This pause gave Elsa enough time to explain that her group didn't kill the Lakota women and children. However, at this point, it's too late, and Elsa has already been pierced with a filthy arrow. It's possible that if Elsa had still had on the Comanche vest, the Lakota wouldn't have been so quick to attack.
Margaret was constantly facing life-and-death decisions in '1883'
Of course, hindsight is 20/20, and Margaret was constantly facing death and dangers to her family every day on the journey to Montana. "Sometimes these are life-and-death choices that have to be made in less than a second," Hill told TV Line.
"I mean, we became those characters, and it never once occurred to me, ever, until I saw it," she said, laughing. "I turned to Tim, and I said, 'My God, it's my fault! It's Margaret's fault she's shot!'"
All episodes of 1883 are currently streaming on Paramount+
RELATED: '1883' Episode 8: 3 Hidden Easter Eggs 'Yellowstone' Fans Will Love