'1923': How Aminah Nieves and Jennifer Ehle Navigated Their Intense Scenes Together
The new Yellowstone series 1923 explores an incredibly dark time in American history. Indigenous children had to attend government boarding schools designed to strip them of their culture and force them to assimilate. These schools were rife with abuse. Aminah Nieves' character Teonna attends one of these terrible schools, where she rebels against Sister Mary O'Connor (Jennifer Ehle).
[Warning: 1923 Episode 2 spoilers ahead.]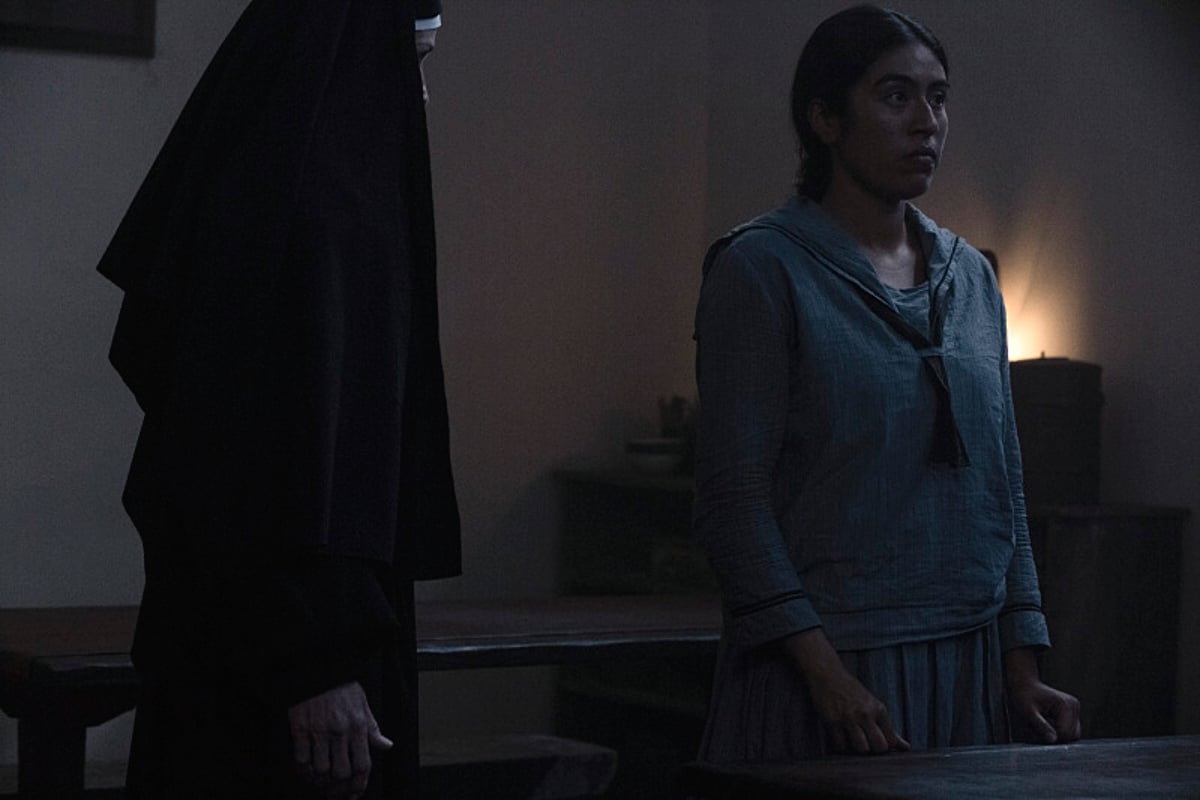 '1923' explores a dark time in American history
1923 explores the Dutton family's history, but it also tells the story of Thomas Rainwater's distant relative, Teonna. The young woman is forced to attend a government-run boarding school designed to strip away her language and culture.
However, Teonna has a strong spirit and rebellious nature. These schools were rife with abuse, and Teonna goes head to head with one of her tormenters, Sister Mary O'Connor. In the premiere, Teonna fights back when Sister Mary continuously hits her with a ruler. The encounter ends in punishment for both Sister Mary and Teonna from the horrific Father Renaud.
Despite her harsh punishment, Teonna continues to rebel. In episode 2, she speaks in her native language during prayer. Sister Mary slaps her, and Teonna fights back again. This time, Teonna is punished by being forced to stay in the "hot box."
Aminah Nieves and Jennifer Ehle explain how they navigated their intense scenes in '1923'
In only the first two episodes of 1923, Aminah Nieves and Jennifer Ehle had some incredibly intense scenes together. While speaking with Decider, the actors explained how they navigated filming these terrible moments.
"We're both very aware of our boundaries and have a deep respect for one another. The moment we felt unsafe, it was like we had tap patterns," Nieves told the outlet, while Ehle added that the pair also used "safe words."
"After every take, we would just hug it out. After those scenes were finished, we would cry together. I was very safe," Nieves continued.
While Nieves' character is fighting for survival, Ehle's Sister Mary inflicts truly horrific punishments. "I had to feel safe in order to do those abusive things," Ehle told Decider. "Sometimes working the dark stuff is the most fun to do. This wasn't fun."
Jennifer Ehle doesn't like anything about her character
During an interview with US Weekly, the cast of 1923 was asked to name something they admired about their characters and something they wished they could change. Jennifer Ehle understandably admitted she didn't admire a single thing about Sister Mary.
"If I could only change one thing, I would change the part of her, I would remove the part of her that believes that anybody who does not worship the same God that she worships isn't human and isn't valuable," Ehle stated.
"Usually, they say you can't play somebody if you don't find love for them or find compassion for them. Sometimes the function of a character in a story — I don't think you necessarily have to."
New episodes of 1923 are released Sundays on Paramount+.