2 Things You Didn't Know About That Infamous Britney Spears-Madonna VMA Kiss
If you recall seeing the 2003 MTV Video Music Awards then chances are you remember that Madonna and Britney Spears locked lips onstage. It wasn't just the most memorable performance of that evening but one of the most memorable moments in VMA history. The reaction from fellow celebrities in the audience was priceless (we're looking at you Justin Timberlake), and it was all everyone could talk about at the time so just imagine what the comments on social media would have been like back then.
In the nearly two decades since the Queen of Pop and Princess of Pop kissed on live TV, there are still a couple of things many fans don't know about that performance. Here's more on that, plus what the Material Girl and Christina Aguilera have said about the #FreeBritney movement.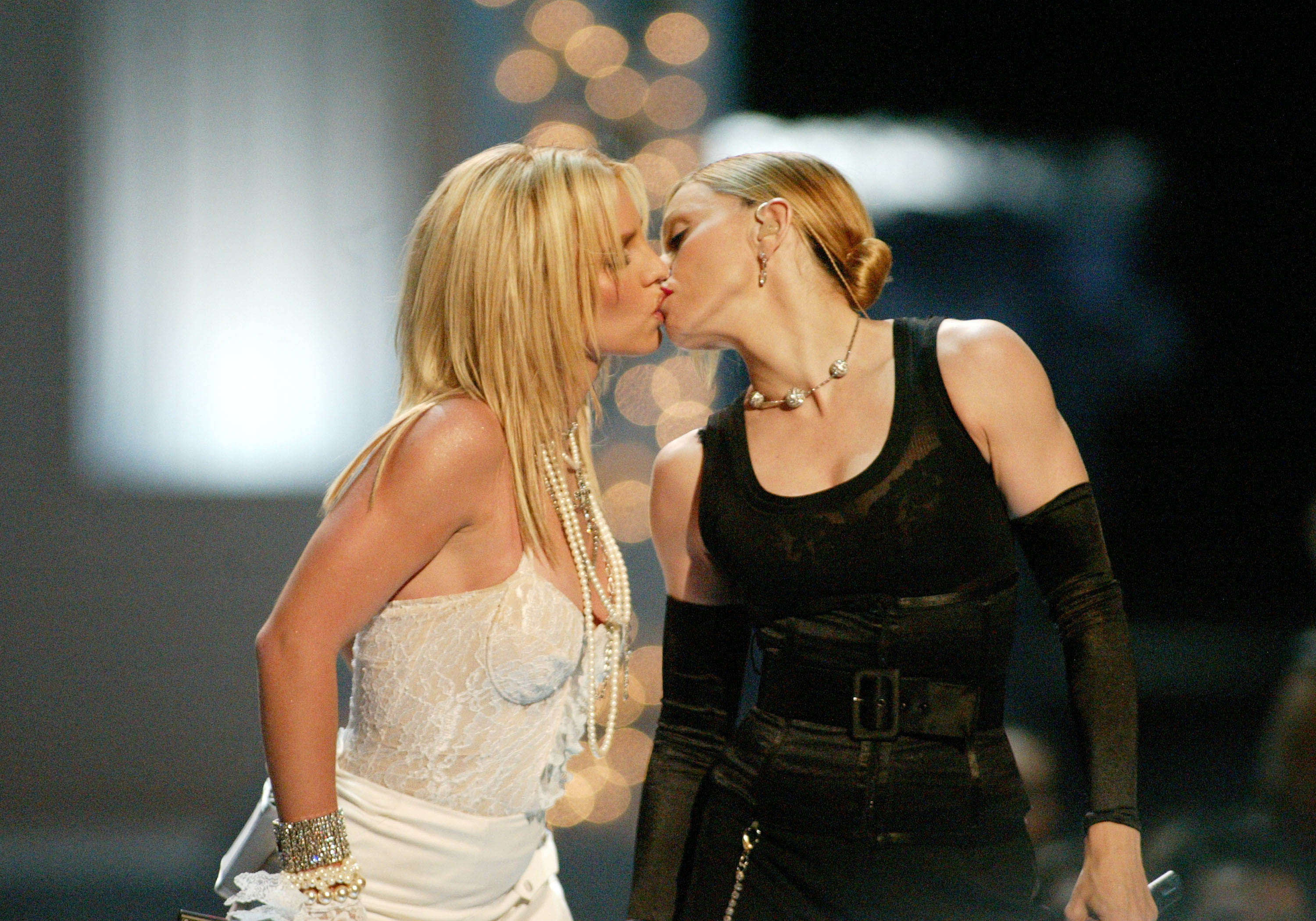 A member of Madonna's family was on stage for the performance too
Spears and Aguilera performed Madonna's hit "Like a Virgin" in veils and white dresses to open the award show that year. What most fans weren't aware of is that as soon as the music began one of the young flower girls who walked out on stage was Madge's daughter Lourdes Leon. While her eldest daughter, who was born in 1996, was throwing flower petals on the stage Spears started singing on top of a giant cake.
Aguilera then joined her for the number before Madonna came out and sang "Hollywood" with the ladies for that unforgettable performance. Missy Elliott then closed it with a few lines from her hit "Work It."
Christina Aguilera wasn't happy about what viewers at home saw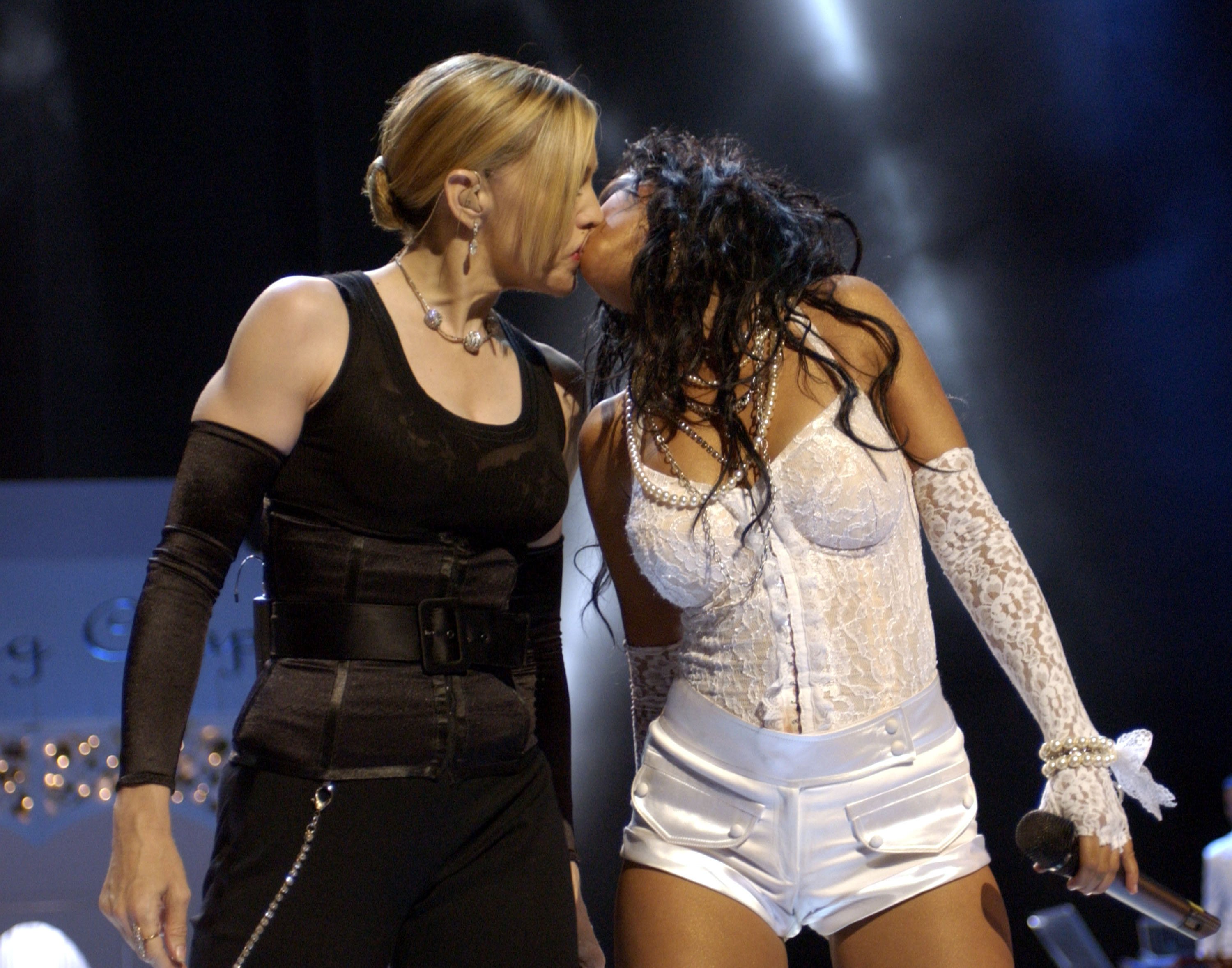 RELATED: Why Did Tupac Shakur and Madonna Break Up?
Of course, Spears wasn't the only one Madonna kissed during that performance. Madge also gave Aguilera a peck too but after she and Spears smooched, the camera quickly cut to Brit's ex Justin Timberlake for his reaction so Madonna's lip-lock with the "Genie in a Bottle" artist was barely seen on TV.
Aguilera revealed what she thought about being almost completely ignored in the media coverage during an interview with Andy Cohen on SiriusXM in 2018.
"It was weird," the songbird admitted. "They cut away to get Justin's reaction… They were exes but still, it was a cheap shot… I definitely saw the newspaper the next day, and it was like 'Oh, well, I guess I got left out of that one…' Everything happened so quickly back then and everything was in a whirlwind. I could have been on tour at the time or whatever. But I had my own performance that night… It was a kickass performance. So I was OK. She can have that kiss. It's OK."
Madonna and Aguilera have both spoken out in support of Spears as she tries to end her conservatorship
RELATED: Britney Spears' Father Jamie Is Living in a Parking Lot Amid Conservatorship Battle
The "What a Girl Wants" and "Vogue" singers have both spoken out in support of Spears during her very public conservatorship battle with her father.
"These past few days I've been thinking about Britney and everything she is going through," Aguilera tweeted. "It is unacceptable that any woman, or human, wanting to be in control of their own destiny might not be allowed to live life as they wish. To be silenced, ignored, bullied or denied support by those "close" to you is the most depleting, devastating, and demeaning thing imaginable. The harmful mental and emotional damage this can take on a human spirit is nothing to be taken lightly."
The "Like a Prayer" hitmaker also weighed in on the "Oops!…I Did It Again" artist's case via social media wearing a "Britney Spears" shirt and writing: "We coming to get you out of jail!"
In her address to the court on June 23, Spears stated that she would like to petition to end her conservatorship with her dad, saying: "I've lied and told the whole world I'm OK and I'm happy. If I said that enough, maybe I'd become happy… I'm in shock. I'm traumatized… I'm so angry it's insane." However, a judge later denied the request.