30 Legendary Photos Of The Notorious Ruth Bader Ginsburg
Supreme Court Justice Ruth Bader Ginsburg is a legend among us all. When you're only the second woman in the history of time to be nominated to the United States Supreme Court, you have to be pretty fearless. Progressive, brilliant, and a staunch women's right's advocate, at just over five feet tall, Ruth Bader Ginsburg doesn't take crap from anyone, even when she is the only one speaking up in the room. Now in her 80s, the Supreme Court Justice has been slaying the bench since 1993, and she has no plans of stopping anytime soon.
With two films about her life, On the Basis of Sex and RBG headed to theaters, we took the time to dive deeper into Ginsburg's life, one that began in the midst of the Great Depression and has only gotten more poignant and powerful since then. Check out these 30 legendary photos of the Notorious RBG, and thank us later.
1. Brooklyn-bred
Ruth Bader Ginsburg was born March 15, 1933, in Brooklyn, New York to a working-class Jewish family. She was the second daughter of Nathan and Celia Bader. Though she did not attend college herself and instead worked at a garment factory to help pay for her brother's college education, Celia was adamant that her daughters get an education. As a result, RBG did not play about her schoolwork, and she graduated from James Madison High School in Brooklyn with top marks.
Next: An early heartbreak 
2. A profound loss
It was her mother Celia that had the earliest and most profound impact on RBG's life. She once said, "My mother told me two things constantly. One was to be a lady, and the other was to be independent." Sadly, Celia battled cancer during RBG's high school years, and she lost her fight with the wretched disease the day before Ginsburg's high school graduation. The loss was devastating to the young woman who still says her mother was the most intelligent person she's ever known.
During her 1993 White House press conference announcing her nomination to the Supreme Court, she said, "I have a last thank-you. It's to my mother. My mother was the bravest, strongest person I have ever known, who was taken from me much too soon. I pray that I may be all that she would have been had she lived in an age when women could aspire and achieve and daughters are cherished as much as sons."
Next: Unequal treatment 
3. Gender-segregation
RBG's issues with gender inequality began when she was just a young girl. During a talk in 2016, she reflected, "When I was growing up as a girl I was jealous that there were no Bat Mitzvahs for us at the time. The hardest thing for me was when my mother died and in order for there to be a Minyan we needed to have 10 men — even though there were many women [mourning]. Recently, I went to a Bar Mitzvah at an Orthodox synagogue that seats women in a different section. It was very claustrophobic. I felt very hemmed in."
Next: A life-long love 
4. Meeting Marty
After high school, RBG headed off to Cornell University in upstate New York where she received her Bachelor's degree in 1954. In college, she met her husband, Martin Ginsburg who was a law student studying at Cornell. The pair stayed married until Martin's death in 2010.
The couple had a challenging few years when they were first married. The year the Ginsburgs wed, Martin was drafted into the military where he served for two years, and RBG gave birth to their first child, a daughter named Jane. The couple was forced to leave New York and head off to Fort Sill, Oklahoma. Army's orders.
Next: The wrong move 
5. A big mistake
When the couple moved to Oklahoma for Martin's Army Reserve duties, RBG got right to work taking the civil service exam where she qualified to be a claims adjustor. Unfortunately, she made the grave error of mentioning that she was three months pregnant with Jane.
Suddenly, all hell broke loose. Her raking, title, and pay were greatly reduced. When she was pregnant with her son James in 1965, she did not make the same error.
Next: Partners 
6. A marriage of equals
Though they were married in the 1950's the Ginsburgs had a very modern marriage when it came to gender equality. In the early years as Martin was getting his business off the ground (he was a highly successful tax lawyer), RBG picked up the slack a home with the children and the housework.  This was especially trying in 1956 when Martin was diagnosed with testicular cancer which required intensive treatment and rehabilitation.
However, as RBG's career blossomed, the roles reverse. Unlike his wife who could barely boil water, Martin was a culinary genius, and he always had dinner on the table for his children and make sure his wife ate. Before his death in 2010, he reportedly told a friend, "I think the most important thing I have done is enable Ruth to do what she has done."
Next: Entering the "boys club" 
7. Sexism at Harvard
When RBG headed to Harvard Law School in 1956, she was just one of the nine women in the program and it was no walk in the park. Erwin Griswold, the dean of the Law School at the time invited the women for what they thought we be a pleasant dinner. Instead, at the end of the meal he had the nerve to ask each of them to go around and share how it was they justified taking a spot that would otherwise have gone to a man. There were over 500 people in the class.
Years later, Griswold would insist he was just having a laugh. Sure, sir. Luckily, RBG was unbothered and became the first female member of the prestigious Harvard Law Review.
Next: Back in NYC 
8. Transferring to Columbia
After Martin recovered and finished law school, he was offered a position at a law firm in New York. To join her husband in the Big Apple, RBG transferred to Columbia Law School where she was elected to the school's law review. She graduated first in her class in 1959. #BOSS
Mind you she did all of this while taking care of a toddler. She'd go to school, come home, take care of her daughter, put her to sleep, and then go back to studying. Sadly, we can't even bother to wash the dishes half the time.
Next: Unemployment woes 
9. The checks aren't rolling in
Despite her stellar academic record and glowing recommendations from her professors, no one wanted to hire RBG out of law school. She could not get her foot in the door for a clerkship with a federal judge. Instead, she began her career with lower-ranking district court judge, Edmund Palmieri. Essentially Judge Palmieri had to be warned in order for Ginsburg to snag the role.
Her mentors threatened to stop sending clerks his way if he turned her down.  RBG would go on to teach at Rutgers University Law School from 1963 to 1972 at Columbia from 1972 to 1980.
Next: Using the law to help women 
10. The gender issue
Looking at her mother's life and her own experiences, Ginsburg began advocating for women. In the '70s she became lead counsel for the ACLU Women's Rights Project. Her strategy was to pick cases that were winnable and would set precedents that would chip away at the legal barriers imposed on women. At the time she said, "Not all feminist issues should be litigated now because some are losers, given the current political climate, and could set back our efforts to develop favorable law."
RBG's slow and steady approach irritated some feminists who thought the ACLU was hustling backward.
Next: The highest court in the land 
11. Unlocking the cage
RBG operated with a gender-blind policy even if that meant her client was a man. In 1975's Weinberger v. Wiesenfeld, she argued on behalf of a widower whose schoolteacher wife had been the family's primary breadwinner. Wiesenfeld was unable to collect Social Security survivor's benefits because they were only awarded to widows. Luckily the court argued in favor of him which in turn benefited women as well.
She argued six landmark cases on gender equality before the U.S. Supreme Court. RBG explained in 1971, "The pedestal upon which women have been placed has all too often, upon closer inspection, been revealed as a cage."
Next: The first female justice 
12. Bonding with Sandra Day O'Connor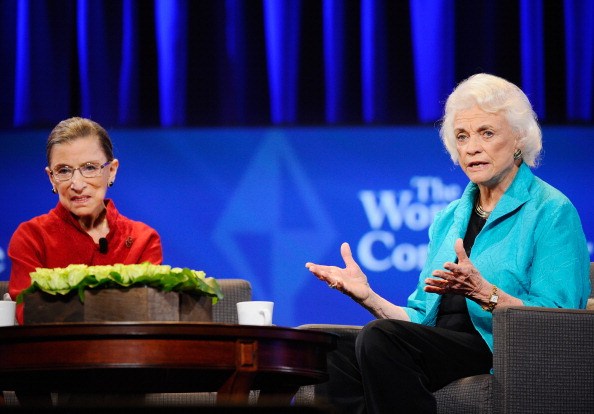 Sandra Day O'Connor was the very first woman to serve on the Supreme Court; she began her tenure in 1981 after President Ronald Regan appointed her. Even before RBG and O'Connor formally met or worked together; they admired one another from afar,
Once they did properly meet, O'Connor took on more clerks from Ginsburg's chambers than she did any other federal judge, They would serve together on the Supreme Court for 12 years until O'Connor's retirement in 2006.
Next: There very own toilet 
13. Bathroom drama
Before RBG came on to the Supreme Court, there was just one bathroom on site for men. Luckily, someone realized it was the 20th century, and with two women on the highest court in the land, another bathroom was added for women.
In her 2016 memoir, My Own Words, Ginsburg said, "Justice O'Connor no longer had to go back to her chambers when the need arose."
Next: A lonely period 
14. A terrible time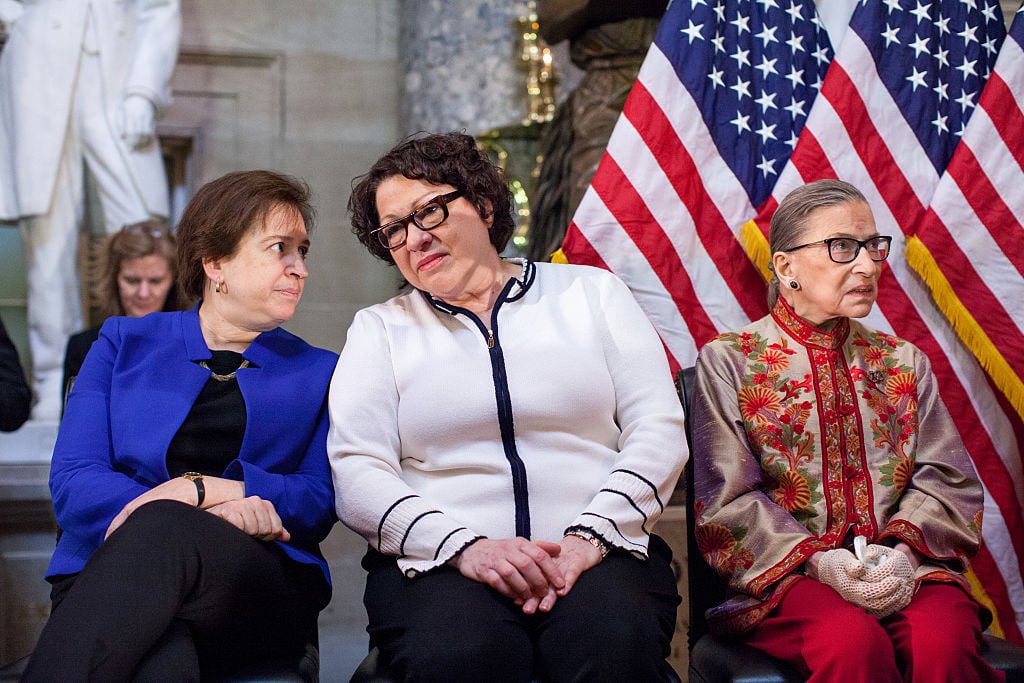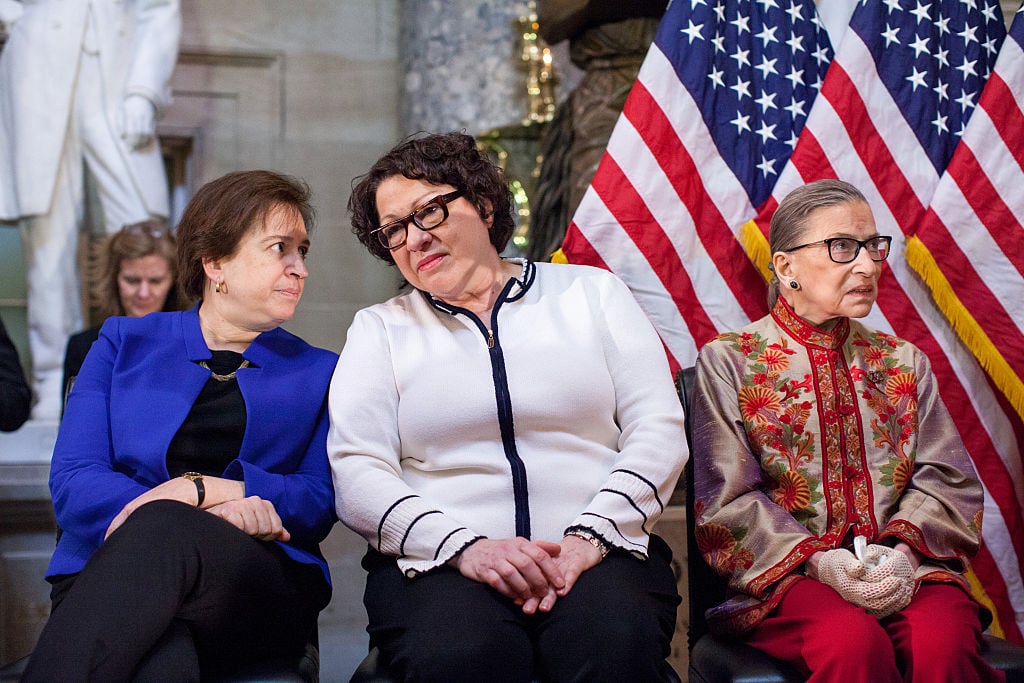 The years in between O'Connor's retirement and Supreme Court Justice Sonia Sotomayor's nomination were a terrible time for RBG. In a 2014 interview with the New Republic, RBG explained, "The image to the public entering the courtroom was eight men, of a certain size, and then this little woman, sitting off to the side. That was not a good image for the public to see. But now with three of us on the bench, I am no longer lonely, and my newest colleagues are no shrinking violets."
Next: Going against the grain 
15. A  great dissenter
Though she is often called the Thurgood Marshall of Women's Rights, Sisters in Law author Linda Hirshman believes RBG's  legacy will place her among the Supreme Courts "great dissenters." They include John Marshall Harlan, Oliver Wendell Holmes, Jr., and Louis D. Brandeis. She believes that RBG has been planting seeds her entire career for social progression.
Hirshman wrote, "In disagreeing with their colleagues at the time they served among them, these legendary jurists anticipated every core development of twentieth-century judicial law: the dismantling of Jim Crow segregation, the protection of free speech, and the allowance of economic recognition."
Next: A historical mentor 
16. Her favorite Supreme Court Justice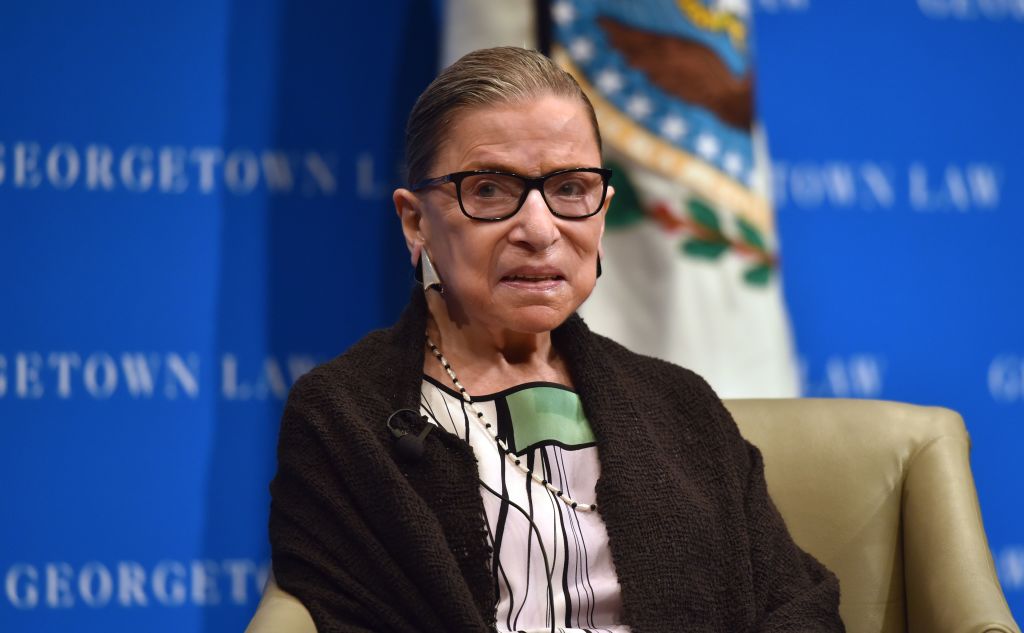 It should be no surprise then that RBG's favorite Supreme Court Justice in history is Justice Marshall Francis. Francis led the Marbury vs. Madison case which enabled the Supreme Court to limit Congressional power by declaring legislation unconstitutional.  As Ginsburg says fondly. "There's something nice about being able to dissent."
Next: Making her voice heard 
17. Bush v. Gore
In fact, one of RBG's most notable moments of dissent from her colleagues was the case of Bush v. Gore, which effectively decided the 2000 presidential election between George W. Bush and Al Gore. While Ginsburg's colleagues favored Bush, she did not.
She exclaimed, "I dissent, respectfully."
Next: Wearing a decision on her gown
18. Coded collars
Instead of traditional black robes and ties, Ginsburg and O'Connor decided they would get a bit more festive when it came to carving out a space of their own as the only women among a slew of men. Ginsburg told The Washington Post, "You know, the standard robe is made for a man because it has a place for the shirt to show, and the tie. So Sandra Day O'Connor and I thought it would be appropriate if we included as part of our robe something typical of a woman."
RBG likes to color coordinate her jabots on decision day depending on her vote. A lace collar featuring gold trim and charms is her majority opinion collar. However, when she's about to dissent she wears, a mirrored bib necklace.
Next: A unlikely friend 
19. An odd friendship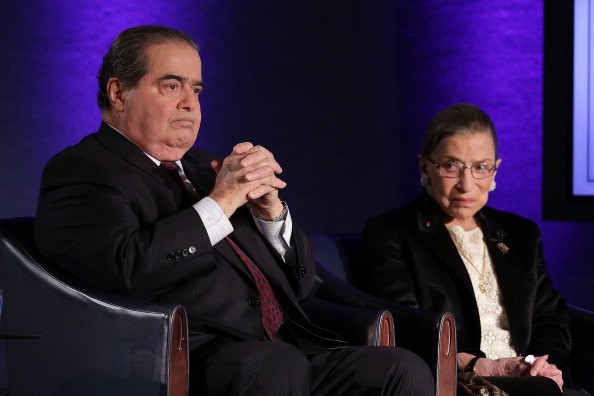 O'Connor was not the only Supreme Court Justice that Ginsburg grew close to. She also found an unlikely friend in the late Antonin Scalia, a conservative and strict constructionist of the U.S. Constitution. Their relationship seemed to puzzle everyone who was looking in from the outside because their viewpoints and opinions were so vastly different. However, they were thick as thieves until Scalia passe away in 2016.
RBG wrote after he friend passed on, "Toward the end of the opera Scalia/Ginsburg, tenor Scalia and soprano Ginsburg sing a duet "We are different, we are one." We disagreed now and then, but when I wrote for the Court and received a Scalia dissent, the opinion ultimately released was notably better than my initial circulation."
When they weren't talking about work, the pair bonded over their families and opera.
Next: Challenges and laughter 
20. Respect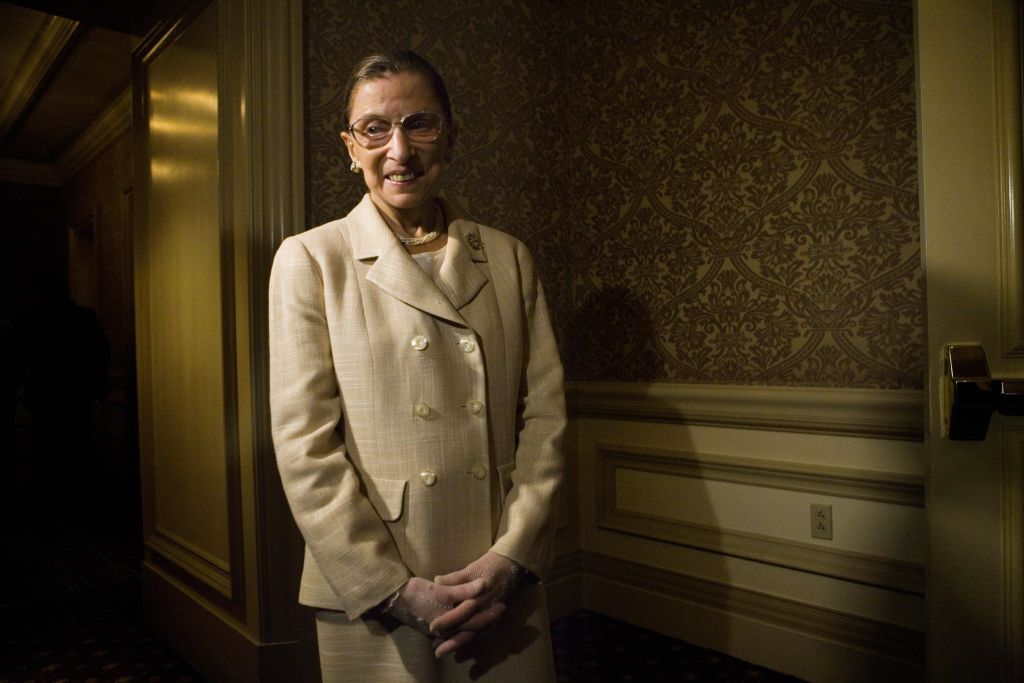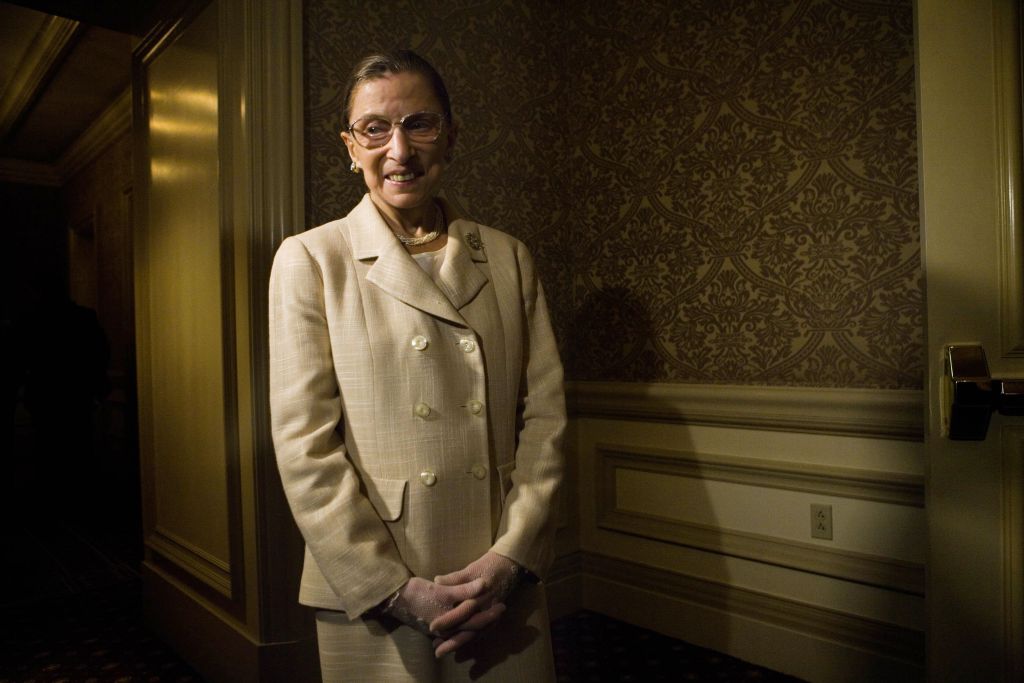 One thing that RBG and Scalia's relationship showed is that you can disagree while having perspective and respect. In fact, when the opera Scalia/Ginsburg based on the justices' friendship debuted on Broadway, RBG said, "My feminist friends asked why his name came first, even though mine was first alphabetically and I'm older. But since he was appointed first, he's actually more senior."
To this day RBG says, she misses "the challenges and laughter that her old friend brought."
Next: A rigorous regimen 
21. Health is wealth
Though she has experienced two bouts of cancer in her life and a heart operation in 2014, you won't see Ginsberg sitting down anytime soon. She has a strict workout regimen that she abides by. For the past two decades, she has worked out twice a week with a personal trainer. She does an elliptical warm-up, squats, planks, medicine ball tosses, and 20 push-ups.
If you're curious as to what the Supreme Court Justice is listening to while she is pumping iron, it's always classical music.
Next: No days off
22. Nice for what
In 1999, Ginsburg was diagnosed with colon cancer; she underwent surgery that was followed by chemotherapy and radiation therapy. During the process, she did not miss a day on the bench. Ten years later, she again underwent surgery, this time for pancreatic cancer. She was back to work ten days after being released from the hospital.
RBG had no interest in taking anytime off. It was Justice O'Connor who encouraged her to "do chemo on Friday" so she could come back to work on Monday." She told RBG, " you'll get over it on the weekend." Legend.
Next: Through 2020
23. Shutting down the retirement talk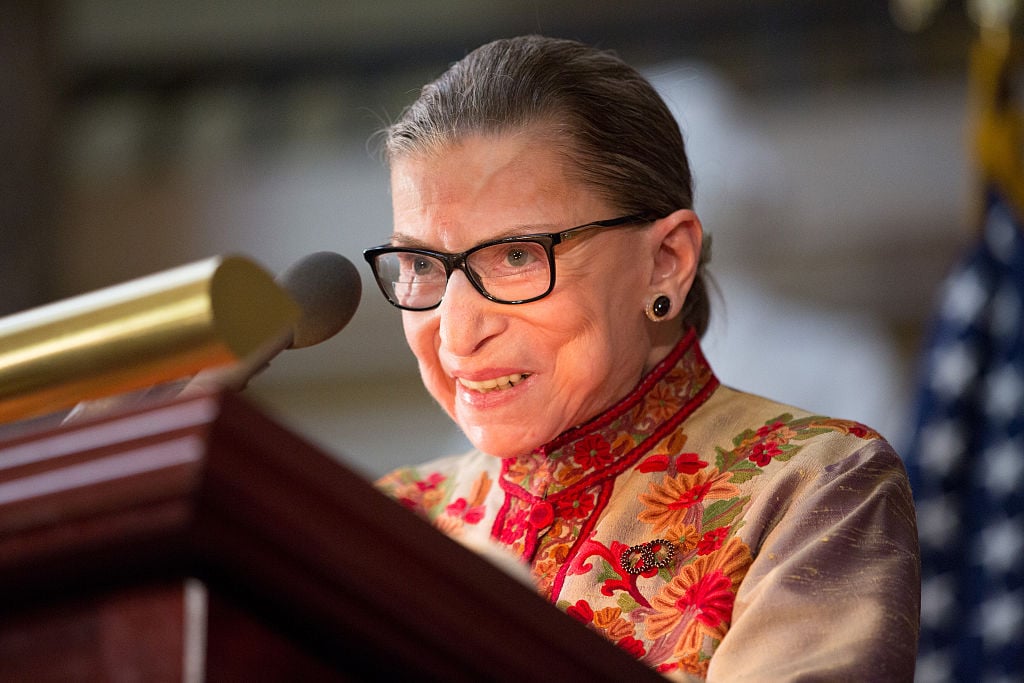 Though she's in her wiser years, Ginsburg has no plans of retiring anytime soon, especially in these trying political times. She told the New Republic, "As long as I can do the job full steam, I will stay here. I think I will know when I'm no longer able to think as lucidly, to remember as well, to write as fast. I was number one last term in the speed with which opinions came down. My average from the day of argument to the day the decision was released was sixty days, ahead of the chief by some six days. So I don't think I have reached the point where I can't do the job as well."
Next: The best job 
24. Dream job
RBG has hired a full slate of clerks through 2020, and when her colleague Justice Anthony Kennedy announced his retirement in 2018, she made it clear she had no plans of going anywhere at least for another five years. It makes sense because being a Supreme Court Justice is her dream job.
So much in fact that in My Own Words, she revealed that she never dreads going to work in the morning.
Next: Another obsession 
25. An alternative career
RBG obviously adores the law. However, if she weren't a Supreme Court Justice, she would be an opera singer. If only she had the talent. During a conversation at Georgetown University's Law School she explained, "If I had any talent that God could give me, I would be a great diva. But sadly I have a monotone … [I sing] only in the shower and in my dreams."
Next: Not before 9 a.m. 
26. Not a morning person
Though she looks forward to her work, Ginsburg isn't exactly a morning person. Though she has always found joy in exercise, she wouldn't be caught dead breaking a sweat early in the morning. In fact, when Justice O'Connor tried to entice RBG to join her aerobics class at 8 a.m, RBG was appalled.
She revealed, "I am a night person. Getting to work by 9:30 every morning was enough."
Next: Hopes for the future 
27. In the midst of chaos
As a woman and the first Jewish Supreme Court Justice, Ginsburg is no fan of the Trump Administration or our chaotic Congress. However, she believes in the system and hopes that one day it will all run as it should. She said,  "I hope that one day, our Congress will begin to function again the way it should. I hope I will live to see that day."
Next: Her favorite part of the Constitution 
28. The best Amendment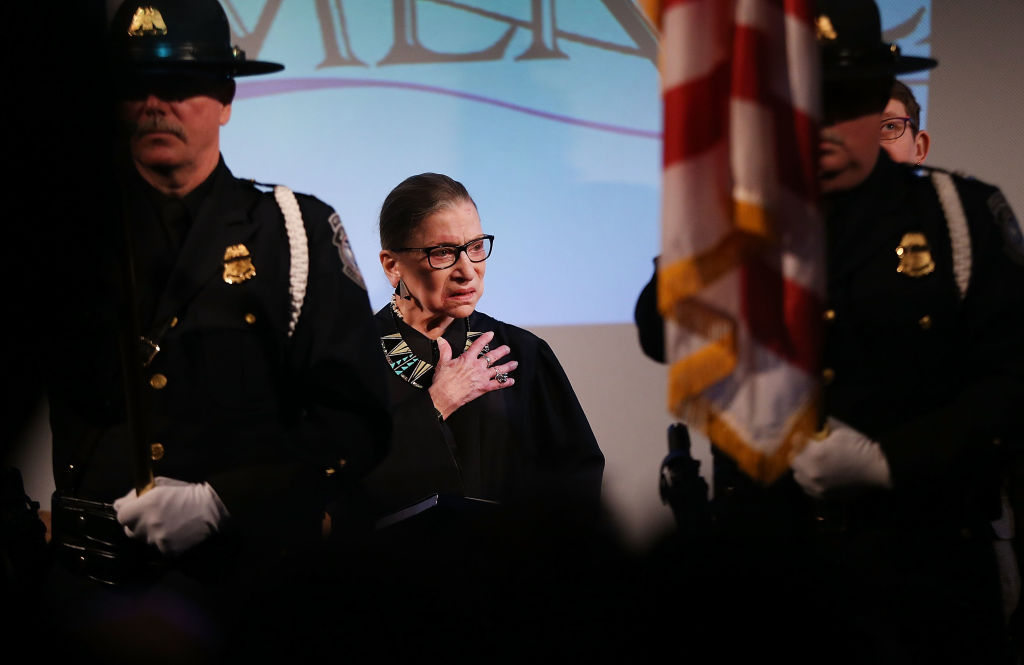 Ginsburg does have a favorite Constitutional Amendment. It's the 14th which was as ratified in 1868, and granted citizenship to "all persons born or naturalized in the United States." This included former slaves. The 14th Amendment also forbids states from denying any person "life, liberty or property, without due process of law" or to "deny to any person within its jurisdiction the equal protection of the laws."
Next: A love of laughs 
29. Ginsburned
Her work might be serious business, but that hasn't prevented RBG from having a sense of humor. In fact, she adores Kate McKinnon's sassy portrayal of her on Saturday Night Live. She revealed,"I would like to say "Ginsburned" sometimes to my colleagues."
Next: Coming soon 
30. RBG goes Hollywood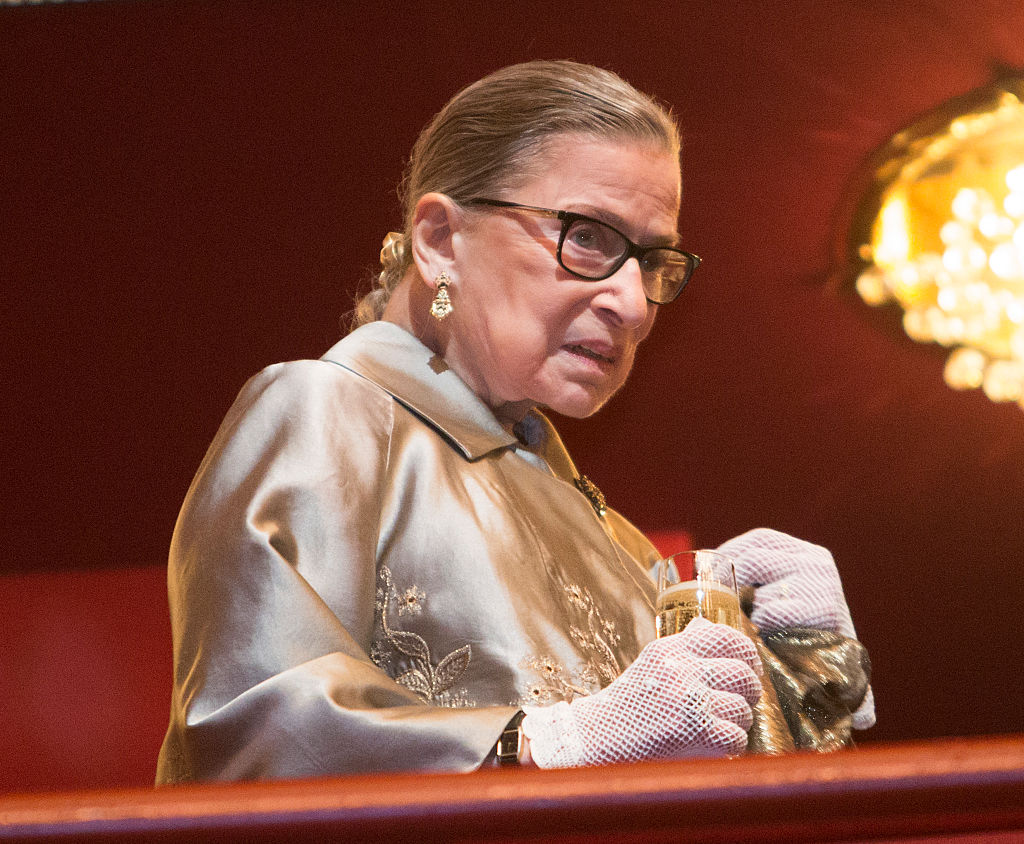 In January 2018 a documentary entitled RBG based on Ginsburg's life premiered at the 2018 Sundance Film Festival. Also, a fiction film based on her life entitled On the Basis of Sex which will star Felicity Jones, as RBG and Armie Hammer as her husband Marty will premiere Christmas Day 2018.