'30 Rock' Is Coming Back to NBC: When Does the New Episode Air?
30 Rock is coming back, and we know one thing: we want to go to there. The workplace comedy created by Tina Fey, loosely based on her time as a head writer at Saturday Night Live, didn't get incredible ratings in its time. However, over the years, the NBC series has worked its way into the hearts of critics and many die-hard fans. Those fans will be thrilled to hear the news: 30 Rock is coming back this summer. When will the new episode air, and who in the cast is involved?
'30 Rock', the comedy series that ended after season 7, is briefly returning to NBC primetime
Variety confirmed recently that 30 Rock will return to NBC for a single episode.
"NBC is making it 2006 again, through science or magic," the publication quipped. The hour-long episode will be "remotely-produced" and "double[s] as an upfront special for the NBCUniversal properties."
The network, ever one to toot its own horn since the wild success of Friends, calls the 30 Rock one-off "a first-of-its-kind all-audience upfront event."
Per Variety, Broadway Video and Little Stranger, Inc. — the same production companies that originally made 30 Rock, are "behind the special."
Because the 30 Rock special is technically an advertising stint, the hour "will feature guest appearances from talent from across NBCUniversal, highlighting new and returning programming from NBC, Telemundo, USA Network, SYFY, E!, Bravo, and more."
NBCUniversal's chairman of advertising and partnering said: "At NBCUniversal, we're excited to produce an upfront that reflects a new reality and celebrates our relationship with viewers and advertisers alike."
'30 Rock' special will be streaming online, and available on several TV channels
But we still have every right to be excited. According to critics — and several awards ceremonies — 30 Rock is certified good.
"The series is … the record-holder for most Emmy nominations in one season for any comedy series, and received a total of 103 Emmy nominations over seven seasons on NBC," Variety explained.
Also, we get more time. Not only is the 30 Rock special an hour (traditionally, the show followed a half-hour format), Variety also reported there will be no commercials.
And, per the publication, the July special is not limited to just NBC. It "will be rebroadcast across USA, Bravo, E!, Oxygen, SYFY, and CNBC as well as available to stream on NBCU's new service Peacock on Friday, July 17 at 9 p.m. ET."
The upfront episode that airs in July 2020 includes all of the main cast and characters: Jack, Liz, Jenna, Kenneth, and Tracy
Variety reported that the special will be shown on the network on Thursday, July 16, 2020. The main cast members are all returning.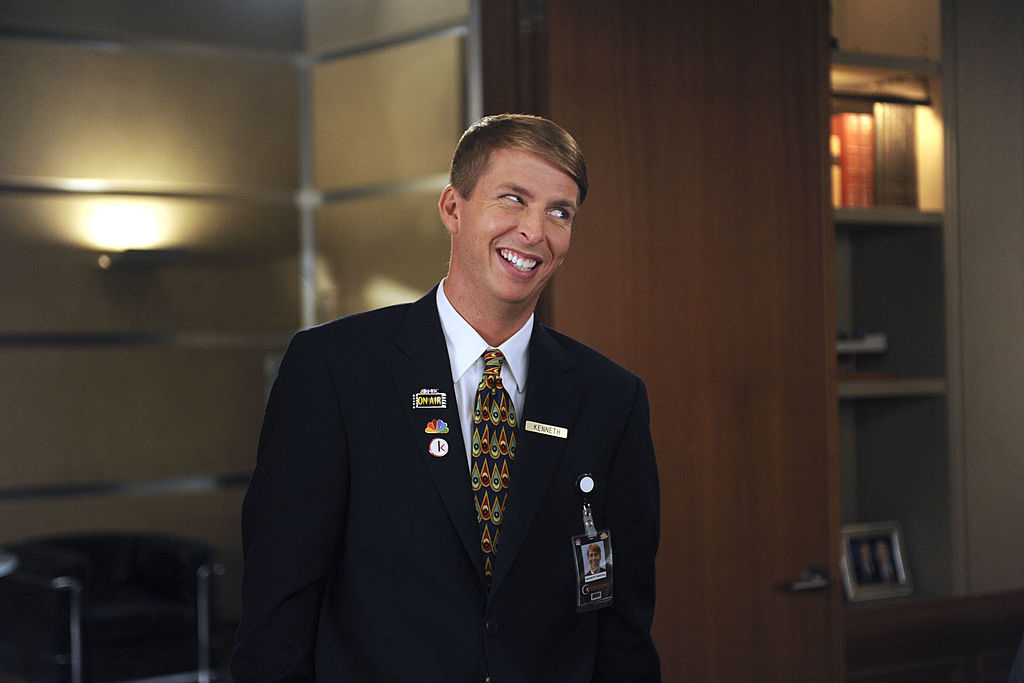 "Tina Fey, Alec Baldwin, Tracy Morgan, Jane Krakowski, Jack McBrayer, and others [are] reprising their 30 Rock roles," they wrote.
In a statement from 30 Rock co-creators Fey and Robert Carlock, they wrote:
We're all happy to have this excuse to (remotely) work together again for NBC. To quote Kenneth the Page, there are only two things we love in this world, television and everyone.
RELATED: '30 Rock': Tina Fey Says Alec Baldwin Saved the Show From Being Canceled
We just can't wait to don our Snuggies and dip into Liz Lemon's favorite snack.
As the song goes: "You take a hot dog, stuff it with some jack cheese, fold it in a pizza. You've got Cheesy Blasters!"