'30 Rock': Jon Hamm Almost Played an Iconic Character on the Show
Jon Hamm is best known for playing Don Draper, the handsome, suave, and brilliant leading man on the hit TV show Mad Men.
Jon Hamm is best known for playing Don Draper, the handsome, suave, and brilliant leading man on the hit TV show Mad Men.
But before landing his award-winning breakthrough role, Hamm was a struggling actor in Hollywood for many years. It was during this time that he auditioned for an iconic role on 30 Rock. Which character did Hamm almost play?  
Jon Hamm was almost Jack Donaghy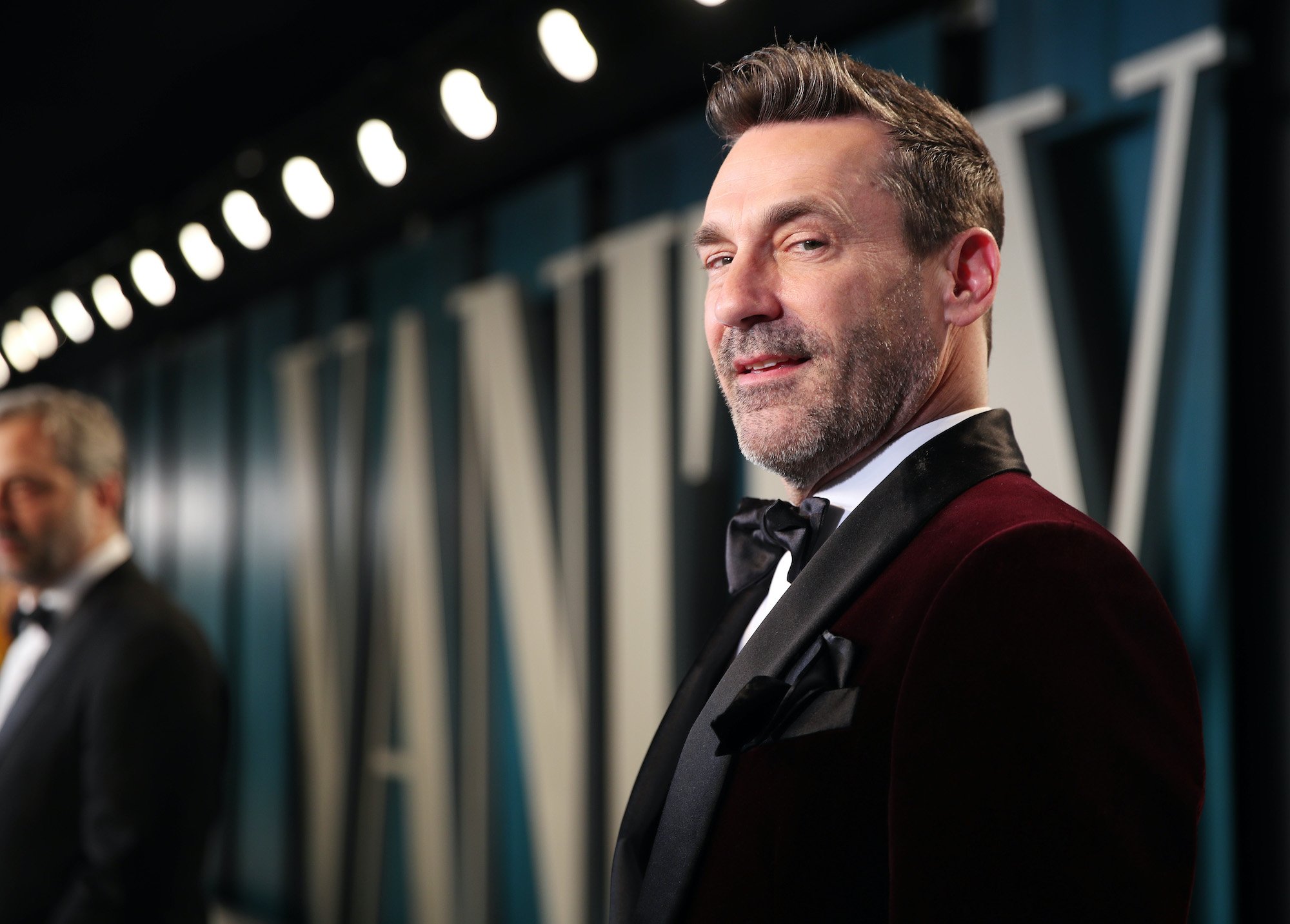 It's hard to imagine anyone else but Alec Baldwin playing the slick, overbearing, and decisive network executive Jack Donaghy on 30 Rock. After all, Tina Fey wrote the part specifically for him. But early in the casting process, according to Mental Floss, Hamm also auditioned for the role!
He didn't land it, but it was for the best. Hamm went on to star in Mad Men for seven seasons, from 2007 to 2015 and received critical acclaim for his acting. While he missed out on the part of Jack Donaghy, Hamm did make several guest appearances on the show.
Who did Hamm play on '30 Rock'?
For seven episodes, beginning in season 3, Hamm played Dr. Drew Baird, an extremely handsome neighbor-turned love interest of Fey's character, Liz Lemon. 
Their relationship starts whenLiz accidentally gets mail intended for Drew, her new neighbor. She opens it, decides that he's perfect for her, and creates a fake persona to make him like her. She later realizes that Drew is remarkably dim-witted and clumsy, but no one ever tells him the truth because he's so good-looking.
In an interview with EW, Fey explained that the writing team had Hamm in mind while developing the character. 
"A lot of times when we're writing we'll have an actor in mind, and we'll keep referring to them. Like for this [role] we said, 'Then Hamm comes in, blah blah blah.' And I kept saying, 'You know, you guys, we probably aren't going to get Jon Hamm,'" Fey said. 
But it turned out to be the right timing, as Mad Men was on hiatus and Hamm was showing off his comedy chops as host of Saturday Night Live. 
"So I called over there and asked them [whispering], 'Hey, is that guy funny? Tell me the truth.'" Fey said, "And they were like, 'Yes, he's really funny.' By Saturday, I knew they were right."
For his performance on 30 Rock, Hamm was nominated for three Primetime Emmy Awards for Outstanding Guest Actor in a Comedy Series.
Hamm was emotional when '30 Rock' ended 
Although his character only appeared briefly on 30 Rock, Hamm had a special connection with the show. He had such a fondness for it that he got emotional when the show ended. 
"I was talking a lot with Jack McBrayer, Tina [Fey], Robert Carlock, people on 30 Rock, and they were like blind-sided and devastated by how emotional they all were at the end. I have a special relationship with that show, so I watched the finale and even I was, like, crying," Hamm told Vulture. "I'm totally crying at the end of that show. I was like, 'Oh my God, 30 Rock. You got me.'" 
Hamm hopes there's no 'Mad Men' reboot 
So many shows have been rebooted recently, like Saved by the Bell, Party of Five, and Dynasty. But will Hamm ever reprise his iconic role on Mad Men?
"I'm of the belief that when a story's told, it's probably done being told," Hamm recently revealed to ET Online. "So I don't know, maybe there's another version of it out there somewhere, but I hope not."
While he won't be returning to the Mad Men universe any time soon, look for Hamm in the upcoming movies Wild Mountain Thyme and No Sudden Move.