4 Must-Watch Horror-Thriller K-Dramas to Watch This Halloween Season
The Halloween season means binge-watching television shows and movies that would frighten anyone. Besides classic movies like Scream, Chucky, and more, Korean dramas also do an exceptional job at causing a chilling scare with horror-thriller K-dramas.
These horror-thriller K-dramas entail everything from monstrous apocalypses, a Netflix original K-drama about a ravenous zombie plague and taking down evil demons. Fans should get ready for a night of suspense, eeriness, and sleeping with a night light.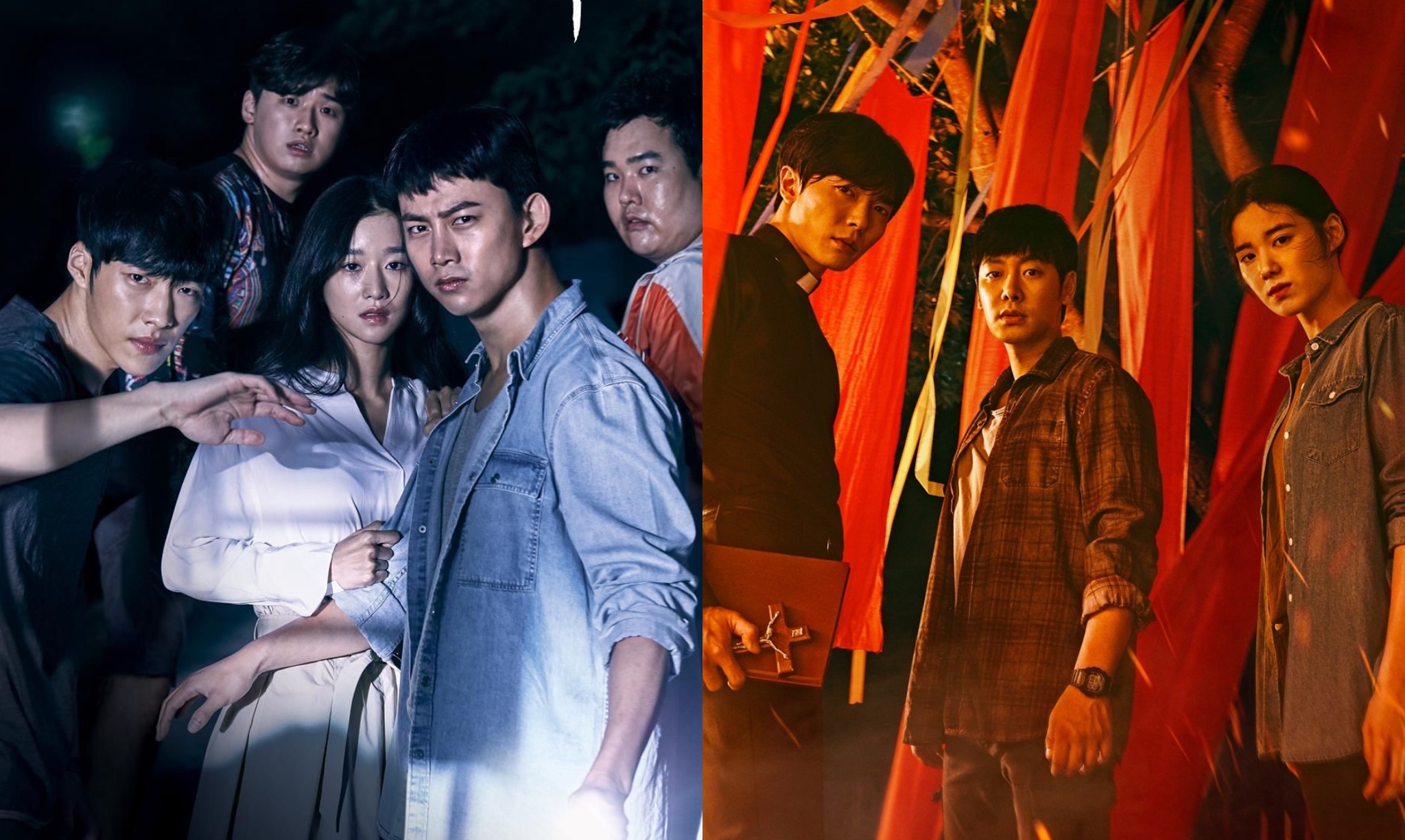 'Save Me' takes controlling cults to new extremes
In 2017, the K-drama Save Me gained some attention. Once becoming available on Netflix, it became well known as a riveting thriller K-drama. Im Sang-mi (Seo Ye-ji) and her family move to a remote town after the failure of their business. As the storyline progresses, Sang-mi's brother is severely bullied, leading to his death. The death of her brother causes her parents to spiral into hopelessness.
The local church, Goseonwon, takes it as an opportunity to convince her parents further to join them. In reality, the peaceful church is a dangerous cult with absolute control over the town's residents. The cult hides its turn of secrets, darkness, and murder. Years later, Sang-mi wants to escape at any cost.
Save Me stars K-pop idol and actor Taecyeon in a leading role. The success of Save Me also led to a sequel installment with a similar storyline involving the Goseonwon church. Save Me is available to stream on Netflix.
A psychic, a priest, and a detective fight a mysterious entity in 'The Guest'
The 16-episode K-drama, The Guest, received high ratings despite not airing on cable television. Tagged as a mystery-horror, the K-drama entails three characters who come together due to malicious and supernatural circumstances. Yoon Hwa-pyung (Kim Dong-wook) was born into a shaman family and learned of an evil demon.
The demon can control other demons and inhabit the bodies of the weak. The possession leads the victim to go mad, kill their families and stab themselves in the eye. Hwa-pyung crosses paths with Choi Yoon (Kim Ja-wook), a young boy born into a religious family, and Jung Eun-chae (Kang Gil-young), a detective's daughter.
All three characters become tied by fate because of the demon called "Son" (Guest). Years later, the demon returns. Choi Yoon is now a catholic priest with experience in exorcisms as Hwa-pyung uses his powers to help the possessed. Eun-chae followed in her father's footsteps and became a detective. The three characters come together to eradicate the demon for good. The Guest is available to stream on Netflix.
'Kingdom' gets high marks as a political period horror K-drama
As American television dominated the zombie genre, Korea developed its own drama based on a webcomic, The Kingdom of the Gods, written by Kim Eun-hee and drawn by Yang Kyung-il. A crown prince and his subordinates uncover a deadly plague they have never seen before. The ill resurrect from the dead as blood-thirsty zombies. Amidst dealing with the epidemic, the prince investigates a conspiracy behind the king's death.
Kingdom was Netflix's first success at an original K-drama. According to Soompi, Kingdom was Twitter's most-searched topic since 2018. The K-drama held its own against other known zombie series like The Walking Dead. In 2021, the K-drama premiered its prequel, Kingdom: Ashin Of The North starring Kim Si-ah.
'Sweet Home' reinvents the idea of apocalyptic monsters in a horror K-drama
Sweet Home became a hot topic on Netflix when it premiered in 2020. The K-drama is based on a popular webtoon. It has a unique twist on disastrous monsters that had not been seen before. Actor Song Kang plays the lead role as Cha Hyun-soo. Hyun-soo is a troubled teen who loses his family in an accident. He moves into a new residential building.
The building is full of interesting characters who soon have one thing in common – survival. The residents are barricaded inside overnight as monsters created from one's desires wipe out the city. They must stay safe from the outside and each other as anyone can turn.
Hyun-soo is unique as he tries to keep his humanity as a dark monster lurks deep inside him. It's the perfect Halloween K-drama. While Sweet Home is rumored to receive a second season, Netflix has not confirmed.