4 'Stranger Things' Season 3 Moments Where Robin Buckley Shines
Robin Buckley, played by the fantastic Maya Hawke, wasn't introduced until Stranger Things Season 3. If there's any character we wish was present in all three seasons of the show so far, it's her. Her hilarious dry sense of humor balances out Steve Harrington's (Joe Keery) cluelessness. If we're being honest, Dustin (Gaten Matarazzo) and Steve would still be in the back of Scoops Ahoy trying to decipher that Russian message. 
We felt like it was time to give the spotlight to our new favorite Hawkins resident. Let's take a look at some of our favorite moments where Robin Buckley shines.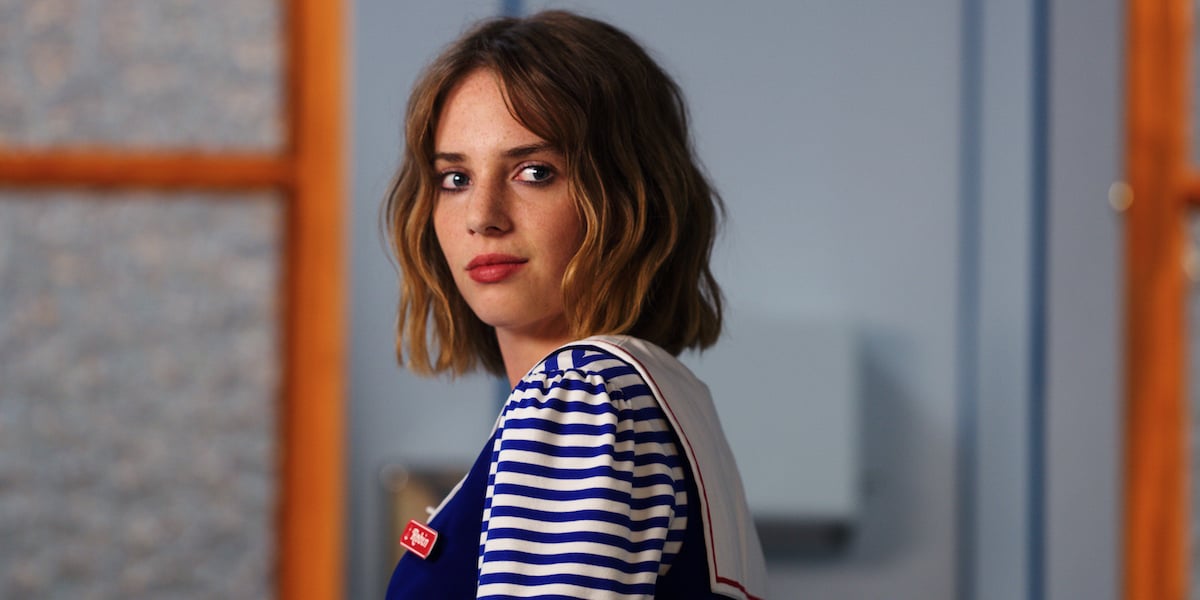 When she makes fun of Steve for being friends with so many children in 'Stranger Things' Season 3
Look, we love Steve Harrington as much as the rest of you, but we also love seeing him put in his place. When Stranger Things Season 3 opens, we find Steve working at Scoops Ahoy and not off joining the most popular fraternity at whatever college he had in mind. That's right, Steve didn't get into college like almost everyone else due to poor grades. His dad is forcing him to work at Scoops Ahoy, and that's where we meet Ms. Robin Buckley.
Steve has gotten into a habit of letting Mike, Lucas, Will, and Max sneak into the Starcourt Mall's movie theater through a back entrance accessed through Scoops Ahoy. When they show up to catch another flick, Robin calls out, "Hey, dingus! Your children are here!"
We can't knock Steve for being friends with the group — they have experienced some pretty horrific monsters together – but we love that Robin has no issues calling him out on it. It's always good to see someone with a big head be brought back to reality.
When she translates the Russian message at the center of the plot in 'Stranger Things' Season 3
Robin isn't lying when she tells Dustin and Steve that "her ears are little geniuses." Years spent in the high school band, and the fact that she's pretty intelligent are the gifts the two guys need when they're trying to decipher the message that comes through over Dustin's radio. 
Without Robin's help in Stranger Things Season 3, the boys would not have ever translated the message, but her desire to do anything but serve ice cream to mall rats comes in clutch when she asks for a turn at the riddle. It's Robin who finally pieces the entire message together, and she's the one who figures out what the coded audio really means. 
When she couldn't help but brag about how smart she was while simultaneously insulting the Russians who held her captive
In our opinion, Robin is right up there with Hopper (David Harbour) and Eleven (Millie Bobby Brown) if we're ranking the bravest people in Hawkins. When she and Steve are captured by the Russians, she lays it all out on the table regarding how dumb the Russians were with their radio riddle.
"You broadcast that stupid spy s— all over town and we picked it up on our Cerebro, and we cracked it in a day. A day! You think you're so smart but a couple of kids who scoop ice cream for a living cracked your code in a day."
Keep in mind, she's literally tied to a chair surrounded by Russian military men. There's no way we would have had the guts to say that, but we're so glad she did.
When she helps Steve get the job at the local video store and officially calls him her friend
Months later, after the Battle of Starcourt in Stranger Things Season 3, Robin and Steve are no longer working at Scoops Ahoy and out looking for jobs. There wasn't a better place to work in the '80s than your local video store, so it makes sense why the two would apply there. They walk in, and we see our old friend, Keith. (Remember Keith from the arcade called The Palace in Stranger Things Season 2?)
Steve lacks in the movie trivia department. When Keith rapid-fires questions at him about his favorite movies, it's clear Keith isn't impressed. Only when Robin convinces Keith of all the ladies that will come to see Steve, he breaks down and gives them both a job. That's sweet, and all, but the cherry on top is the last bit of the conversation. Keith isn't sure why Robin wants to help get Steve a job. He asks her if she has a thing for him. She smiles and replies, "We're just… um, we're just friends."
We can't wait for more Robin Buckley moments in Stranger Things Season 4. It arrives on Netflix in 2022.