5 Times 'Only Murders in the Building' Star Steve Martin Dazzled Fans With His Banjo Skills
Steve Martin may have introduced his banjo-playing skills to audiences through his stand-up comedy, but they're really no joke. He took an interest in the instrument when he was a teenager, and it became a passion he's nurtured throughout his life.
At 76, his ability to play arguably rivals his skill for writing humorous entertainment, and that's saying a lot considering he's behind Only Murders in the Building on Hulu. Martin has collaborated with some major names in music while making bluegrass, including a few country music legends, a Muppet — and even one of The Beatles!
Keep reading to find out some fun facts about his banjo-playing career, and hear his amazing skills for yourself. But keep in mind, this doesn't even scratch the surface of Martin's banjo content library!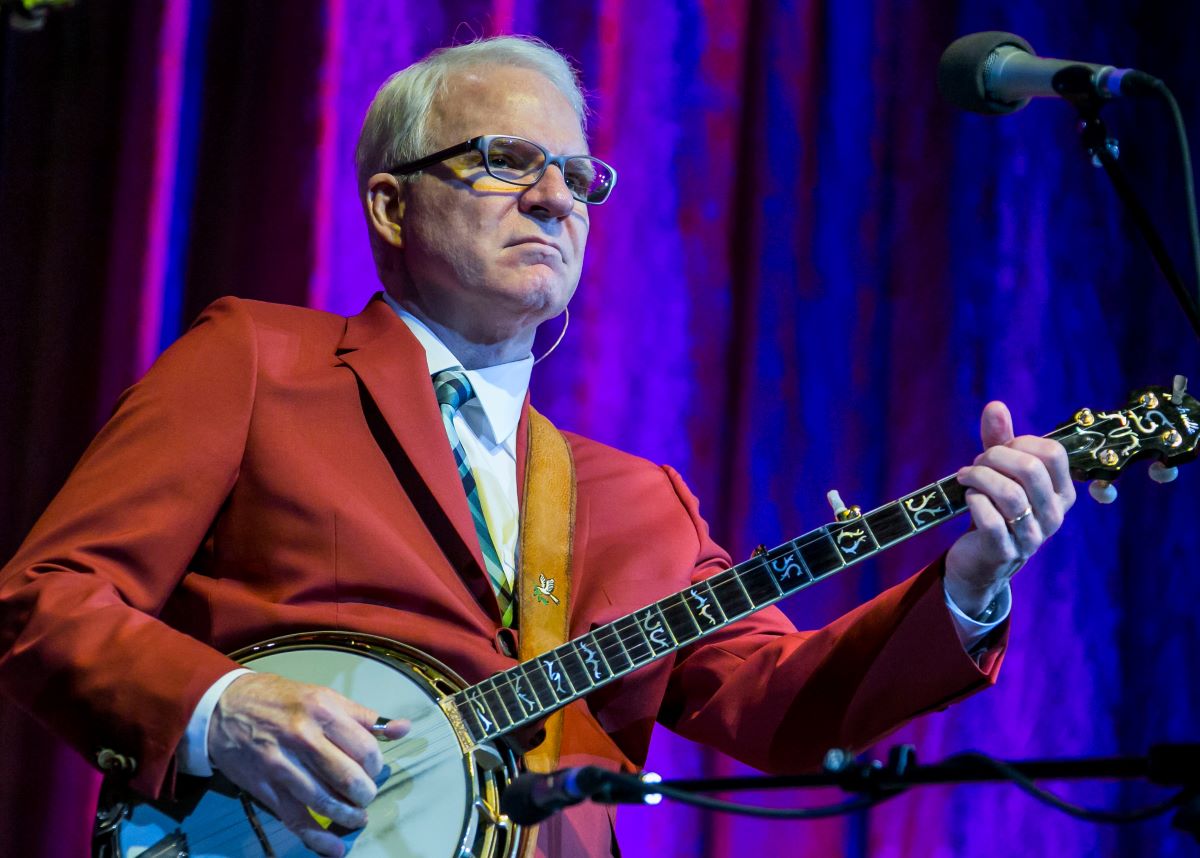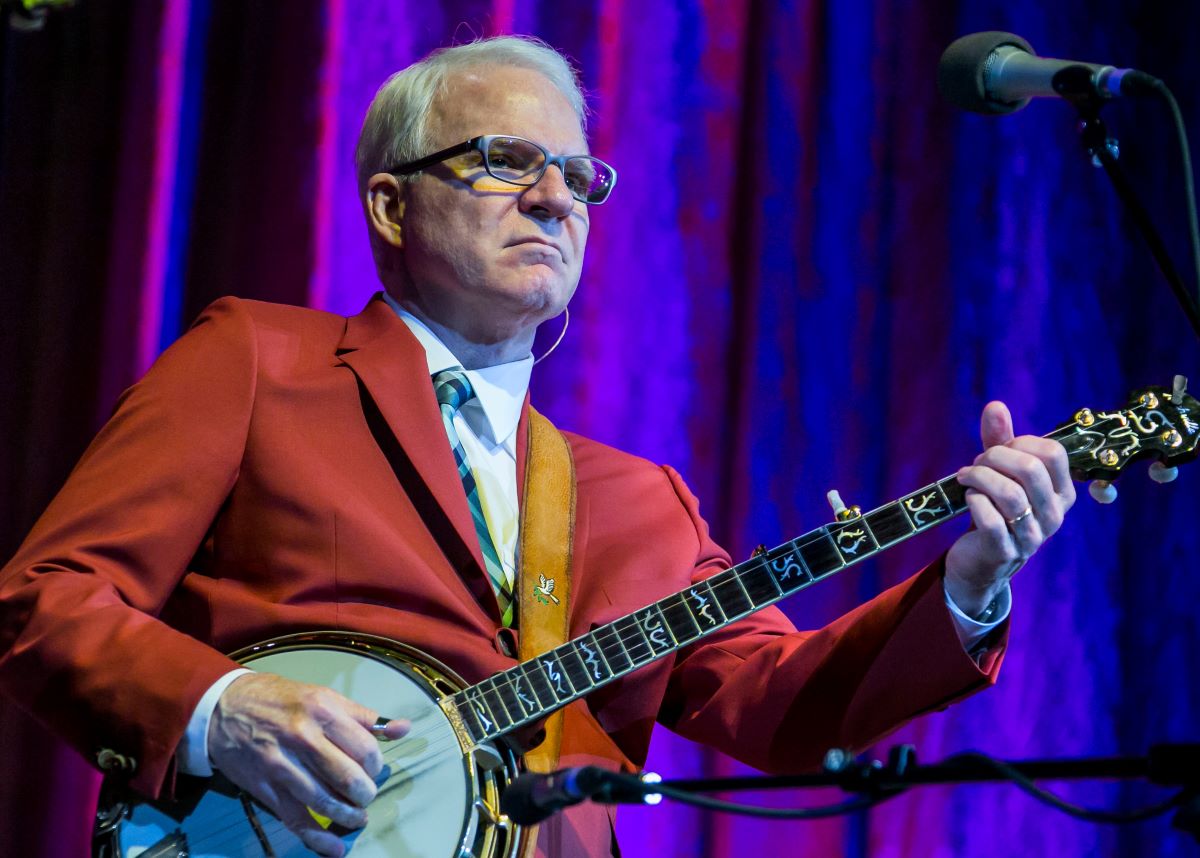 Steve Martin's banjo skills are self-taught
Fans of Martin might know he introduced his banjo onstage during his early comedy routines. But he once told ABC News he fell in love with the instrument through bluegrass. He taught himself to play with some friendly help.
"I was about 15 years old," he said. "There was a folk music craze led by the Kingston Trio and Pete Seeger and the banjo was introduced in that music, and it quickly led me to bluegrass music."
He explained that banjo-playing is a skill that requires hard work, but he used it in his comedy for a reason. "I thought it's probably good to show the audience I can do something that looks hard, because this act looks like I'm just making it up."
It worked for Martin, and the banjo became a memorable part of his comedic image.   
Steve Martin wrote 'Pretty Flowers' with Dolly Parton on vocals
Some fans will be elated to feast their ears on a Steve Martin, Dolly Parton musical collaboration. Martin wrote the waltz called "Pretty Flowers" and he plays banjo, while Parton sings along with fellow country star Vince Gill.
Of course, the gentle song is a treat! But the album — "The Crow: New Songs for the Five-String Banjo" — also won Martin a Grammy for Best Bluegrass Album in 2010.
Steve Martin and the Steep Canyon Rangers featured Paul McCartney on 'Best Love'
Notably, Martin has also recorded successful albums with Grammy-winning bluegrass band The Steep Canyon Rangers. "Best Love" even features guest vocals by Paul McCartney. That is, Sir Paul McCartney from The Beatles. It almost feels wrong that more people don't talk about this song.  
Steve Martin went viral playing his banjo in 2021
In Aug. 2021, Martin went viral after posting a short clip of himself playing his banjo. With little production at all, he sat casually in front of the camera – maybe even in his own backyard – and plucked away. Fans applauded him in the comments, with many noting they had forgotten he even played.
'Dueling Banjos' with Kermit the Frog
Impressively, Martin has been friends with The Muppets for about 40 years, making his first appearance with them on The Muppet Show in 1977. That's why it's always a delight for fans when he gets back to the swamp with Kermit the Frog.
Martin and Kermit playing "Dueling Banjos" is an understated joy. Of course, Martin's playing is remarkable, but Kermit playing alongside is just some good, wholesome hilarity.
Banjo Prize started as $50k a year of Steve Martin's own money
Martin launched his Banjo Prize initiative in 2010 and donated $50,000 a year to one skilled banjo player for ten years. After fulfilling the original vision, he partnered with the FreshGrass Foundation, who now co-funds the prize.
The initiative now presents "an annual award of $25K to one or more banjo players across the stylistic spectrum including both 5 and 4 string banjo masters." Their continued mission is "to preserve, support and create innovative grassroots music."
So, on top of being an impressive banjo player and working with an array of stars, Martin has done a lot to help keep others plucking away at their strings in the future. His commitment to the longevity of banjo music is debatably as awe-inspiring as his self-taught, teenage talent becoming a 60-year, Grammy-winning craft.