5 Movies With Romantic Airport Scenes to Watch If You Have Wanderlust
Daydreaming about hopping on a plane or heck, just sitting at the airport? Us too. 
With travel plans put on hold because of the coronavirus, we're fantasizing about the days when we can pack our bags and head to the airport. Instead, we're sitting at home getting our fill of faraway destinations with a little help from our TVs. Keep reading to check out our list of movies with romantic airport scenes. They may not be a replacement for an honest to goodness getaway but they'll help with wanderlust.   
'Sleepless in Seattle'
Directed by Nora Ephron, 1993's Sleepless in Seattle is a classic romantic comedy. Tom Hanks plays Sam Baldwin, a widower who moves to Seattle, Washington, with his son Jonah to get a fresh start. One night, Jonah calls a talk radio show and says he wants to find a new wife for his dad. Sam ends up on the phone talking about how much he loved his late wife. 
Listeners can't help but connect with Sam's story. Among them is Annie Reed (Meg Ryan), a reporter working across the country. Even though she's engaged to be married she wants to track down Sam. 
RELATED: Tom Hanks: 7 Feel-Good Movies Starring the Oscar-Winning Actor to Watch Right Now
Meanwhile, Sam starts dating a woman named Victoria who Jonah isn't particularly fond of. When the father and son are dropping her off at the airport, they have a conversation about relationships. Just as Hanks' character is saying the words, "There's no such thing as perfect," he looks up to see Annie and he's left speechless. After an awkward moment in Seattle, Annie and Sam eventually meet in New York City at the top of the Empire State Building.
'Love Actually'
In this Christmas movie that practically became an instant classic in 2003, people from all different walks of life have a story to tell about love over the holiday season. Among them is Sam (Thomas Brodie-Sangster), a lovesick young boy. He's so determined to get the attention of his classmate Joanna, he learns how to play the drums so he can perform in a school recital with her. Sam also enlists the help of his widower dad, Daniel (Liam Neeson), and together they make it their mission for Sam to be the best drummer ever.
RELATED: The 7 Best Romantic Comedies Ever, According to Rotten Tomatoes
But after the recital when Joanna is heading back home to America, Sam misses his chance to tell her how he feels. Daniel rushes Sam to the airport and they run through the airport to reach Joanna before it's too late.
'Casablanca'
No list of movies with romantic airport scenes would be complete without Casablanca. The classic film ends with Humphrey Bogart and Ingrid Bergman's characters scene at the airport. There are tears and iconic dialogue.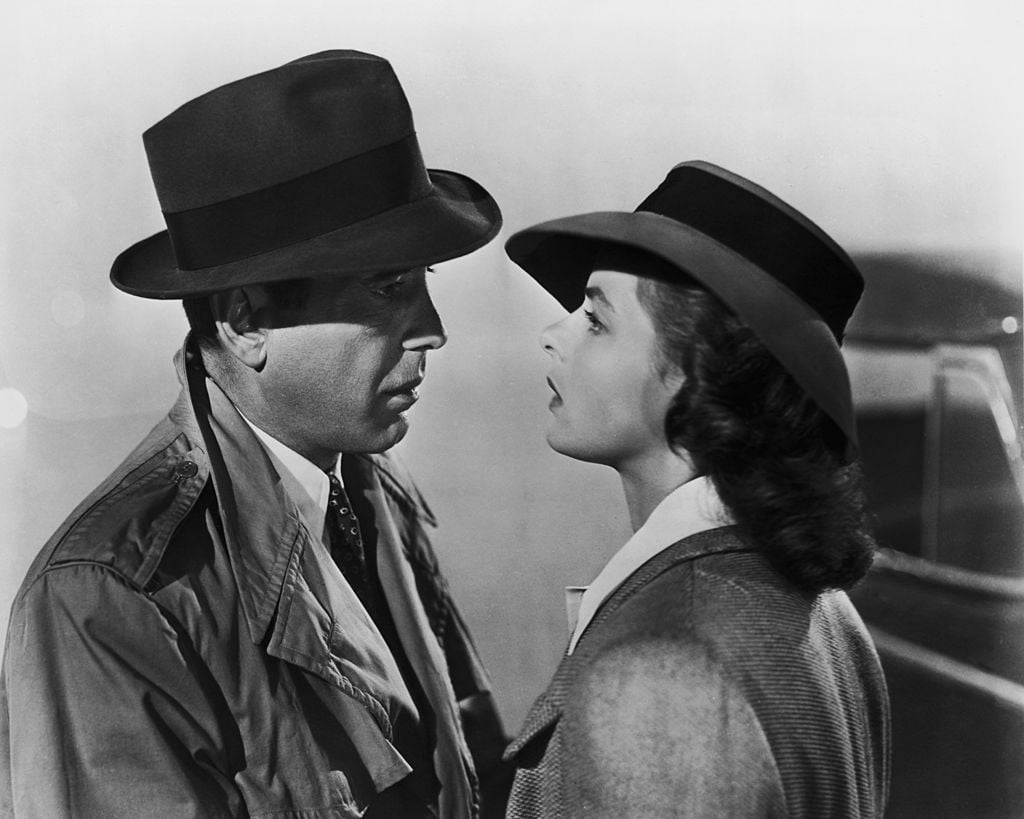 'The Wedding Singer'
1998 gave us The Wedding Singer starring Adam Sandler and Drew Barrymore. Sandler played singer Robbie Hart, on a journey to stop his crush, Julia (Barrymore), from marrying the wrong guy.
RELATED: The Best Romantic Movies To Watch On Your FaceTime Dates During the Coronavirus Outbreak
In the movie's climactic scene, Sandler's character gets the girl by serenading her on a plane. Sure, it's cheesy but it's one of our favorite Sandler movies. 
'Garden State'
Zach Braff stars in Garden State, a 2004 romantic comedy he wrote and directed, according to IMDb. Braff plays Andrew, a young man who returns home after the death of his mother only to meet and fall in love with Portman's character, Sam.
The movie ends with Sam in tears as Andrew boards a plane. Realizing he loves Sam, Andrew runs back to Sam to tell her how he feels.