5 Steamy BL K-Drama Kisses That Get the Heart Racing
'Cherry Blossoms After Winter' tells the BL K-drama story of two male characters who develop feelings for each other. Fans will fall for their chemistry on screen and blush at one of the character's dream kisses.
K-dramas are breaking the barrier of foreign television. BL K-dramas, or Boys Love dramas, are following along and enthralling fans with their equally riveting, romantic, and steamy romances between two male leads. There have been many K-dramas that takes the cake for having the most blush-worthy kissing scenes. But BL K-dramas are giving needed competition in displaying jaw-dropping kisses.
[Warning: This article contains spoilers for the BL K-dramas.]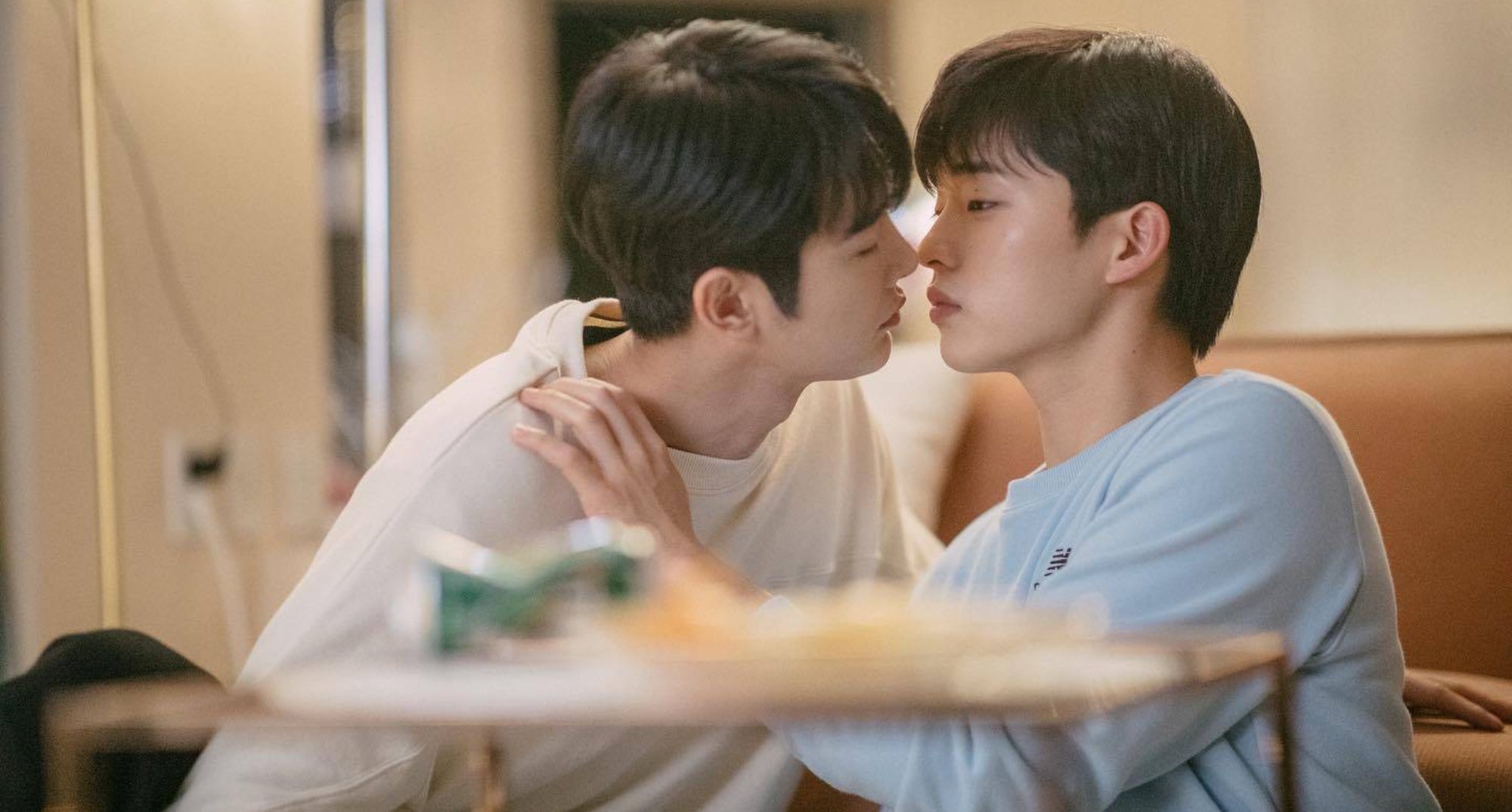 First kiss in the BL K-drama 'You Make Me Dance' gets the temperature rising
The 2021 BL K-drama tells the story of a contemporary dancer named Song Shi-on (Choo Young-woo). He is kicked out of his home and rents a rooftop apartment with the cold-hearted Jin Hong-seok (Won Hyung-hoon), a debt collector for a firm. Hong-seok gave up his dream of being a pianist and, along the way, develops a romance with Shi-on.
You Make Me Dance gives fans a sensual kiss in episode seven of the BL K-drama. Shi-on and Hong-seok visit his office, and Shi-on suggests listening to a popular podcast. The topic? First kisses. As the podcaster explains a first kiss can tell you everything about a person, Shi-on leans in and kisses Hong-seok.
Surprised by the events, Hong-seok pushes him away, and Shi-on confesses his feelings. Once thinking Hong-seok may not feel the same, he apologizes. The heart-racing part comes next when Hong-seok stops him from leaving and kisses him with passion.
You Make Me Dance is available on Viki.
'Kissable Lips' is a vampire romance between two male leads
The title of the supernatural K-drama Kissable Lips is self-explanatory. Jun-ho (Kim Ji-woong) is a vampire on the brink of death because he refuses to drink human blood after an incident. He looks for a pureblood to make him human and meets Min-hyun (Yoo Seo-bin).
His plan goes awry when he falls in love with Min-hyun, and there is an old lover as an enemy. In the episode before the finale, Min-hyun puts his feelings for Jun-ho ahead of the risk. Min-hyun grabs Jun-ho's face in their hideout, stares deeply into his eyes, and kisses him. Their kiss continues into the finale of the BL K-drama as Jun-ho gives into fervor and lust.
Kissable Lips is available on Viki.
'Oh! Boarding House' is a drama about a boarding house full of crushes
Seol-won's (Shin Yong-seok) mother runs a boarding house open to young men down on their luck or unable to afford normal rent. When his mother goes on vacation, Seol-won becomes a live-in landlord. He soon realizes many male tenants form a crush on him, but he has eyes for only one.
By the finale of Oh! Boarding House, fans see the end of a romance between Seo-won and Cheol-su (Im Sung-kyun). The two characters meet outside, and Cheol-su is led to believe Seo-won likes another person. But he is wrong, as Seo-won is the first to initiate a kiss. Under a lamppost, the BL K-drama gets intense as the two characters hold onto each other tightly and let emotions roam free through the kiss.
Oh! Boarding House is available on Viki.
The BL K-drama 'Cherry Blossoms After Winter' will have viewers fanning themselves because of a kiss
Seo Hae-bom (Ok Jin-uk) moves in with an adoptive family after his parents' death at seven-years-old. The family's son of the same age, Jo Tae-seong (Kang Hui), embodies everything Hae-bom is not. The two characters grow up and find themselves in the same high school and spending time together. They begin to develop romantic feelings for each other.
Cherry Blossoms After Winter Episode 5 starts strong with the drama's most tantalizing kiss that is actually a dream. Tae-seong and Hae-bom have too much to drink and let go of their frustrations in the prior episode. They have their first kiss, but Hae-bom cannot remember the following day. The scene shifts to Hae-bom in bed that night and Tae-seong visiting him.
Without saying a word, Tae-seong grabs Hae-bom and kisses him with gusto. The scene shifts to be bathed in haze and pink lighting as they kiss with conviction. Tae-seong breaks away to take off his sweatshirt before Hae-bom wakes up from his dream.
Cherry Blossoms After Winter is available on Viki.
'Semantic Error' has one of BL K-drama's most hot-blooded kiss scenes
Sang-woo (Park Jae-chan) is a junior computer major who keeps to himself and would rather work alone. He is put in a group assignment with upper-classmen who refuse to do the work. When he takes their names off the presentation, he ruins the academic career of upperclassmen Jae-young (Park Seo-ham).
While Jae-young vows revenge, they start to develop a crush on each other. Their first kiss in the BL K-drama occurs in episode seven. At Jae-young's workplace, Sang-woo has too much to drink and inadvertently reveals that he is handsome. Jae-young grabs Sang-woo's arm, warns him of the kiss and allows him to push away.
Instead, Sang-woo pulls him in by his shirt and plants a kiss. After getting over the initial shock, Je-young grabs his neck and continues the most sensual kiss in the popular BL K-drama.
Semantic Error is available to stream on Viki.