5 Things We Learned From 'Bob Ross: Happy Accidents, Betrayal & Greed'
The new Netflix documentary, Bob Ross: Happy Accidents, Betrayal and Greed, is enlightening, to say the least. Not many people knew the real Bob Ross, outside of watching episodes of his popular PBS show, The Joy of Painting. Most fan's knowledge of the iconic painter stretches as far as knowing about his gentle, relaxing speaking voice, that he loved painting, even when happy accidents occurred, and that you can now buy a Bob Ross Chia Pet.
There was clearly more to the famous painter than we ever realized, and the documentary shows us that. Here are five things we learned from Bob Ross: Happy Accidents, Betrayal and Greed.
5. Bob Ross was really charismatic and liked to flirt
According to Ross's son Steve, the famous painter really was as gentle and caring as he's shown to be on The Joy of Painting. "The Bob you see on TV is pretty darn close to his real attitude, about nature and about everything, really," Steve says in the documentary per the Washington Post.
The only thing that was designed for the show was Ross's gentle whisper. Steve said his father wanted to whisper because "a lot of the audience is women." Plus, Ross wanted to have the opposite demeanor of his mentor Bill Alexander, who had a rough accent and talked loudly. Playing on the fact that most viewers were women, Ross also made sexual innuendos as well. "Make love to it here," he'd advise. "Very gentle."
Outside The Joy of Painting, Ross was a superstar with the ladies. Women from all over the country packed into his painting classes and congregated around him as if he were a Beatles, and this was the height of Beatlemania. According to Steve, he liked to flirt with his fans. But that also angered Annette Kowalski.
4. Bob Ross had an affair with Annette Kowalski
When Ross was an apprentice of Bill Alexander, teaching across the country, he met the Kowalskis. Annette and Walk Kowalski made a deal with the Ross' that they'd give them room and board if they'd allow them to fund more classes for Ross to teach. With the Kowalskis financial power, Bob Ross Inc. was formed, and PBS started airing, The Joy of Painting.
According to Steve, having the two couples living together was not a good idea. While tons of female fans were craving Ross's attention, so was Annette. Anytime someone would get close to Ross, Annette became jealous. "I don't know, do I go there? Was Bob and Annette a thing?" Ross's friend and colleague Dana Jester says in the documentary. "Everybody always asks that question. And the answer is: Steve might know."
Steve confirms it. While the Kowalskis denied the affair, Steve remembers hearing his father argue about it with his wife, Jane. They were able to move past it, however.
3. Steve and Bob Ross fought for many years
Ross invited Steve to appear on a couple of The Joy of Painting episodes, but not just because he thought his son was a great painter. Ross thought Steve was a better painter than him and wanted to prepare him to take over when he was gone. However, at the time, Steve didn't want to do the show and wanted to go out and make his own way. The result of this was that Steve didn't talk to Ross until the last couple of months of Ross's life.
"There was a power struggle between us, I guess you could say," Steve says, adding that you don't know it at the time, that you're parents want what was best for you and that they love you.
2. Bob Ross's brother Jimmy and his wife Lynda signed away everything
In the last couple days of his father's life, Steve says that Annette tried to get him to have Ross sign a "memorial agreement," which basically would have signed Ross's name, likeness, and everything that Bob Ross Inc. did over to the Kowalskis. "It looked to me like they were trying to get Bob to sign his name over to them," Steve says. "You could hear him screaming, 'I'm not giving you my name.'"
Ross never signed it, so after his death in 1995, the Kowalskis sued Ross's half-brother Jimmy Cox and Lynda, Ross's wife, for the rights to Ross's image. Steve didn't know this or that his father had laid out specific instructions that Cox and Steve were to manage his name and likeness instead of the Kowalskis until he went to sue Bob Ross Inc. so he'd be able to release paint supplies using the Ross name.
Steve and Cox have always had a "shaky" relationship but signing away Ross's name, and likeness went "totally against my father's wishes."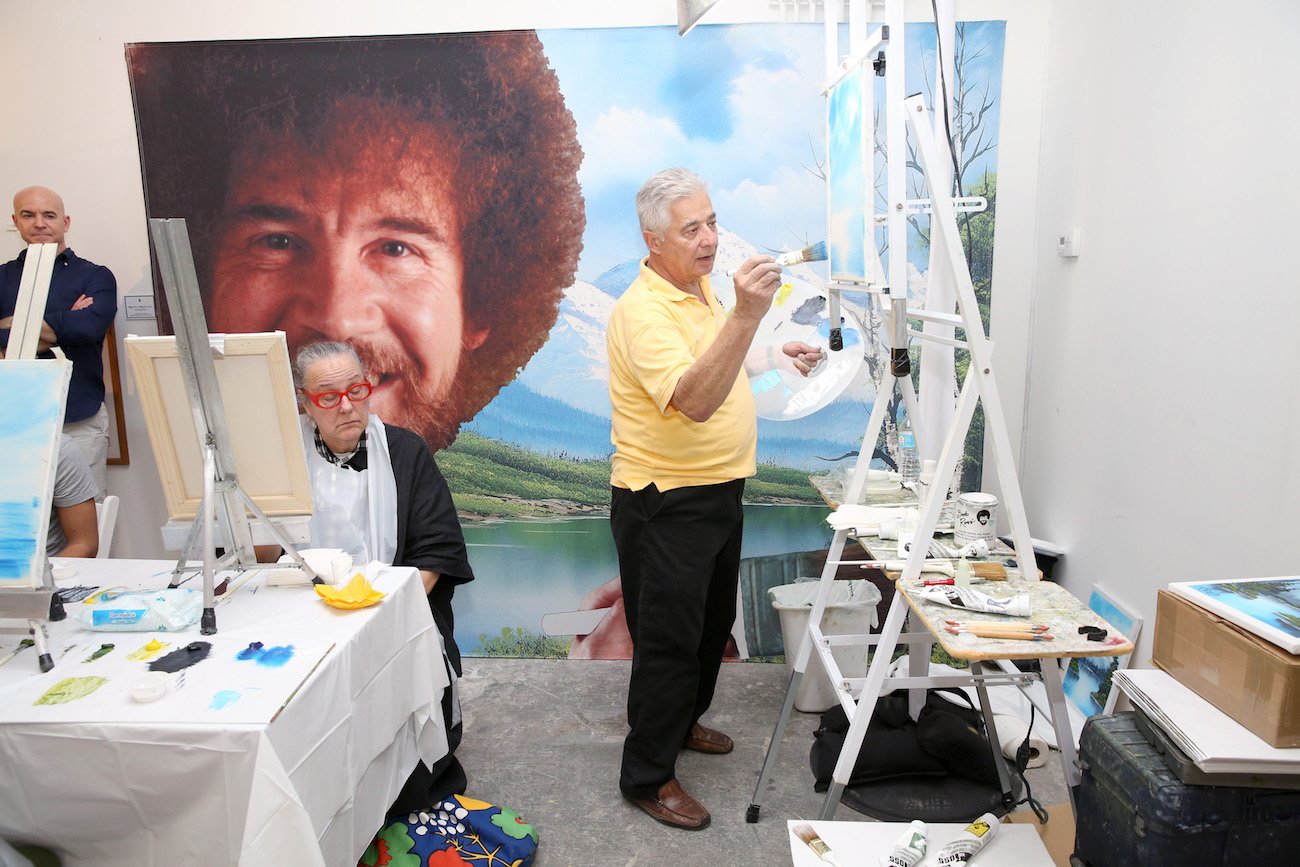 1. Steve Ross lost his suit against Bob Ross Inc.
Steve lost his suit against Bob Ross Inc. in 2019. With the help of the original paint and supplies manufacturer who made Bob Ross painting supplies, Steve sued Bob Ross Inc. to sell paint supplies with the name Ross. But since Bob Ross Inc. owns his father's name, "he cannot profit from his father's name or image."
It took a long time for Steve to be able to sit behind an easel, but he's now back on the road teaching people his father's methods. At least he can keep his father's legacy alive somehow. "That was the whole idea behind Bob Ross and his painting," Steve says. "He was going to teach people that they could be valuable, they could be important in this world."
Bob Ross Inc. has responded to the documentary saying they take "strong issue with the inaccurate and heavily slanted portrayal" and that "Bob Ross may not have shared the inherent structural features of his company with family and friends — which are very common in small private companies — resulting in many of the unsubstantiated accusations made in the film." Whoever you believe, it's interesting to see what was happening behind all those happy accidents.