5 Times Johnny Carson Showed He Was 'the Lovable Bad Boy From the Prairie'
Ed McMahon once called Johnny Carson "the lovable bad boy from the prairie" with a "special lewdness license." And here are five times Carson proved him correct.
Beloved icon Johnny Carson had a "special lewdness license," according to his friend and The Tonight Show co-host Ed McMahon. He said and did things in his 30 years on the show not everyone could have pulled off with such incredible ratings. McMahon wrote in his memoir, Here's Johnny, that was because "the lovable bad boy from the prairie" knew just how far to go with his jokes to keep things exciting, maintain his audience, and not offend his celebrity guests.
Here are five times Carson proved him right.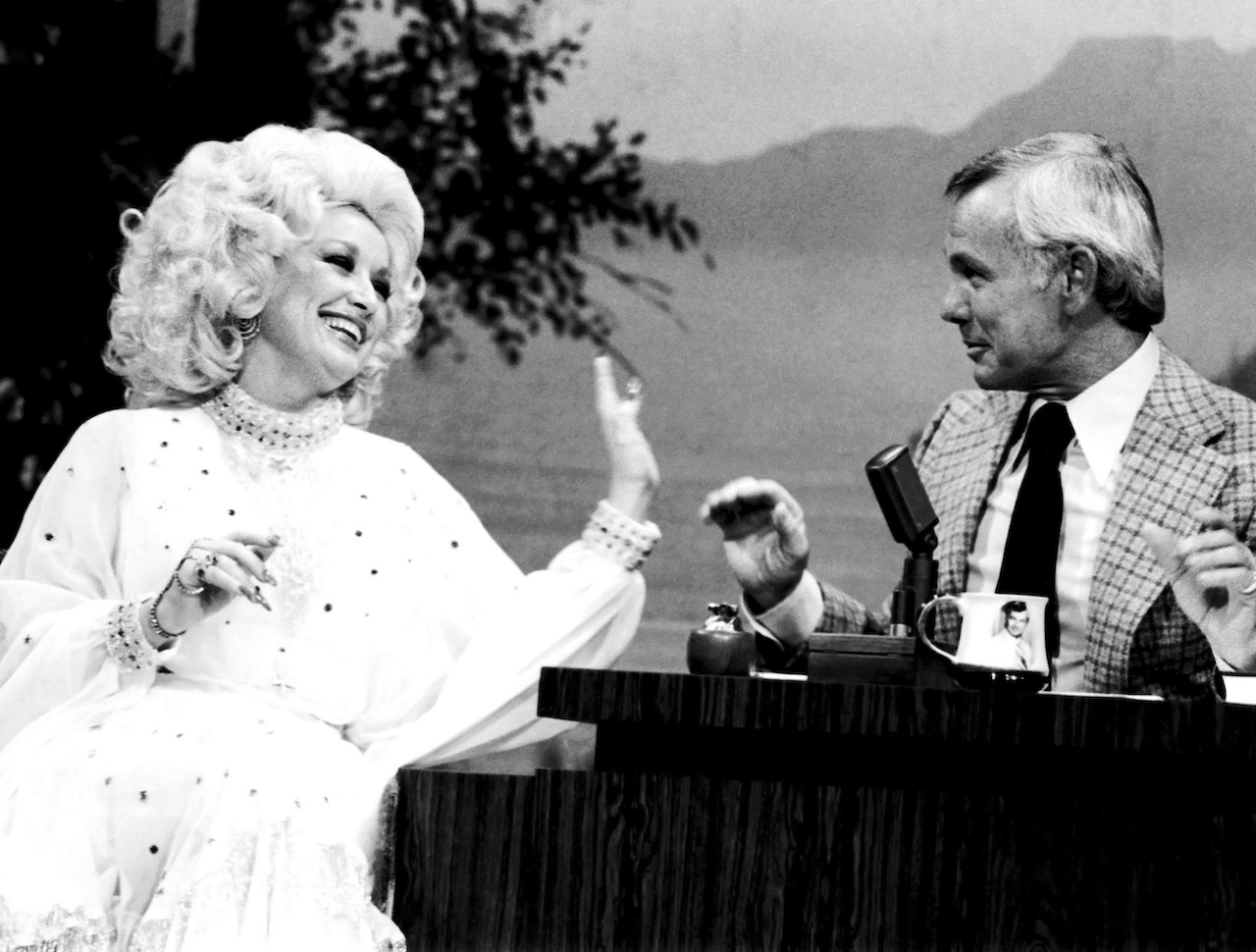 Johnny Carson suggested he would pay a fortune for a peek under Dolly Parton's clothes
When Carson hosted country star Dolly Parton for an interview in 1977, he was curious about more than her music. More specifically, he was intrigued by what he couldn't see.
"I have certain guidelines on the show," he told her before he offered, "… I would give about a year's pay to peek under there."
He was referring to getting a look underneath her outfit, of course. And Parton laughed it off but playfully returned the joke years later by telling him she would pay a fortune to get in the shower with him.
Johnny Carson asked Lucille Ball about losing her virginity just to see her face
When Carson and Lucille Ball sat down for an interview in 1974, they first bantered about how they were good friends. Then, she wondered if there was anything he was curious about that he didn't already know about her. He eventually asked, "How old were you when you first lost your virginity?"
Ball made her classic shocked face, and Carson counted that as an achievement. "I just wanted to see one of those takes again," he laughed before recreating her expression for the camera.
Johnny Carson brought Betty White on 'The Tonight Show' for scantily clad sketches
Carson interviewed Betty White many times in his decades hosting The Tonight Show, but he also invited her to star in several of his most memorable sketches. She later joked he just called her anytime he wanted to get undressed.
White recalled to the Television Academy Foundation she once teased Carson, "Johnny, why don't you just admit it! Every time you want to take your clothes off, you call me! What is this?"
But she seemed to recall working with him in those sketches fondly. She once explained that though they grew up on television together, he always left her "shook."
Johnny Carson gifted Sophia Loren a red garter for good luck
As Carson began a Tonight Show chat in 1979 with Sophia Loren, he offered her a box and explained he bought her a gift. She opened it and unveiled a red garter.
"I want you to understand it may be a little presumptuous," he explained of his offering. In an attached letter, he noted it was for her to have something red with her for their interview. He read in her book she believed the color was good luck but he told her not to feel pressured to put it on.
Nevertheless, she slid the accessory on her leg and returned the favor by giving him the red pouch of salt she was carrying.
Johnny Carson's humor started a rumor about a joke he made to Zsa Zsa Gabor
One rumor that survived for decades revolves around Carson's reputation for suggestion and classic Hollywood icon Zsa Zsa Gabor's love for cats. As Jane Fonda brought up during one 1989 appearance, a story circulated suggesting Gabor once brought a friendly feline with her to The Tonight Show, where it rested on her lap.
"Do you want to pet my p****?" she supposedly asked Carson, to which he replied something like, "I'd love to if you'd remove that damn cat."
But when Fonda relayed the story she'd heard from her son to Carson, he deadpanned for the camera. "Is it true?" she asked, to which the host flatly replied, "No, I think I would recall that."
While Carson said he didn't speak the words attributed to him, many people assumed the story valid because the humor seemed right up his alley. Some have even claimed to remember seeing that episode when it aired. But Snopes pointed out such an outwardly provocative exchange would never have made it on television back then in the first place.