5 Ways 'Riverdale' is Strangely Similar to 'Scooby-Doo, Where Are You!'
Riverdale is a juicy mystery drama series with twists, turns, and teens. While the show tends to skew toward more serious subject matter, Riverdale does have a quirky aspect that is strangely similar to the classic cartoon, "Scooby-Doo, Where Are You!"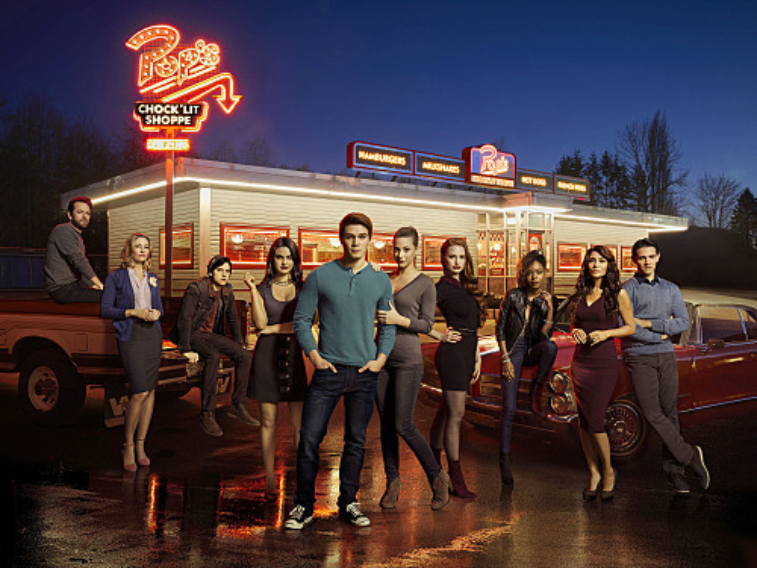 The 'Scooby-Doo, Where Are You!' backstory
Scooby-Doo, Where Are You! premiered in 1969 under the Hanna-Barbera umbrella. The animated series features a group of teenagers and their Great Dane, Scooby-Doo, who drive around in their Mystery Machine, a van adorned with a floral paint job. In each episode, Fred, Daphne, Velma, Shaggy, and Scooby-Doo investigate mysterious occurrences, uncover the truth, and capture the goons responsible.
The 'Riverdale' backstory
Although Riverdale is based on lighthearted characters that originated in Archie Comics in the early 1940s, the show is much darker. The town of Riverdale is shrouded in mystery, and Archie, Betty, Jughead, Veronica, and their cliques tend to find themselves in the middle of it. With every season comes a new puzzle to be solved, and a nefarious villain to be revealed.
'Riverdale' and 'Scooby-Doo, Where Are You!' have a lot in common
On the surface, Riverdale and Scooby-Doo, Where Are You! seem very different. However, there are five major characteristics the shows share that make them strangely similar.
1. Both shows revolve around mysteries
"Looks like we've got another mystery on our hands," says Fred in Scooby-Doo, Where Are You! Mysteries push the narrative forward in both Riverdale and Scooby-Doo, Where Are You! Considering that Riverdale operates as a whodunit, and the characters of Scooby-Doo, Where Are You! literally drive around in a "Mystery Machine," the parallels are pretty clear.
2. Meddling kids are at the center of 'Riverdale' and 'Scooby-Doo, Where Are You!'
Teen sleuths are the lead characters in both shows. At the end of every episode of Scooby-Doo, Where Are You!, the youngsters catch a different crook, who claims they would've gotten away scot-free if not for the meddling kids. Similarly, Riverdale's baddies, including The Black Hood, Edgar Evernever, and the Gargoyle King, were foiled by Archie, Betty, and the gang.
3. Adults are often missing in action on both shows
Since juveniles are doing most of the heavy lifting, adults typically remain on the back-burner. In Scooby-Doo, Where Are You!, the teens constantly travel around in their van unsupervised. On Riverdale, the kids' parents are minimally present, and the adolescents steer many major events and operations, including criminal investigations and business ventures.
4. Before 'Riverdale,' The Archies were classic cartoon characters too
Unlike Scooby-Doo, Where Are You!, The CW's Riverdale is a live-action show. But years before the drama premiered, the Archie Comics characters were animated in several different cartoon versions for TV. The first animated show based on the characters was The Archie Show in 1968, one year before Scooby-Doo, Where Are You! premiered.
Over the course of five decades, many other iterations were produced, including various series that focused on Archie and the core group, the teen witch Sabrina, and Josie and the Pussycats. Likewise, Scooby-Doo, Where Are You! characters were reimagined in a live-action film starring real-life couple Sarah Michelle Gellar and Freddie Prinze Jr.
5. Solving mysteries works up an appetite for the characters on both shows
On Scooby-Doo, Where Are You!, Shaggy and Scooby-Doo have insatiable appetites, with a particular weakness for Scooby Snacks. Likewise, on Riverdale, Jughead is the food-lover in the group, especially when it comes to Pop's Chock'lit Shoppe. Then again, it appears that no one from the entire town of Riverdale can resist one of Pop's milkshakes.
Read more: 'Riverdale's Cole Sprouse Shares Photos of His Side Hustle on Instagram