5 Wildest 'Real Housewives' Legal Dramas: Bravo Experts Dish About the Most Explosive and Shocking (Exclusive)
Bravo's Real Housewives franchise may be known for table-flipping and weave ripping but it is also known for some of the most intense and explosive legal dramas in pop culture history. Showbiz Cheat Sheet reached out to three Bravo Housewives experts to find out what they think are the biggest legal dramas ever. While a few of the latest dramas are currently playing out, one of our experts recalled a throwback scandal that rocked the nation's capital.
Is Erika Jayne from 'RHOBH' embroiled in the 'most scandalous' legal drama?
David Yontef, host of Behind the Velvet Rope with David Yontef podcast not only has deep Housewives knowledge, he also has a law degree. He believes that Erika Jayne from The Real Housewives of Beverly Hills is in the middle of the most scandalous legal drama in Housewives history.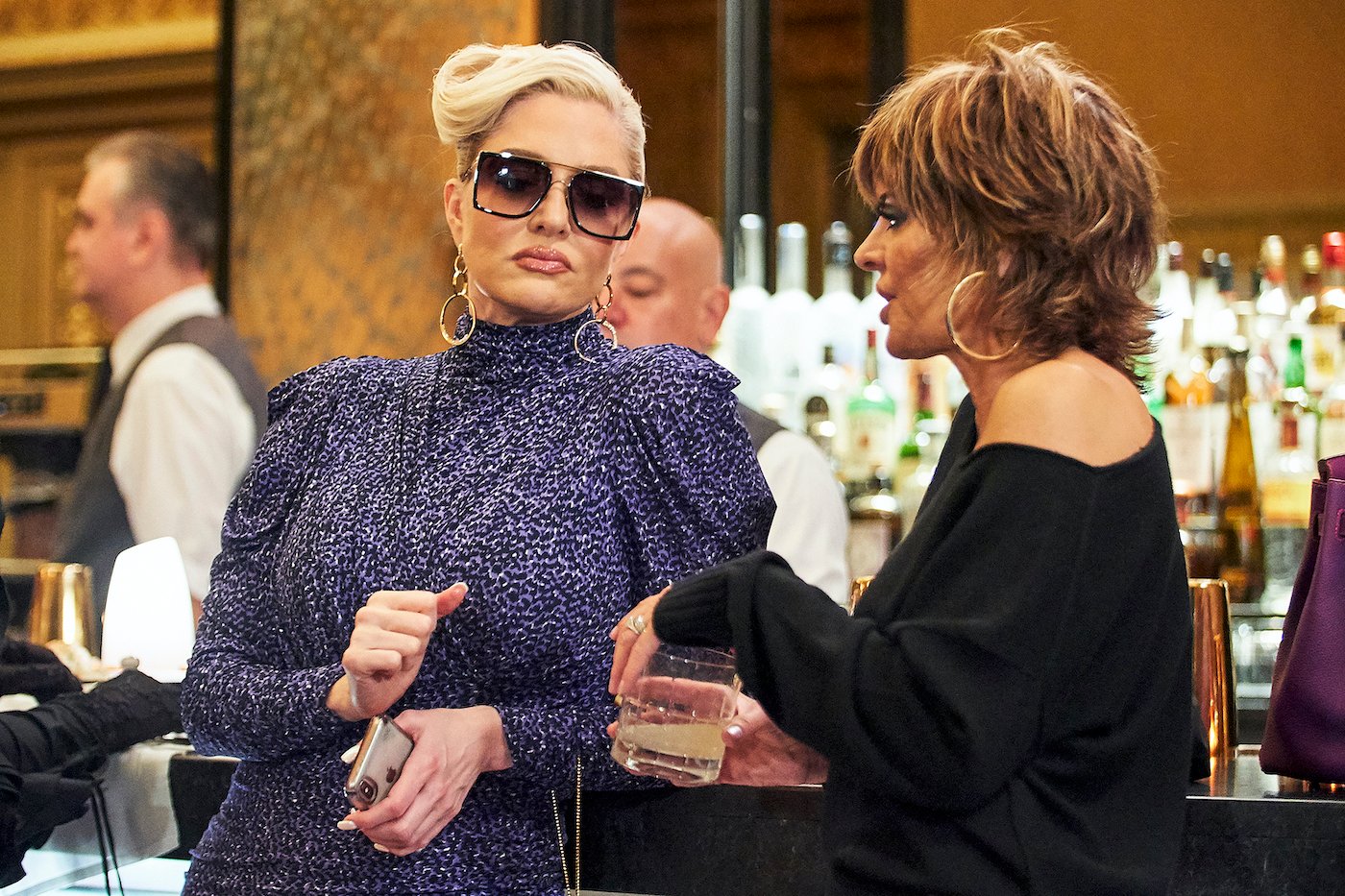 "To me, the biggest Housewives legal drama and scandal of all time is the current Erika Jayne / Tom Girardi divorce," Yontef said. The stories "get more insane and twisted and complicated and contrived and bizarre by the week." Girardi is accused of embezzling money from plane crash victims to fund his and Jayne's lavish lifestyle.
"The fact that there are also actual living victims of a plane crash waiting for money, who we not only know to exist. But some of who have been given a face via the ABC Documentary The Housewife and The Hustler make the situation even more scandalous," he added. "The final nail in the proverbial coffin for me though is that all of this played out in real-time while Bravo cameras were rolling."
Did Erika Jayne's recent appearance add insult to injury?
Adding to the drama is the fact that Jayne continues to make public appearances. Amir Yass from The Take On with Amir Yassi podcast pointed out that Jayne's recent appearance at SushiSamba Tree Bar & Lounge seemed strange.
"I think the biggest Housewives scandal or drama is happening before our eyes with Erika Jayne going to the Sushi Samba opening in Vegas the day Tom says she knew about what he was doing," Yass said. "That man is the crypt keeper. And it's scary to see all of this unfold while she continued to boldly live her best life on Instagram."
RELATED: 'RHOBH': Erika Jayne's Dubai Spending Spree Red Flag – 'This Girl Spends Money Like It's Coming out of the Tap,' Kathryn Edwards Recalled
"It must be so disheartening and infuriating to see all of this play out as you're waiting for your heart," he added. "I refuse to feel bad for Erika or Tom. They'll be fine. I worry for the helpless victims. And I know it's entertaining to see it play out now and later on a four-part reunion just remember these are real people's lives that have been affected by these two people whether or not Erika knew about it doesn't matter." Yass famously dished about working an event with Jayne where he referred to her as a "nightmare."
But is Jen Shah from 'RHOSLC' in more trouble?
While Yontef believes Jayne is the most scandalous, he thinks Jen Shah could be in more trouble. "The Jen Shah legal drama is playing out in real-time too," he remarked. "In a way, on paper, her facts are more scandalous because they are alleged against her. Whereas with Erika it is something Tom supposedly did which she may or may not have known about."
Shah was arrested and charged with "conspiracy to commit wire fraud in connection with telemarketing and conspiracy to commit money laundering," according to the Justice Department.
'Housewives' throwback scandal that rocked Washington D.C.
But what could be one of the wilder legal scandals were the White House party crashers, Tareq and Michaele Salahi from The Real Housewives of D.C. "Crashing the White House put Real Housewives on the map," Jordan Ross Meyers from the Pretty Corrupt Podcast recalled. "What was a niche guilty pleasure became a national security issue- they even held Congressional hearings about Michaele! I can't deny it- I loved her as a Real Housewife. Her lying, scamming, and delusions were everything I crave in reality TV."
RELATED: 'Donn Gunvalson' Parody Unmasked: How Fake Donn Sent Shockwaves Through Bravo and Sparked 'Housewives' Smackdowns (Exclusive)
Meyers also pointed to the tragic death of Russell Armstrong, Taylor Armstrong's husband from RHOBH. "Russell Armstrong's death was shocking," he said. "The early seasons of RHOBH brought unprecedented glamour to Real Housewives. To see that facade crumble into bankruptcy, abuse, and suicide was tragic and lurid." In addition to his podcast, Meyers also hosts two viral Bravo parody accounts, Donn Gulvanslon and Lee Radziwill.
Don't forget about these wild 'Housewives' legal dramas …
Yontef also recalled the Teresa and Joe Giudice scandal. The Giudices both served prison time for mail, wire, and bankruptcy fraud. Joe Giudice was then deported back to Italy. "What makes Teresa's case seem mild in comparison is that almost everyone believes Teresa truly did not know what she was signing when then husband asked her to sign papers," Yontef said. This "eventually led to serving 11 months in prison after pleading guilty in 2014 to 41 counts of fraud, including mail, wire and bankruptcy fraud."
Yontef also flicked at other dramas that involved people like Lisa Vanderpump, Dorit Kemsley, and Phaedra Parks' ex-husband Apollo Nida. But Yontef wondered if these explosive dramas are what people want to watch.
"With ratings way down for some franchises and down for others, it makes me wonder, has the world changed enough that the audience is tiring of watching alleged 'bad people' be celebrated for a lifestyle of riches and wealth week after week? I don't know the answer but the thought has crossed my mind," he said.