50 Cent Apologizes to Megan Thee Stallion and Fans Can't Believe It
50 Cent says "Sorry" to Megan Thee Stallion.
Immediately after it was revealed Megan Thee Stallion was shot in the early hours of July 12, the internet launched its own investigation into the matter.
As rumors and speculation swirled about the possible shooter, some people decided to crack jokes about the situation. Cam'ron and 50 Cent were among those mocking the incident, and it did not go over well with Megan Thee Stallion's hotties.  
She later posted a message on Instagram calling out people for ridiculing her, stating that she felt traumatized and unprotected. 50 Cent has now changed his tune.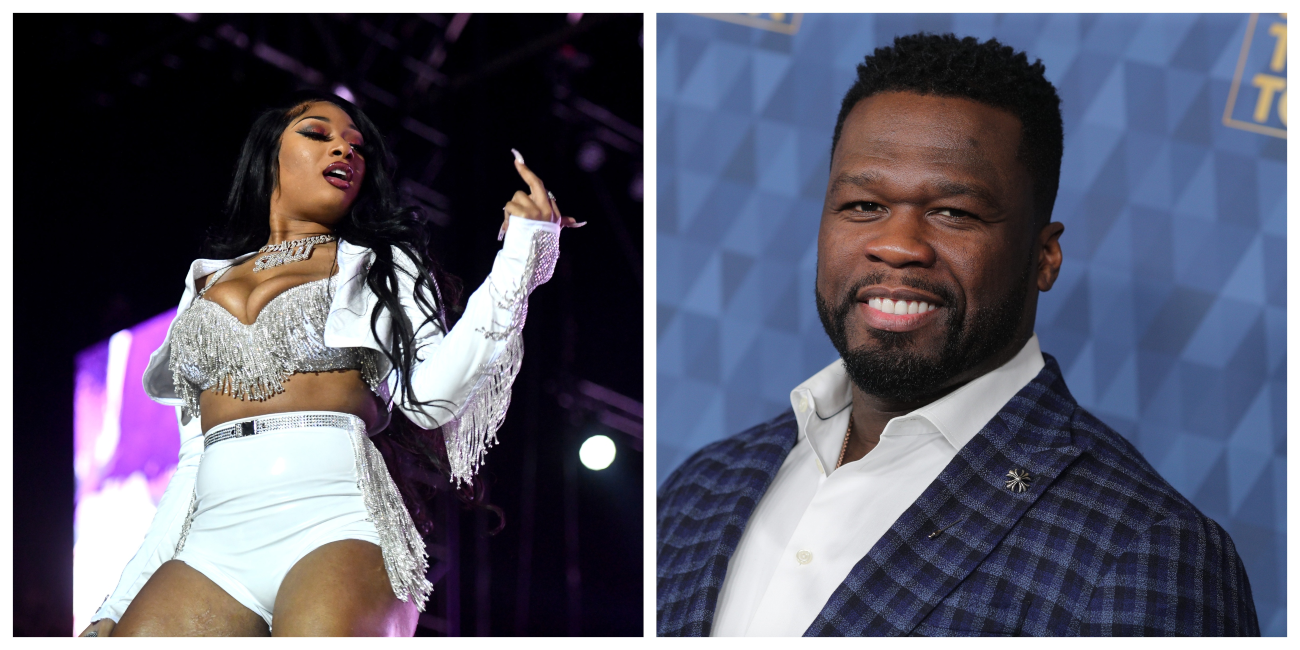 50 Cent posted an insulting meme
Initially, fans pointed the finger at Tory Lanez as the alleged shooter. He, Megan Thee Stallion, and a friend left a party together and minutes later, police responded to a shooting in/near their SUV.
He was arrested on a gun charge and Megan Thee Stallion received treatment at a nearby hospital for her wounds.
Once Megan Thee Stallion made it clear that she was a shooting victim, people assumed Tory Lanez did it. 50 Cent posted a viral meme on his Instagram account showing Megan as Ricky from Boyz n the Hood and Tory Lanez as the gangbanger that killed Ricky. He captioned his post "Run Ricky Run WTF is really going on?"
That led to Megan Thee Stallion's response about feeling traumatized and telling people it wasn't a joke. A few days after he posted the meme, 50 Cent took it down.
Megan Thee gives an update on her condition
Worried fans awaited word from Megan herself on her health status. On July 27, the "Savage" rapper hit Instagram Live to let everyone know she's doing better. She choked up as she talked about needing surgery after being shot in both feet, and said "it was super scary and the worst experience of my life."
She thanked fans for their love and support but made a point to let people know it wasn't funny. Aware of the offensive jokes, Megan spoke directly to the "growna*s men chiming in" on the situation and told them to mind their business.
50 Cent issues public apology to Megan Thee Stallion
News travels fast on social media, and 50 Cent caught wind of Megan Thee Stallion's Instagram Live session.
He took a moment to apologize to her for posting the meme and wrote he didn't realize it really happened to her. This could be considered historical in itself, as he's not really known for apologizing to anyone. Anyone.
50 Cent actually used the word "Sorry."
While it's unclear whether Megan Thee Stallion is accepting or processing the apology, fans – and the general public – are surprised 50 Cent expressed remorse.
"Fif said sorry? This will never happen again," wrote one of his Instagram followers. Another said, "50 apologized? Unbelievable." Others echoed those sentiments.
But 50 Cent also earned praised for owning his actions, though some still had jokes. One person commented, "Did somebody hack this man's account, or is there really a heart in their somewhere?!"
"That's not 50 Cent, that's Curtis Jackson," cracked someone else. And others simply wrote things such as "Well done" and "Good for you." Perhaps he's turning over a new leaf for good.