50 Cent Continues to Troll Lala Kent From 'Vanderpump Rules' on Instagram
Although Lala Kent from Vanderpump Rules made statements about getting underneath 50 Cent's skin days ago, he continues to dog her on Instagram.
The comments stemmed from a feud that erupted between 50 Cent and Kent's fiance, Randall Emmett back in April. Emmett owed the rapper turned producer $1 million dollars and 50 Cent decided to publicly dog Emmett until he repaid the debt in full.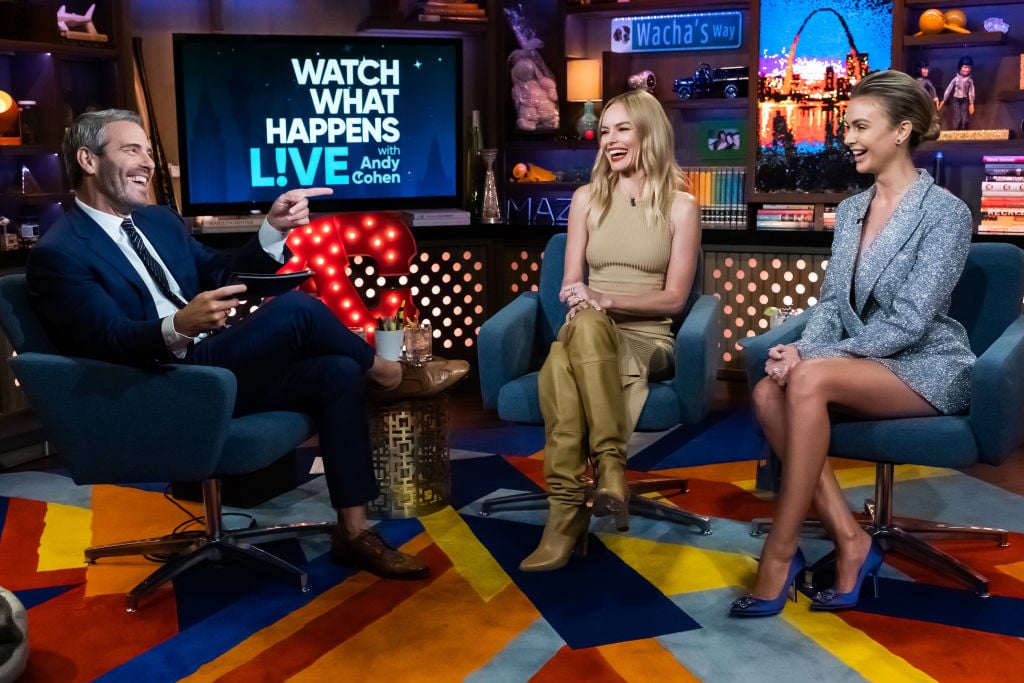 During the short-lived feud, 50 Cent shared screenshots of a text exchange he had with Emmett, where Emmett accidentally referred to 50 Cent as "Fofty." Memes were created and 50 Cent even designed a limited edition t-shirt as a result. But once the debt was paid, the trio appeared to have settled their beef. So we thought.
The feud was re-hashed on Sept. 12
Kent discussed the feud during her appearance on Watch What Happens Live with Andy Cohen. She said, "I think I really dinged Fofty's ego. In fact, I know that because I have a receipt to prove that, which I would never post because I ain't that girl. I ain't beefing unless I'm gettin' paid on Vanderpump, yo." Then added, "I am from Utah and to think it's like Tupac and Biggie, Lala and Fifty… Like, what up though?" 
50 Cent immediately lashed out at the SUR hostess on Instagram. He began his campaign by posting an article that referred to this "bruised ego." He wrote, "What's wrong with this hoe, 👀 now don't say she didn't ask for it when I start tripping."
He continued to attack Kent, even coming for her sobriety. "oh this b**ch be drunk 4 days straight," he wrote in another post. "She must just be on some drunk hoe, I don't remember type s**t."
Kent responds to the accusation
Kent responded in her Instagram story, addressing his attack on her sobriety. "I feel it's important for me to say this, and I'm only going to address this once," she wrote, People reports. "My sobriety is something I'm proud of and work on [every day]. I've never done cocaine nor were any other substances, other than alcohol, involved in my decision to get sober."
She continued by adding she takes pride in being open and honest. But, "The past couple of days I've been slammed to say the very least.  People have asked me how I'm maintaining keeping my head up… To me it's simple—I know Real Life from the illusion of social media. I know what it feels like to have your world crumble. Getting a phone call from your brother saying your dad has passed away…that is earth-shattering. Being called names and being falsely accused of things…that is far from earth-shattering."
Did 50 Cent let up?
Although Kent addressed 50 Cent's attack head-on he continued to come for her … well into the next week. Five days later, 50 Cent continues to relentlessly post and comment about the Vanderpump Rules personality. In fact, posting about Kent and Emmett has consumed his Instagram.
Most recently he compared her to the terrifying doll Annabelle from the film, The Conjuring. "New Lala Kent doll limited edition, drunk puffy face. Good morning 🥃drink responsibly," he wrote. Then he shared a series of images of Kent having a drink. "look it's early in the day for shots, 🤨but you do got that mouth in the right position," he wrote along with one of the images. He appears to still be at it, with no end in sight.