50 Cent Is Cashing in and Having Fun with 'Fofty' Trend
50 Cent Is Cashing in and Having Fun with 'Fofty' Trend
Maybe if 50 Cent knew the easiest way to retrieve the money Randall Emmett from Vanderpump Rules owed him was to create a viral meme, he would have done it years ago.
On Friday, 50 Cent launched a social media attack on his former friend and partner, which started by dogging Emmett's fiancé Lala Kent. Apparently, Emmett has owed 50 Cent $1 million for a few years and it was time for the debt to be paid.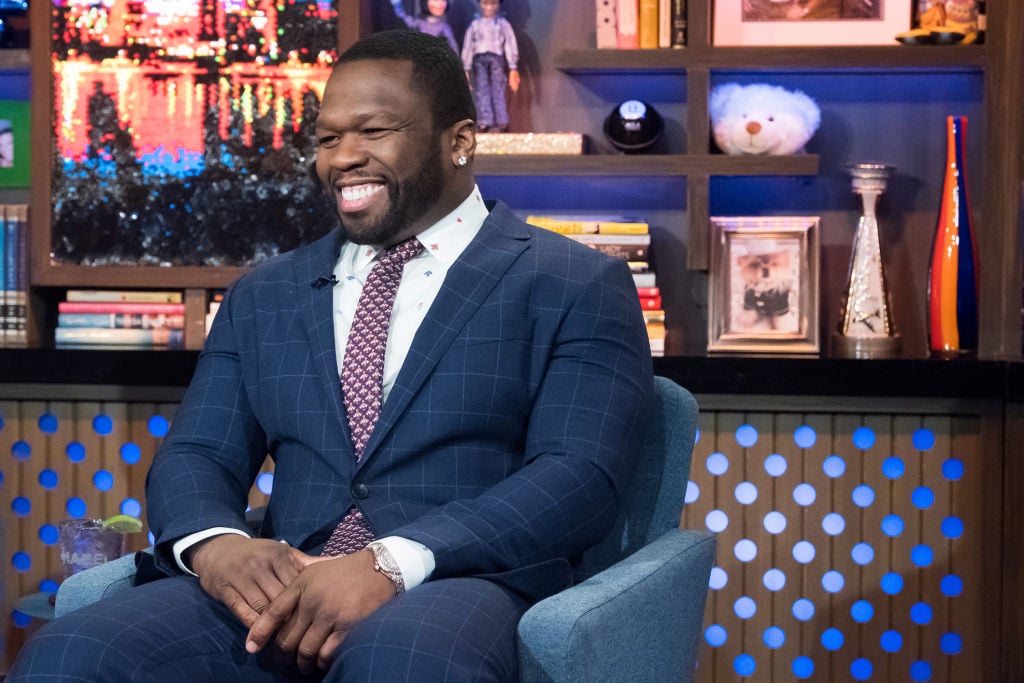 While Kent slammed the rapper in a video and in her social media response, Emmett appeared fearful. He claimed to be showing symptoms consistent with a heart attack as 50 Cent demanded the loan be paid in full by Monday.
'Fofty' was an error that went viral
50 Cent shared a text exchange he had with Emmett on Instagram. In the exchange, Emmett seems completely freaked out, apologizing several times. He also typed the word "fofty" which may have been an error during texting.
Fans latched onto the error and there was no going back. Memes started popping up ranging from Game of Thrones to Sanford and Son. Even Watch What Happens Live weighed in on the feud Sunday night offering the altercation both a "Mazel" and a "Jackhole" award.
Bravo stars couldn't resist
Twitter is also filled with funny "fofty" comments from stars like Chrissy Teigen. 50 Cent picked up on the Twitter comment and said he loves Teigen and her husband John Legend. "I never ever want 50 cent to be mad at me," she wrote. "please love me, fofty."
Kate Chastain from Below Deck launched this hilarious tweet. "Somewhere in West Hollywood James Kennedy is sitting on his couch wishing he had gone with "white fifty cent" instead." She recently added, "If Randall has balls he'll pay the $1 million back to fifty cent in all quarters."
Not to be outdone by her counterpart, Hannah Ferrier from Below Deck Mediterranean also weighed in with this funny comment. "For the first time in history my twitter feed is PUMPed for Monday."
50 Cent is clearly having fun with this
Sure the rapper is annoyed he hasn't gotten paid. But that doesn't mean the guy can't have a little fun with it all. Not only did he get a kick out of the whole "fofty" thing, he's reposting memes and making up his own jokes.
He noticed fans were messing with Emmett's Wikipedia page, using the "fofty" reference. Plus someone wrote that Emmett faked a heart attack. When he posted the Wiki image, James Kennedy, who has been at odds with Kent, liked the post.
On Sunday night 50 Cent posted a Family Guy meme. "Money, Monday right around the corner I'm going to bed early." He also now adds the "fofty" hashtag to all of his posts too.
But he's actually making bank too
Always the businessman, 50 Cent created a limited edition t-shirt based on the text exchange he had with Emmett. The shirt includes, "I'm sorry fofty." Followed by "$1,000,000."
Since Sunday, t-shirt sales have gone through the roof. In less than 24 hours 50 Cent made $300,000 from shirt sales alone, according to The Blast. "wow I like this FOFTY thing man 😆and that was only a few hours," 50 Cent wrote on an Instagram post.
Thus far Emmett reportedly knocked off $250,000 from the $1 million he owes to 50 Cent. The $300,000 also puts a nice dent in the total amount. But the shirts, which retail for $32.99 aren't going to make it all go away.
Check out The Cheat Sheet on Facebook!