Is 50 Cent's New Show 'BMF' Related to the 'Power Universe'?
Curtis "50 Cent" Jackson is proving to be unstoppable over on the Starz network. The executive producer helped created the explosive drama series, Power and its numerous spinoffs including, Power Book II: Ghost, Power Book III: Raising Kanan, Power Book IV: Force, and Power Book V: Influence. Now, he's stepping outside of the Power Universe for his new drama series BMF.
But, is BMF related to the Power Universe in any way?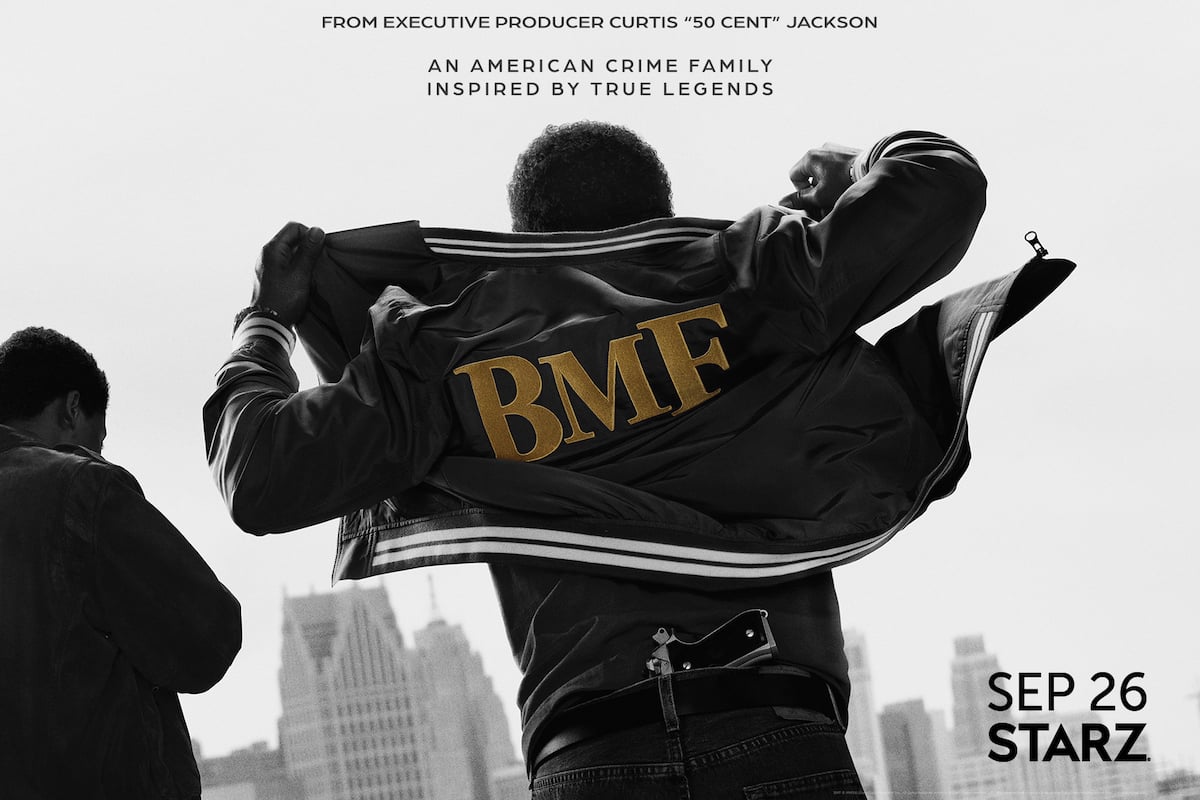 What is 50 Cent's new show 'BMF' about?
50 Cent has been posting that the forthcoming BMF may be better than the Power Universe shows. Set in the 1980s at the height of the crack cocaine epidemic, the series follows the real-life Flenory brothers. Demetrius "Big Meech" Flenory and Terry "Southwest T" Flenory began building their empire, BMF or Black Mafia Family, on the streets of Detroit.
Eventually, as hip-hop began to explode the brothers formed BMF Entertainment. They used the company as a money-laundering scheme where they worked as promoters for several major hip-hop artists. 50 Cent has been boasting about the stacked cast including Demetrius "Lil Meech" Flenory Jr., the son of Demetrius "Big Meech" Flenory who will star in the series as his father. "BMF is really better then POWER i watched it and was buggin," 50 Cent tweeted. "I can't wait for you to see this."
Is 'BMF' related to Starz's 'Power' Universe?
Since BMF is based on a true story and is set in the '80s in Detroit decades before Power and Power Book II: Ghost, and even before the '90s set, Power Book III: Raising Kanan, it is not related to the Power Universe in any way. However, since it is a 50 Cent product, we wouldn't be shocked to see some similarities between the new show and some of the Power Universe shows.
The series was birthed out of the rapper/executive producer's four-year $150 million deal with the Starz network, and he's been working on it for years. Moreover, Power fans will see at least one familiar face on the show. Power actor La La Anthony who portrayed LaKeisha Grant in the original series will star as Markaisha Taylor. According to Deadline, Markaisha is the wife of a flamboyant drug dealer that Meech and Terry befriend. However, her connection with Terry soon puts everything he and Big Meech worked so hard to build at risk.
When does 'BMF' debut on Starz?
When Raising Kanan concludes its first seasons, fans of 50 Cent's gangster crime series won't have to wait long for new material. The 1980s-set BMF will debut on Starz on Sept. 26, 2021, at 9 PM ET/PT. The following week, on Sunday, October 3,the series will move into its regular timeslot at 8 PM ET/PT.
Once the first season of the show comes to a conclusion, Power Universe fans will be thrilled to know that new episodes of Power Book II: Ghost are on the horizon with a release date to be set sometime in November 2021.