50 Cent Reveals Origins of Years-Long Feud with Oprah Winfrey
Oprah Winfrey may be adored by millions, but she's not exactly at the top of 50 Cent's favorite person list. From calling out her business moves to mocking her for falling on stage, the "In Da Club" rapper has repeatedly shown his disdain for her.
The drama has gone on for so long at this point that it's probably hard to remember where or how it started. Luckily, 50 Cent just gave an interview where he revealed the origins of his beef with the television mogul, and it actually goes back even further than you probably thought.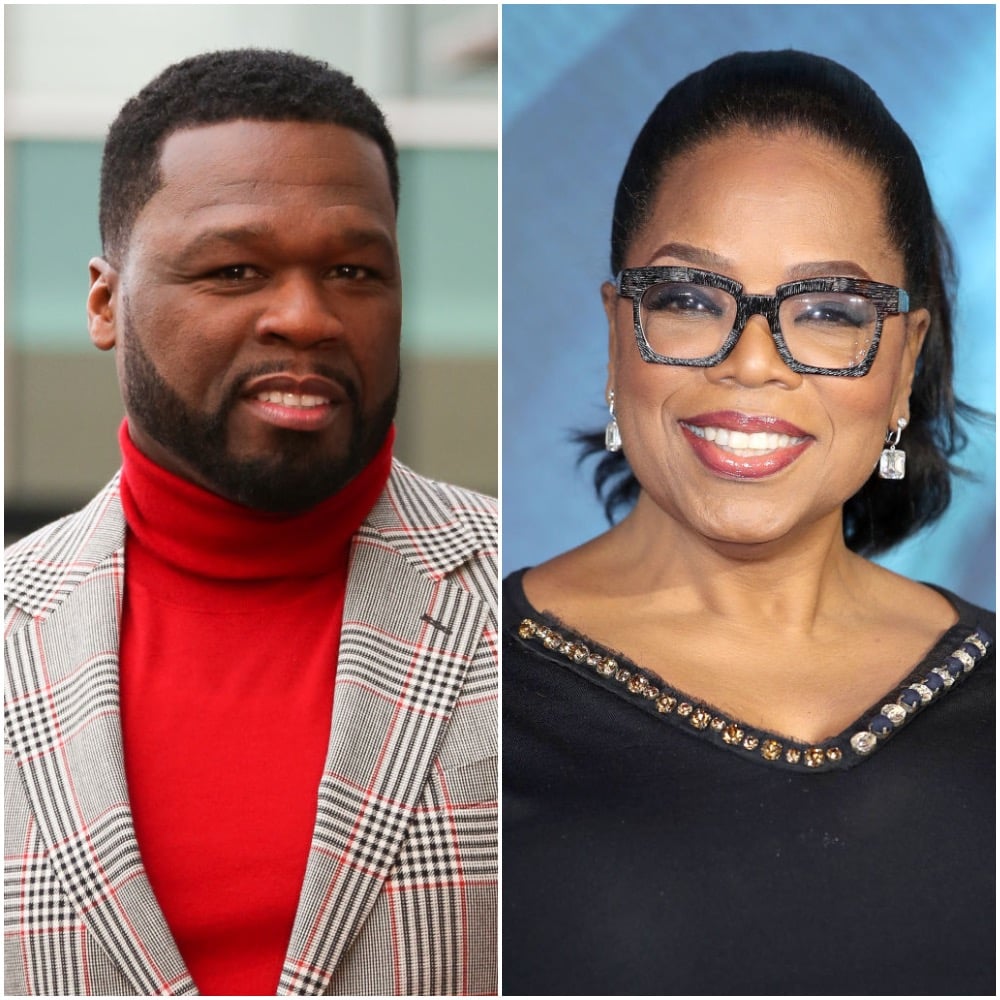 50 Cent's beef with Oprah Winfrey
50 Cent talked about his beef with Winfrey in his new book, Hustle Harder, Hustle Smarter, which hit shelves on April 28. Speaking to The Guardian in a subsequent interview, 50 Cent said it dates back to the early days of his career when he was riding on the success of his debut album, 2003's Get Rich or Die Tryin'.
He said it started when he tried to go on Oprah, which not only would have been huge for him and his career but also his grandmother, who was a huge fan. But Oprah apparently was not interested, allegedly citing "the gun violence and misogyny in his lyrics."
"She was completely against everything that was in my music," he explained. "So she ain't never going to have me on that show. I'm never going to reach that platform, which is confirmation of you being a huge success. So I just said: OK, if we can't be friends, then at least let's be enemies."
After that, he practically waged war against Oprah and even named one of his dogs after her.
50 Cent said he has reconciled with Oprah Winfrey
Going on, 50 Cent that he and Oprah squashed things years later after he met with Oprah's best friend Gayle King.
"She adjusted to my character and told Oprah that she needed to meet me because it's not what you think it is," he explained in the book (via People).
It appears that Oprah took King up on the offer because she eventually did meet up with 50 Cent.
"We finally met, and my grandmother and I went on the show," he continued. "That was an amazing moment for me. I had sold a whole heap of records, but it wasn't until Oprah showed up that my grandmother was like, 'Boy, you made it.'"
The pair talked briefly about their feud in that same appearance, with Oprah saying she did not know they had major problems.
Still, he has also continued to criticize her
Although they were able to smooth things over, 50 Cent has continued to criticize Oprah. Just months ago, in December 2019, he blasted Oprah for her involvement in a documentary featuring one of Russell Simmons' sexual assault accusers. (Simmons has denied the allegations).
In an Instagram post, 50 Cent wrote it was "sad" to see Oprah "going after black men" but not men belonging to other races, including Harvey Weinstein. Oprah did not address the criticism but later backed out of the film — a decision 50 Cent supported.
Considering the back-and-forth, it seems like it's only a matter of time before things escalate again. But in the meantime, let's just enjoy the silence.