50 Cent's Apology to Megan Thee Stallion Isn't An Apology at All, According to Fans
The news of Megan Thee Stallion being shot immediately triggered an outpouring of supportive messages and well wishes. But in a twisted turn of events, social media users also began to joke and spread memes about the shooting.
50 Cent was among those who mocked the incident, leading Megan Thee Stallion to post a note online condemning people who were making light of her situation. The "In Da Club" rapper has since doubled back and offered up an apology to the "Savage" rapper, but not everyone is moved by what he had to say.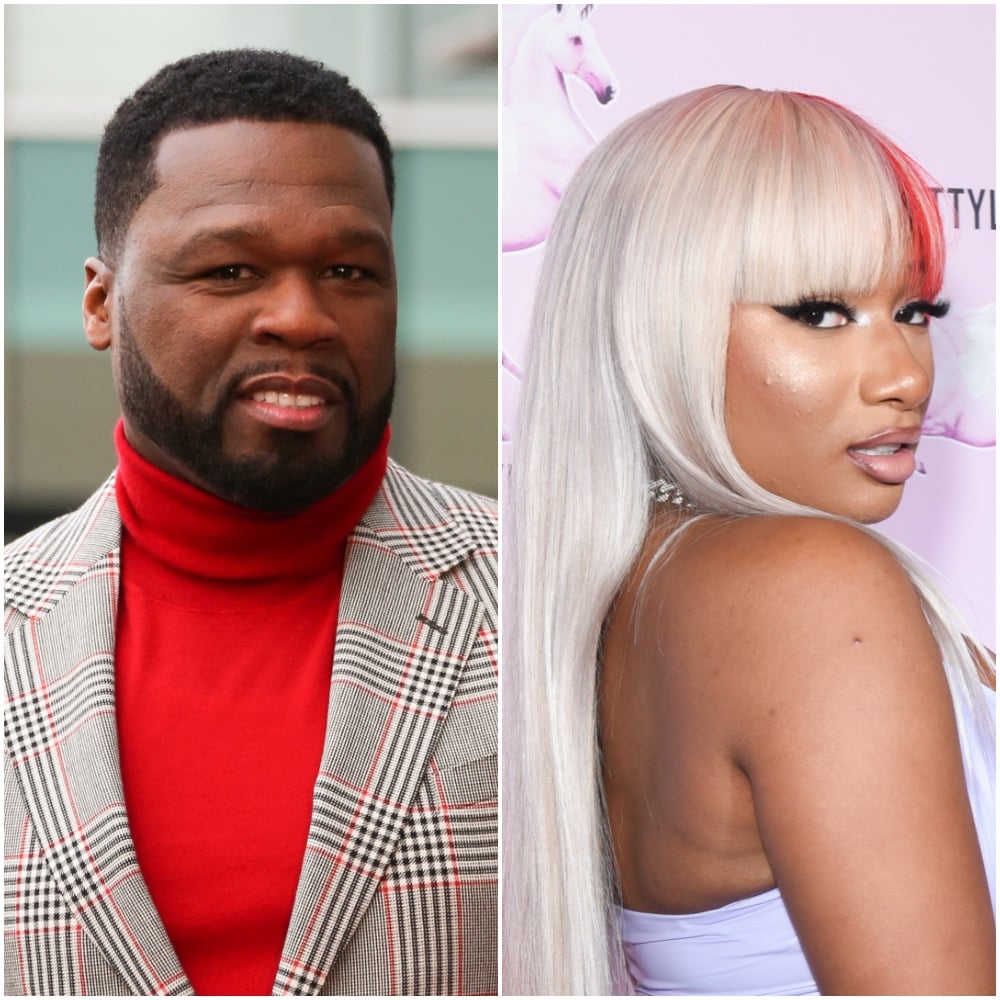 50 Cent's meme about Megan Thee Stallion
After reports emerged that Tory Lanez had allegedly shot Megan Thee Stallion on July 12 when she was "trying to leave" his car, jokes about the pair started popping up on social media.
50 Cent joined in with a meme based on the 1991 film Boyz N the Hood that depicted Megan Thee Stallion running down an alley as Tory Lanez aimed a gun at her from the backseat of a car. "Run Ricky Run," he captioned the now-deleted meme. "WTF is really going on? #bransoncognac #lecheminduroi."
Megan Thee Stallion didn't directly comment on the post, but she expressed her frustrations with the jokes in a later tweet.
"Black women are so unprotected & we hold so many things in to protect the feelings of others w/o considering our own," she tweeted. "It might be funny to y'all on the internet and just another messy topic for you to talk about but this is my real life and I'm real life hurt and traumatized."
50 Cent apologized for the Megan Thee Stallion meme after she broke down about the incident
After days without any update, Megan Thee Stallion went on Instagram Live on July 27 to let fans know how she was doing. She noted that she was OK but came to tears as she reflected on what she called "the worst experience of [her] life" and being shot in both of her feet.
After seeing the clip, 50 Cent apologized to Megan Thee Stallion on Twitter. "👀 Damn I didn't think this sh*t was real," he wrote alongside a clip from her Instagram Live. "🤦‍♂️ It sounded so crazy @theestallion i'm glad your feeling better and i hope you can accept my apology. I posted a meme that was floating around. I wouldn't have done that if i knew you was really hurt sorry. 🤷‍♂️"
Aware of his trolling antics and reputation as a bully, fans were shocked but proud to see 50 Cent apologize. "I applaud you 50 for your willingness to Apologize for something you did which you know is wrong!" one fan wrote, while another said, "Respect to 50 for this tweet"
But the fan reactions to 50 Cent's apology to Megan Thee Stallion aren't all positive
For all the positive reactions, there were arguably just as many that were negative. Many social media users said he should have known better while others said 50 Cent's apology wasn't as genuine as it might have seemed, citing his use of the shrug emoji at the end.
"th*s nigga 50 cent put a damn shrug emoji. THAT IS NOT AN APOLOGY," read one tweet while another said, "'Sorry. 🤷‍♂️' this is such an insincere apology….from a grown man. Im not commending him on minimal human decency."
As of writing, 50 Cent has not responded to the criticism.