6 Kardashian-Jenner Cheating Scandals You Forgot About
When you think about Kardashian-Jenner cheating scandals, you probably think about the one involving Jordyn Woods and Tristan Thompson. Though it's been months since news broke that the model kissed Thompson at a party, people can't get over the craziness of it all.
But the truth is, there are a lot more Kardashian-Jenner cheating scandals than just that. From A$AP Rocky to Scott Disick, here are some alleged affairs that rocked the famous family's universe.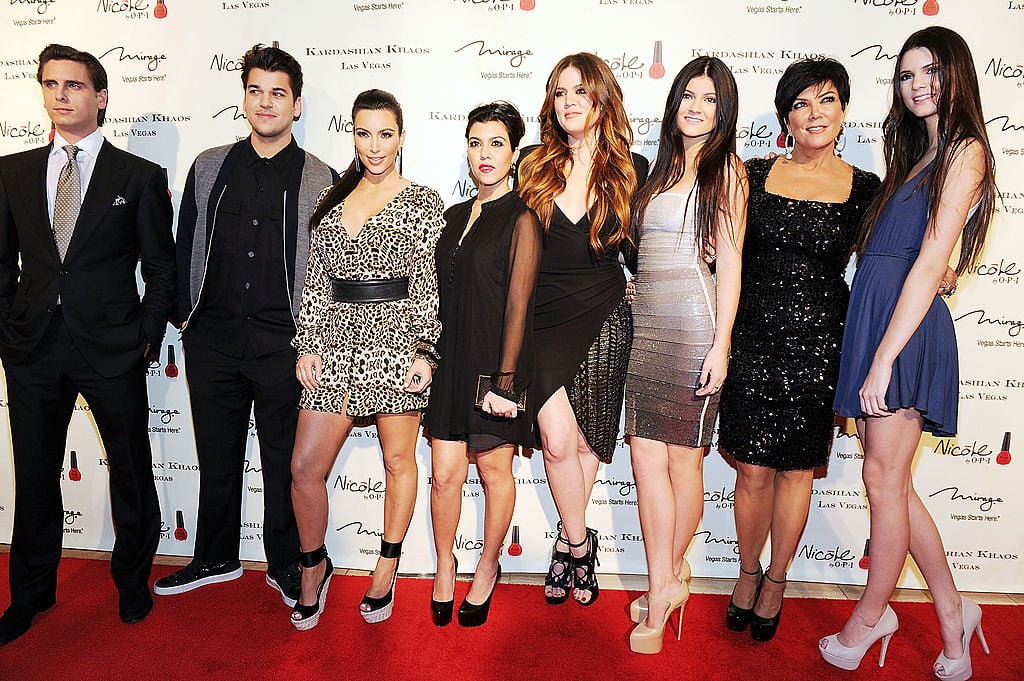 Rashad McCants and a mystery woman
This one might pull on your brain strings a bit, but do you remember in 2008 when Khloé Kardashian was dating NBA player Rashad McCants? They seemed pretty cute together until Khloé, Kim, and Kourtney went all 007 and hacked into his voicemail, unearthing flirty messages from a female fan. The moment, which went down on Kourtney and Khloé Take Miami, seemingly derailed the relationship. However, McCants has denied that they were together at the time of that episode.
He told Page Six in 2009 that they "had already called it quits" that January — months before the episode had been recorded. He also claimed that the sisters "made the whole thing up" because they did not have his phone number.
But Khloé didn't lose any sleep over the remarks. At the time, she had already moved on, living in romantic bliss with her then-husband Lamar Odom. But, sadly, that relationship would also end due in part to infidelity.
A$AP Rocky and Tahiry Jose
In the spring of 2017, A$AP Rocky and Kendall Jenner were seemingly going strong — that is, until reports broke alleging that the rapper had been stepping out on her with Love and Hip Hop: New York star Tahiry Jose.
One of Jose's former friends aired out the alleged fling on Instagram. She said, "The n**** [Jose] been f*****g ain't take her to the Met Gala and took Kendall Jenner instead." While Jose did not confirm or deny the claims, she made a video saying she was too "busy" to entertain the drama.
Later, the reported romance between A$AP Rocky and Kendall fizzled out, but sources said the stars had never even made things official. "They weren't really official but were obviously dating," a source told Us Weekly in September 2017.
Travis Scott and Jane Doe
Kylie Jenner reportedly caught Travis Scott up to no good in early 2019. But you might have missed this one, as it happened amid all that drama involving Woods and Thompson.
According to reports, the makeup star was scrolling through Scott's phone when she saw something she didn't like. She confronted him, and he kind of freaked out. He reportedly canceled his tour, flew home to prove his commitment to Kylie, and deleted his Instagram.
As of writing, neither of them has commented on the alleged situation, and they're still together (for now).
Ben Simmons and Tinashe
Can you say awkward? While Kendall Jenner struck up a romance with Ben Simmons in early 2018, he was allegedly seeing R&B singer, Tinashe.
According to Tinashe's brother, Kudzai Kachingwe, the NBA star ultimately dumped his sister for the model, leaving Tinashe heartbroken. "No f****** excuse for cheating, be a man and figure it out," he wrote on Twitter (via Page Six).
The romance definitely took a toll on Tinashe, who swore off basketball players following the incident. But we guess you can say she had the last laugh, as Simmons and Kendall have since ended their relationship.
Rita Ora
Rob Kardashian and Rita Ora reportedly dated briefly in 2012. But no one really knew it until he aired her out on social media for allegedly cheating on him. He claimed that Ora kept the relationship a secret because she thought it would affect her career.
"She cheated on me with nearly 20 dudes while we were together," Rob wrote in a since-deleted Twitter rant. "How can a woman who is so busy trying to start her own career have time to be with so many dudes all while in a relationship?!"
But they were never actually together, according to the singer. "I never thought it was actually a relationship, in all honesty," Ora told The Daily Telegraph (via Today). "I never mentally defined it as 'boyfriend, girlfriend.' When I split up with him, I said, 'It's because I'm never there, I don't know how to do it.' That's all I said, then … the rest happened. He obviously felt that creating myths was the way forward."
Drama with a capital D.
Scott Disick and Chloe Bartoli
At this point, Kourtney Kardashian and Scott Disick have been broken up for so long that you probably forgot why they're not together. In 2015, photographers spotted the reality star with a group of women that did not include Kourtney. However, his ex-girlfriend, Chloe Bartoli, was around, and they reportedly got really close.
That was the reported last straw for the Poosh founder, who pulled the plug on their nearly 10-year relationship. But don't get it twisted — these two don't have a bad relationship. They're really good friends who share a healthy co-parenting relationship.
Hopefully, the Kardashian-Jenners won't find themselves in the middle of any more scandals. Keep keeping up with them (and us) for any updates.