6 YouTube Channels That Will Make You a Better Baker During the Coronavirus Pandemic
Want to improve your baking and dessert-making skills during the coronavirus outbreak? These six YouTube channels can help you make tasty treats during self-isolation.
During the coronavirus outbreak, many people are finding themselves having to learn new skills or wanting to develop existing ones. And since you probably can't pick up your favorite treats from the bakery right now, you might want to learn to make a few of your own during self-isolation.
Whether you're a beginning baker or already on your way to pastry chef status, you can find fun recipes, creative decorating ideas, and step-by-step baking guides at these YouTube channels during COVID-19 quarantine.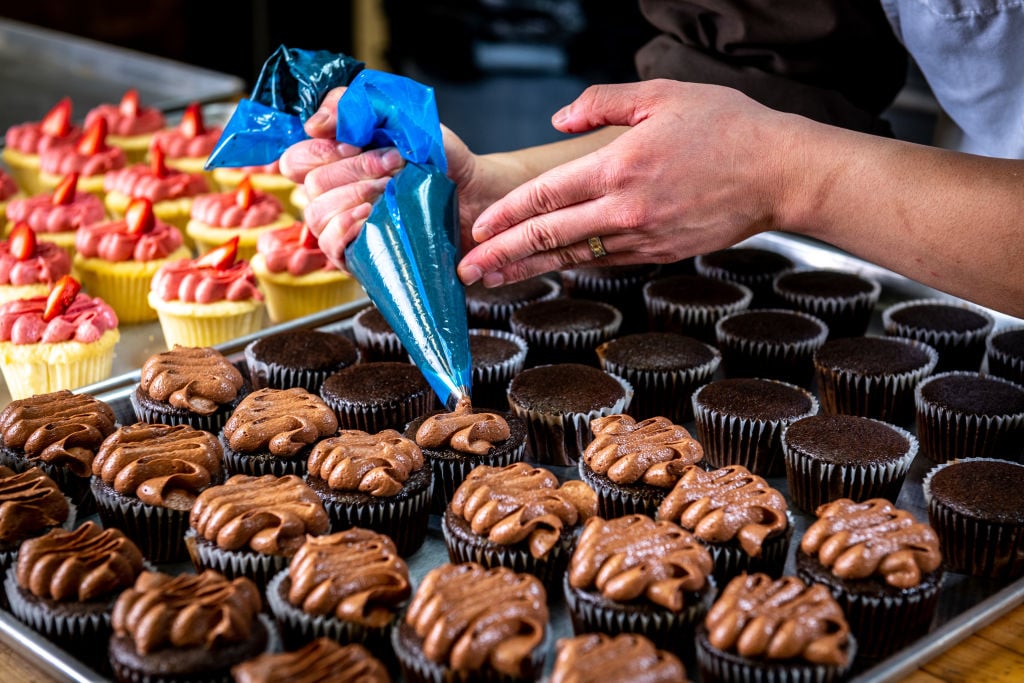 Baker Bettie
Baker Bettie's tutorials cover almost everything an aspiring baker would need to know—from making the perfect chocolate buttercream to mastering basic cake decorating techniques and whipping up the  fluffiest biscuits around. Her Baking School series will help you learn basic baking terminology and techniques, while the popular Sourdough for Beginners series takes you from start(er) to finish in perfecting your sourdough bread.
Baker Bettie's Bake-Along videos, in which you can "bake along" with her in real time, offer another unique approach to YouTube cooking tutorials.
Cupcake Jemma
The owner of Cupcake Jemma, who runs the popular London cupcakery Crumbs and Doilies, has recently put out a Bake at Home series specifically designed to fit with the reality of coronavirus isolation. You won't need to head out and buy any special ingredients to make these simple but tasty treats, like vanilla cupcakes and New York style chocolate chip cookies.
You also can't miss Cupcake Jemma's Rainbow Baking series, which will help you make adorable (and very Instagrammable) sweets—like pastel unicorn cupcakes with horns and ears, thickly layered rainbow cakes, shimmering macarons, and psychedelic rainbow marble cookies. Meanwhile, the Masterclass series will help you learn everything there is to know about baking fundamentals, like buttercream piping and frosting layer cakes.
Gretchen's Vegan Bakery
Great vegan baking recipes are often hard to come by, but pastry chef Gretchen Price has your back on her vegan cooking, dessert-making, and baking channel. Most of the creative dairy-free desserts here are more decadent and elaborate than the ones you might find on other vegan baking channels.
To start, try the vegan baked Alaska, vegan apple cream pie, or the variety of dairy-free cheesecakes. If you're looking for a challenge during coronavirus quarantine, look for Gretchen's videos on delectable holiday cakes (like a graveyard Halloween cake made with a pumpkin velvet base and buttercream spice icing), which will definitely impress your family and friends in the future—and your social media followers until then.
Clean & Delicious
Holistic health and wellness coach Dani Spies has well over one million subscribers on her healthy cooking and baking channel. And it's no wonder: She has a knack for making guilt-free treats that are still both tasty and aesthetically pleasing. If you have kids, they'll love the easy, healthy recipes for dairy- and sugar-free lemon bars, gluten-free double chocolate chip cookies, or vegan soft ginger cookies for the holidays.
Rosanna Pansino
Rosanna Pansino rose to fame on YouTube by combining pop/nerd culture with her talents for baking, cooking, DIY projects, and crafts. Many of the bright, creative baking and decorating ideas on this channel are themed around favorite movies, comics, and TV characters. Her recipes are more like activities or adventures, making them perfect for an afternoon with the kids if they're as tired of COVID-19 isolation as you are.
Learn to make Anna and Elsa cakes with giant frosted princess skirts, Spiderman candy apples, or even Avengers Infinity Stone cupcakes. (And make sure to check out Pansino's popular guide to making marshmallow fondant.)
Kirsten Tibballs
Looking to level up your candy- and dessert-making skills during quarantine? Kirsten Tibballs, a leading pastry chef and chocolatier from Australia, helps you do just that on her growing YouTube channel.
Some of her standout treats include chocolate Easter bunny macarons, chocolate pudding with a liquid center, mini chocolate sleigh cakes for the holidays, and chocolate soufflé. You can also learn chocolate-making and advanced pastry techniques on this channel.