7 Fascinating Things About 'Below Deck's' Captain Sandy Yawn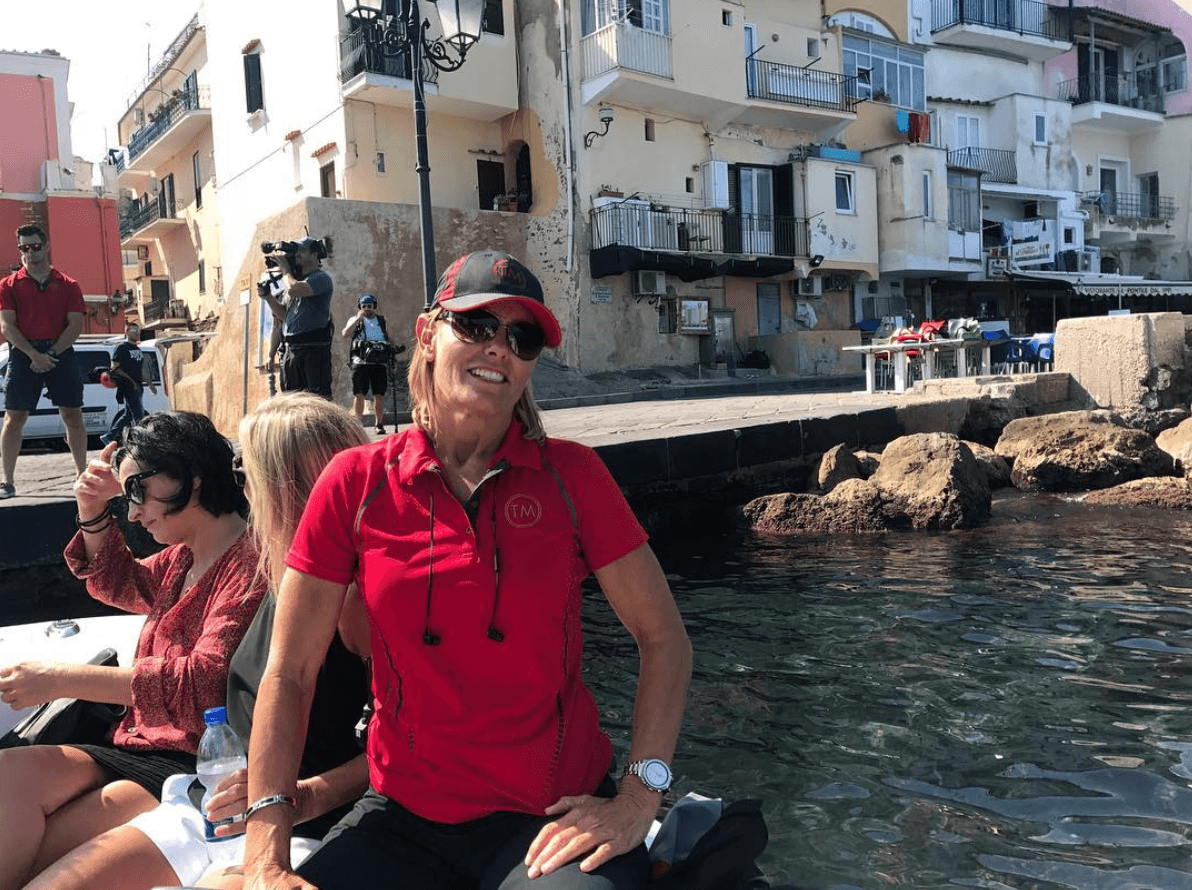 Captain Sandy Yawn quickly became a fan favorite on the Bravo's Below Deck. The no-nonsense captain with a heart of gold applied her unique approach to superyacht command in an industry comprised mainly of men.
Yawn even began her charter season on Below Deck being mistaken as a crew member rather than the captain. "Female captains are so rare so this happens a lot and I'm not offended,'' she said to Chef Adam Glick when he asked if she was the chief stewardess, The Sun-Sentinel recounts.
And while Yawn may let misunderstandings roll off her back, don't misinterpret her chill demeanor for weakness. "I'm a really kind person but I think about how I would want to be treated but don't ever take my kindness for a weakness,'' Yawn said on the show, The Sun-Sentinel reports. And don't cross her. "Just don't ever be my first thought in the morning because that's usually your last day on the boat," she adds.
What else about this captain makes her so fascinating? Here are a few facts:
1. She sees being a woman in a male-dominated industry as an advantage
Yawn says being a female captain in this industry is challenging and inspiring because she thrives on problem-solving, she told Bravo.
"Being a woman in the male-dominated yachting world is an advantage due to my ability to multi-task while managing the emotions of the crew," she says. "When the meltdowns start to come, I take my crew for ice cream and I show them that it's not the end of the world, but at the same time let them know what I expect from them. This is where my energy as a woman helps me with leading people. I have worked for bosses before, and a boss sits at a desk or at the helm and tells people what to do — I prefer to be hands-on, firm, and compassionate. That's how I navigate my leadership."
2. This is her daily mantra
Every day Yawn turns to the mantra, "Wake up. Show up. Kick ass. Repeat," according to Boats.com.  Her nickname at sea is actually, "Badass Captain," which she views as being someone who pushes her crew to do better.
3. Yawn didn't pick yachting, the profession picked her
She couldn't help but follow a profession on the water, The Sun-Sentinel reports. "I grew up on boats,'' she said. She grew up on Florida's west coast in Bradenton where she washed boats during her teen years. "Plus being a Pisces, I'm attracted to water."
Yawn added certified scuba diver and a boat crew member to her resume. She then went to the Maritime Professional Training school in Fort Lauderdale in the 1990s, followed by earning her Masters of Oceans All Oceans license from the United States Coast Guard, according to The Sun-Sentinel.
Even though Yawn was always drawn to the sea she didn't make yachting her goal. "I fell into it," she told Boats.com."It's not like I said, 'I have to be a yacht captain.'"
4. This near-death experience saved her life
She stared down a few near-death experiences, with one actually saving her life. Yawn was in a horrific motorcycle accident that landed her in the hospital, Bravo's Daily Dish reports. Although injuries were to her limbs, she experienced extreme stomach pains. A quick-thinking doctor performed a scan of her kidney and found a spot that could be cancer.
Yawn blew it off, focusing on recovery from her accident. However, a friend urged her to have surgery and the spot turned out to being stage 2 kidney cancer. "Who would have ever thought they would be grateful for being in a motorcycle crash? But I was," Yawn says. "As the doctor explained, it might have been years until that tumor was found. At that point, the cancer would have progressed, and it would have been too late."
5. She experienced these harrowing situations
Yawn has also had her share of other dangerous experiences. She was once chased by pirates, Bravo reports. "Let's remember pirates are thieves at sea," Yawn says. "It takes place in the Red Sea! Not a fun place for one to be drifting. My training kicked in and I wondered if I would make it out of there alive."
She also commanded a yacht with a failing engine on the high seas in a militarized zone in Dubai, Boats.com reports. Yawn and her crew were able to get the boat to safety and repairs were made. However, once the vessel went out to sea a fireball propelled through the engine room. Thankfully the crew acted fast and extinguished the fire.
6. She moved to L.A. (but then this happened)
The native Floridian relocated to Los Angeles, California in February, Bravo's Daily Dish reports. And while she was loving life as a California girl, she experienced a car theft this summer. She was away from home for work and returned to find her beloved white Jeep was missing. So far, the Jeep has not been located.
7. She's still single…for now
Being away on charter for months on end makes it tough to maintain a relationship. "I'm single," she told Bravo's Daily Dish.  "It's hard to have a relationship being a yacht captain. And most of my friends that are yacht captains, they've divorced or they hook up with people in the industry, and so far I haven't met anyone, really. It's about the person for me."
So far she's had a good experience dating in L.A. but, "The minute I went to Europe, it changed, it shifted. I believe that distance does not make the heart grow fonder; I think it just makes you forget. And they get jealous, and you can't talk because you're busy running the boat, and you're at sea. The cell phone reception is bad, and then on the flip side is when you feel lonely, and you want to talk to your person, and they're busy."
Check out The Cheat Sheet on Facebook!