7 TV Shows If You Liked 'The West Wing' and How to Watch Them
Love Aaron Sorkin's The West Wing? Check. Watched Seasons 1-7 multiple times? Check. Need another political drama to watch? Check. Watch the TV shows below.
1. 'Madam Secretary'
Téa Leoni stars in the CBS series, Madam Secretary, playing Elizabeth McCord, a college professor who becomes Secretary of State. Debuting in 2014, the show returned for a sixth and final season in 2019 down a few cast members following a time jump.
Seasons 1-5 of Madam Secretary are available to watch on Netflix. Watch the last five episodes of Season 6 on CBS.com.
2. 'Damages'
Watch Glenn Close and Rose Byrne in the political thriller, Damages, about high-powered attorney Patty Hewes (Close) and the woman (Byrne) she hires to help her get custody of her grandchild. Damages premiered in 2007 and remained on the air until 2012 when it ended after five seasons. Close won a Golden Globe and two Emmy Awards for her performance in the series.
Watch all five seasons of Damages on Amazon Prime Video.
3. 'House of Cards'
House of Cards follows Frank Underwood (Kevin Spacey), a ruthless power-hungry politician set on revenge. Following sexual harassment allegations in 2017, Spacey left the series with his onscreen wife, Claire (Robin Wright), stepping in as the show's main character. 
The complete series is available to stream on Netflix. 
4. 'The Good Wife'
Julianna Margulies plays Alicia Florrick, the wife of a politician (Chris Noth) who returns to work as a lawyer after her husband is sent to prison.
The Golden Globe and Emmy Award-winning series ran for seven seasons from 2009 to 2016 and inspired a spin-off, The Good Fight, which we recommend watching too. But don't expect Margulies to make an appearance as Alicia Florrick. In 2019, the 53-year-old actress said she'll never appear on The Good Fight because the network wouldn't pay her what she's worth. 
Watch The Good Wife on Amazon Prime Video or Hulu. 
5. 'Scandal'
Political fixer Olivia Pope (Kerry Washington) navigates the tricky waters of Washington, D.C., with ease except when it comes to her affair with Fitzgerald "Fitz" Grant (Tony Goldwyn), the fictional President of the United States in ABC's Scandal.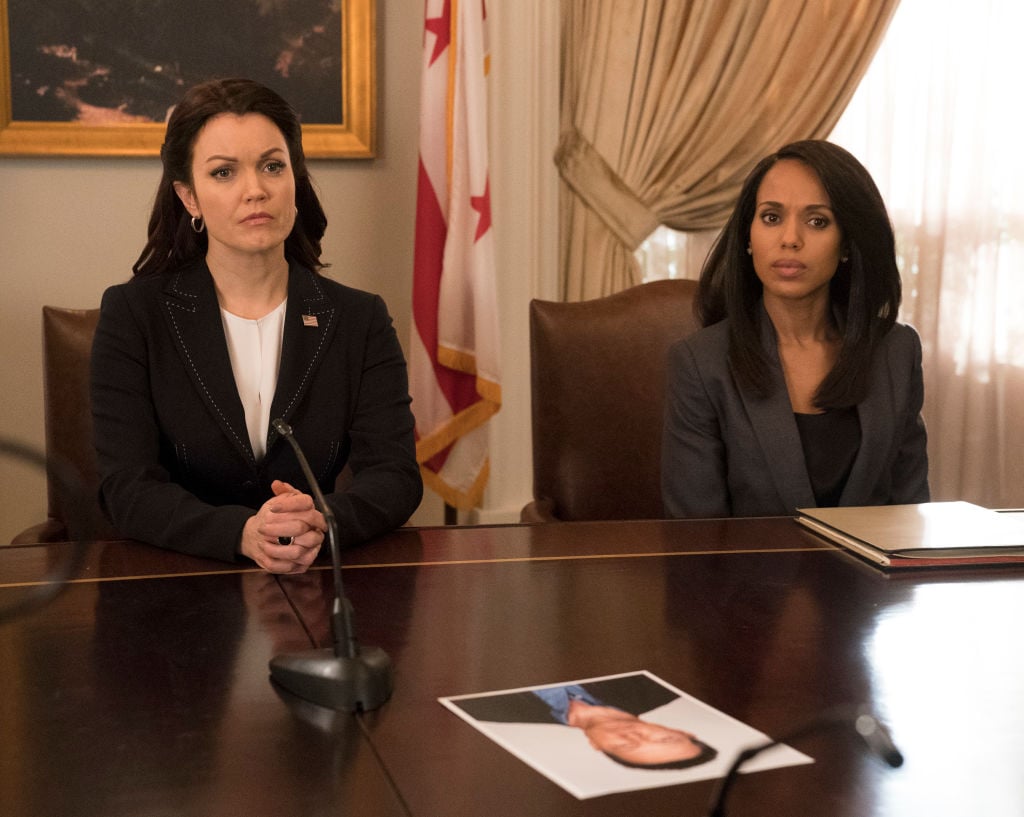 Created by Shonda Rhimes, the series has romance, spies, and action. Scandal ran for seven seasons from 2012 to 2018. Watch the entire series on Netflix and be prepared to drool over Pope's wardrobe. 
6. 'Designated Survivor'
24 actor Kiefer Sutherland plays Tom Kirkman, the Housing and Urban Development secretary — and the designated survivor — who becomes president following a devastating attack that killed the president and many members of the Cabinet during the State of the Union address. Designated Survivor ran from 2016 – 2019 before ending after Season 3. Watch the entire series on Netflix. 
7. 'The Wire'
David Simon's The Wire chronicles the drug scene in Baltimore, Md., giving perspectives from not only law enforcement but those of drug users and dealers. Considered to be one of the best TV shows of all time despite having low ratings when it first aired, The Wire ended in 2008 after five seasons.
Watch The Wire on Amazon Prime Video or HBO's streaming apps.