8 of Jennifer Lopez's Most Popular Songs Ever
Over the course of her decades-long career in the entertainment industry, Jennifer Lopez or "J. Lo," worth an estimated $400 million, has released many catchy songs. Ahead, we break down eight of the singer, dancer, and actor's hits.
'Jenny from the Block'
Arguably, "Jenny from the Block" is the song most synonymous with Lopez. Released on her 2002 album, This Is Me… Then, the music video which has now been viewed nearly 120 million times on YouTube, featured Ben Affleck, the Oscar-winning actor Lopez had been dating at the time.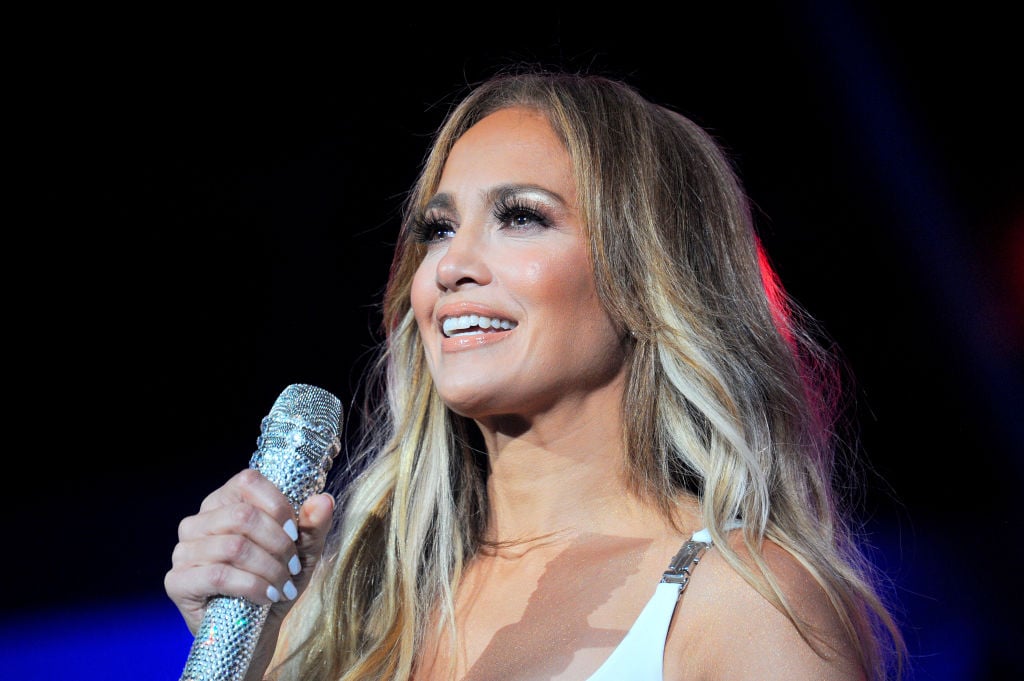 'If You Had My Love'
Lopez debuted her first album, On the 6, in 1999 and led with "If You Had My Love." J. Lo's track knocked Ricky Martin's "Livin' La Vida Loca" from the top spot on the Billboard Hot 100 chart, according to Billboard, and made Lopez the first musician to reach No. 1 with their first single since Britney Spears' "…Baby One More Time" in 1998. 
'Waiting for Tonight'
Another popular song from Lopez's debut album On the 6 is "Waiting for Tonight." This dance song has amassed 59 million views on YouTube since Lopez put the music video on her official YouTube channel in Nov. 2009.
'Let's Get Loud'
Yet another hit song from her debut album, "Let's Get Loud" further helped to solidify Lopez's status as a hitmaker known for upbeat tracks. J. Lo celebrated the 20-year anniversary of On the 6 with an Instagram post in June 2019. She posted a throwback video of herself talking about the album saying back then she'd been "so confident and sure and maybe a lil' oblivious and even ignorant lol." 
'I'm Real' ft. Ja Rule
Lopez teamed up with Ja Rule on "I'm Real" a track originally from her second studio album, J. Lo. The remix became a success and today, Lopez's outfit in the video, a Juicy Couture tracksuit, is among her most memorable looks. 
In an Instagram post from June 2018, Lopez revealed they shot the music video in one day and after being offered "all this fancy couture from all the big designers" to wear, she chose a tracksuit from a then "little known company" named Juicy Couture. "I shocked everyone when I decided to wear it! It seemed fitting since the song is called "I'm Real", so I decided to be ME!!," she wrote. 
'Love Don't Cost a Thing'
Another one of Lopez's popular songs from her second studio album, "Love Don't Cost a Thing" remains one of the singer's most recognizable hits. 
"Ain't It Funny" ft. Ja Rule, Cadillac Tah
Lopez teamed up with Cadillac Tah and Ja Rule for a remix of another original song from her J. Lo album. The revamped version of "Ain't It Funny" spent six weeks at the top of the Billboard charts in 2002. 
'Get Right'
Released in 2005 on her fourth studio album, Rebirth, J. Lo proved yet again the power of her pop dance tracks. The music video for "Get Right" has upwards of 121 million views. 
We're hoping Lopez sings at least a few of these songs when she and Shakira perform at the Super Bowl halftime show on Feb. 2, 2020.