'90 Day: Bares All' Revealed a Sneak Peek of How Darcey's Friends React to Her Engagement in Season 2 of 'Darcey & Stacey'
TLC's new spinoff Darcey & Stacey is getting a second season, and many fans are overjoyed about it. Darcey and Stacey Silva are twins, and Darcey made herself a household name with her appearance on 90 Day Fiancé: Before the 90 Days. Darcey and Stacey's love lives are on full display with their new series. Season 1 of Darcey & Stacey highlights Darcey and Georgi Rusev's relationship as it develops, and she even received a proposal in the season finale.
In a recent episode of 90 Day: Bares All, a sneak peek of season 2 is shown of Darcey revealing to her two good friends, Reina and Debbie, that she's engaged.
Darcey Silva is officially engaged to Georgi Rusev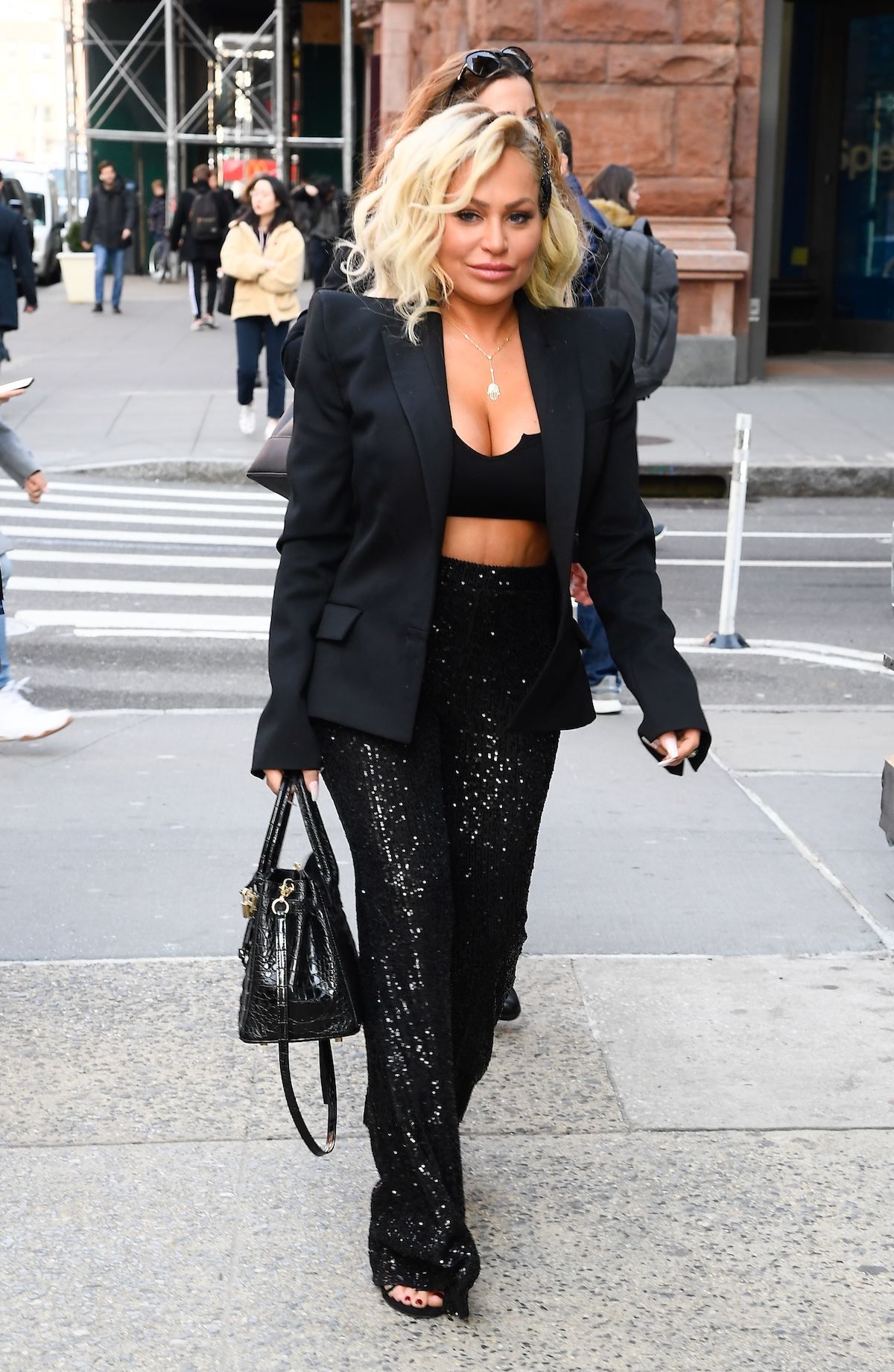 In Darcey & Stacey, fans first meet Georgi, who is originally from Bulgaria and is a massage therapist. Darcey and Georgi met over social media, and they saw each other in person in Miami for the Super Bowl. Eventually, Darcey asks Georgi to come to stay with her in Connecticut during the coronavirus (COVID-19). Georgi is living in Washington, D.C. at the time, and although he initially declines, he comes to stay with her, and they get their own apartment together.
Despite things seeming to work out initially, there's drama when Darcey learns Georgi is still married. He's separated and going through a divorce, but it's still a shock for Darcey, who claims she just learned the news. However, Georgi says he told her about it in Miami.
More drama happens when a woman comments on one of Georgi's photos on social media with fire emojis. Darcey learns that she's an ex-girlfriend from his past. However, he mentions that he spoke to her a year ago, and Darcey met him a year ago as well. The woman now has a new baby to add to the mystery of it all.
Darcey and Georgi meet up with Stacey and her new husband, Florian Sukaj, during their honeymoon in Rhode Island. Darcey brings up the other woman at dinner with everyone, plus the new baby. The twins even ask Georgi if it's his baby, and he doesn't say "no" right away. However, he does say "no" eventually. The drama causes problems for the couple, but Georgi still proposes Darcey on the trip despite questioning the whole thing.
'90 Day: Bares All' revealed a sneak peek of season 2 of 'Darcey & Stacey'
Darcey and Stacey have two good friends named Reina and Debbie, and they've become fan favorites. On a recent episode of discovery+'s 90 Day: Bares All, Darcey spoke to the host Shaun Robinson, and a sneak peek of the new season was shown featuring Darcey, Stacey, and their two friends. But first, Darcey teases the new season saying, "Yeah, you guys are going to be really surprised," Darcey explains. "You're in for a ride. Season 2 is gonna be amazing."
In the sneak peek, Darcey reveals the news to Reina and Debbie that she's now engaged. While all four chat in the kitchen with drinks, Darcey says, "Actually, I am just gonna have to let everybody know." She holds an avocado in her hand with the ring on it, confusing her friends.
"Why are you showing us an avocado?" Debbie asks. "I'm kind of scared."
"Putting it down, because guess what?" Darcey teases. She claps her hands together with her ring on full display. "Something beautiful happened."
Then, Reina sees the ring saying, "Oh my god. She has a f****** ring on." 
Darcey screams something inaudible, and Stacey laughs. Debbie says, "Dude I have the f****** chills. Darcey, shut the f*** up."
Reina says, "No, no." Adding, "I mean, I'm happy for you, but no. Are you kidding?"
Debbie asks if it's "fake," and Darcey says, "No."
Reina then questions when it happened, and Darcey explains it went down on a boat in Rhode Island. Debbie says she has "goosebumps," as Darcey shows the ring to Reina, who reveals that she's "dizzy." 
Reina tells the cameras that she's "wanted this for Darcey, for like, ever, and it's like real now. Like a guy really proposed to her. It wasn't her pushing him. It wasn't her buying her own ring."
Stacey says it will "probably be a long engagement," to which Darcey replies, "Hey, well yours was one of the longest ever." Reina reins them in, telling them to "shut the hell up."
They cheers with their drinks, and Debbie admits she's "kind of shocked" when she talks to the cameras, and says it's "way f****** too soon."
The fact that Georgi is still married gets brought up, and Reina adds that maybe it will "push the divorce." Darcey thinks it will, but we'll have to see how things play out from here.
When Reina and Debbie talk to the cameras together, Debbie says, "What the f***?" and Reina adds, "I'm f***** up over it," as she takes a swig of wine after repeating the same line again.
Darcey & Stacey will return with season 2, although a premiere date hasn't been announced, look for it to return this year.