'90 Day Fiance': Aladin Reveals the Real Reason He Split From Laura Jallali
'90 Day Fiance: The Other Way' couple Laura Jallali and Aladin Jallali were not able to make their marriage work. But they each have a different view of what went wrong between them.
90 Day Fiance isn't exactly known for its long-lasting relationships. In fact, it's quite the opposite. Most couples on the show don't make it past the reunion. But it's not necessarily the show's fault. The couples are typically made up of a young, attractive foreigner and a much older American. So the couples aren't exactly set up for success.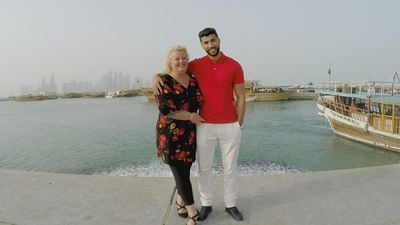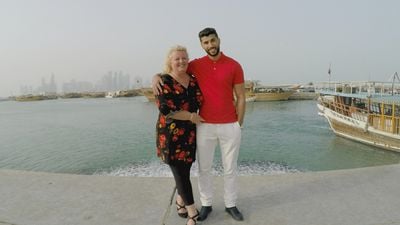 Though the odds are inevitably against them, people continue to sign up for these kinds of relationships and the show. On this new version of the reality series, 90 Day Fiance: The Other Way, there was one person who seemed committed to making her relationship work, and that was 51-year-old Laura Jallali. After watching just a few episodes, it was clear that Jallali was in love with her 29-year-old boyfriend Aladin Jallali. But it looks like the two were not able to make things work.
What does Laura say happened?
Laura and Aladin decided to get married only nine days after meeting. Somehow. Laura believed that this rushed ceremony would strengthen their bond and keep Aladin with her.
Over the course of the season, the two fought at every turn. One of their biggest arguments was over Laura's desire to use sex toys in the bedroom, which Aladin took great offense to. The two also lacked support from their families, as Laura's son could not get behind their union.
Despite all of these issues, Laura and Aladin still got married. But at the 90 Day Fiance reunion, the couple made it clear that things between them had gotten rocky.
"I want to fight for my marriage," Laura said. "I love Aladin and I thought he truly loved me…I don't know what's happened to him."
"I truly believed and trusted him," she continued. "I felt that our love was really real, but I don't know. I just don't know. I really thought he loved me. I really, really did," she said.
She made it clear that she believed that the reason that the two were no longer together was that she ran out of money.
"I have run out of money," she said. "And I have told him that I'm not going to be able to pay for the rent anymore. My pension has been cut."
Things only got worse after the reunion. While on a trip to Ecuador, Laura posted that she and her husband weren't able to reconnect following the show.
"OK, I lost my marriage due to this show, however what I have lost in a husband I have gained so many amazing, wonderful friends and I was able to work with a really fantastic cast," she said in a video on Instagram. "So, I lost something, but I have gained a lot. I so much appreciate your support and being with me and understanding and cheering me on all the time."
Why does Aladin say they broke up?
Though Laura claims that the breakup occurred when she ran out of money, Aladin has a different take on things. At the reunion, he said that he wanted to part ways due to a number of weeks of fighting and feeling disrespected by Laura. Aladin claims that the final straw was when Laura went to go get coffee without telling anyone where she was going.
As for the money issue, Aladin says that he and Laura paid the bills together.
"Yeah, I pay the rent," Aladin said to Laura via video chat at the reunion. "Do you pay the rent?… I pay two months, and you pay two months, okay? … I spend all my money for you. You know what. So calm down, calm down and don't talk about this subject."