'90 Day Fiancé': Andrei Says He Has 'No Relationship' With Elizabeth's Family, Calls Them Two-Faced
Andrei Castravet and Elizabeth Potthast seemed to be head over heels for each other when they first appeared on TLC's 90 Day Fiancé.
But the couple had plenty of problems to work through, too—like financial issues, Andrei's difficulties in getting and keeping a job, and Andrei's many conflicts with Elizabeth's family. Elizabeth also pushed back against Andrei's more rigid, traditional expectations for their relationship, as well as his often bossy demeanor.
Now, Elizabeth and Andrei are proud parents to baby Eleanor. But on the June 14 premiere of the fifth season of 90 Day Fiancé: Happily Ever After, the couple revealed that many of their former obstacles to happiness are still ongoing. Andrei revealed what he saw as the root source of his issues with his in-laws.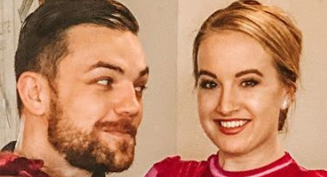 RELATED: '90 Day Fiancé': Angela Deem Accuses Michael Ilesanmi of Cheating and Lying on 'Happily Ever After' Sneak Peek
Andrei claimed that Elizabeth's family has 'no boundaries'
On the season premiere of 90 Day Fiancé: Happily Ever After, Elizabeth admitted that there had always been problems between her family and her husband.
"There's been issues with my family and Andrei since the beginning," the new mom said. "I was hoping that, once I got pregnant with Eleanor, things would change. But they didn't."
Andrei—who had previously fought with Elizabeth's sisters over what they saw as his too-strict expectations for their sister, and with Elizabeth's father over his inability to provide for his wife—claimed that the problems came primarily from his wife's relatives. "Elizabeth's family don't understand any boundaries, and they're always in my business," he complained.
Elizabeth added that her husband's conflict with his in-laws led to tension in her marriage, too. "It definitely seeps into our relationship and our marriage, and it causes us to fight at times," she said.
As Andrei and Elizabeth prepared to head to a party for her dad's birthday, Andrei complained that his wife's parents and siblings were "double-faced," meaning two-faced.
"My relationship with Elizabeth's family is nonexistent. I don't talk to them. I'm mostly seeing them at some family gatherings," he lamented. "They can laugh in your face, but the next day if you ask them to do something, they will just turn you down and say no to you. That's my biggest issue. Being a double-faced."
Elizabeth's family admitted that there's still plenty of tension with her husband
As Elizabeth's family waited impatiently for her and her Moldovan husband, Elizabeth's sister Jenn complained about the couple's perpetual lateness. The whole family was annoyed and joked about what a common occurrence it was for them to be kept waiting.
"Andrei and Libby are late, which is not surprising, because they're usually late to everything," Jenn told 90 Day Fiancé producers. "They tend to blame it on having a baby, but we all have kids, so I don't really find that as an excuse."
But Andrei had his own complaints to share, arguing that it was Elizabeth's family who often picked the fights. (And preview clips for the season suggest that Andrei will even attempt to physically fight Elizabeth's brother at a party.) "In this kind of situation, when Libby's family is around, we always have drama over here, because they're always find to find some mud to throw at each other," he lamented.
"Yeah, when you enter the room," his wife retorted.
Andrei announced an upcoming second wedding for the pair in Moldova—without Elizabeth's permission
Despite the tension in the room when Andrei and Elizabeth entered, Andrei seized the moment to invite his wife's family to a second wedding in Moldova. He'd promised his family that he and Libby would get married a second time, since many of them weren't able to attend their first wedding.
"I want you guys to know that I'm organizing a wedding in my country, and you're all invited," Andrei announced.
But Elizabeth and her family were less than enthused. "Why are you doing this right now?" Elizabeth asked him under her breath, clearly caught off guard.
Elizabeth told 90 Day Fiancé producers that her husband hadn't consulted her before invited her not-too-excited family members to a wedding they hadn't planned—in just a month's time.
"Andrei and I talked about having a second wedding in Moldova, but we didn't plan anything thoroughly, and it's way too early in our planning stages to invite people," Elizabeth exclaimed. "I am surprised, and I'm mad."
In addition to the dubiously-planned second wedding, Elizabeth and Andrei will also continue to battle financial and employment issues on 90 Day Fiancé: Happily Ever After. According to early trailers, Andrei still isn't working, leaving Elizabeth worried about their future and stability.