'90 Day Fiancé': Angela and Michael Fight Over Double Standards, Dr. Obeng
90 Day Fiancé couple Angela and Michael have had a lot of hiccups during their most recent season together. Angela Deem has been gunning for a variety of surgeries, which she's since gotten — Michael Ilesanmi didn't approve and wanted to focus on having a child. Now, things are getting heated again. Angela has been seeing Dr. Obeng more than Michael likes, and he's pointing out the double standards in their relationship given Angela's aggressive jealousy. 
Angela Deem got inappropriate with Dr. Obeng
When 90 Day Fiancé star Angela Deem went in for her bevy of appointments with Dr. Obeng, she was smitten. Dr. Obeng is an attractive African man born in Ghana, and Angela Deem couldn't seem to stop talking about it. Now, Angela and Michael are fighting over her actions in the doctor's office.
Angela Deem's repeated flirtation with Dr. Obeng seemed to make him uncomfortable. She told him he's too handsome to be her doctor, and that he smelled good.
Multiple times she discussed how handsome he is and how hard it will be to have such an attractive man touching her chest. Dr. Obeng tried to clarify several times that this is just a part of the medical procedure, but Angela kept trying to make it sexual.
"I'll come and examine you. I'll look at your arms, your breasts, your tummy," Dr. Obeng explained in a professional demeanor. Meanwhile Angela ooh'd and aah'd at the concept before erupting in a wheezing cackle.
"You like to laugh, huh?" Dr. Obeng adds.
"Well I haven't had my breast touched in six months, what do you think?" Angela shot back.
Angela and Michael fight over double standards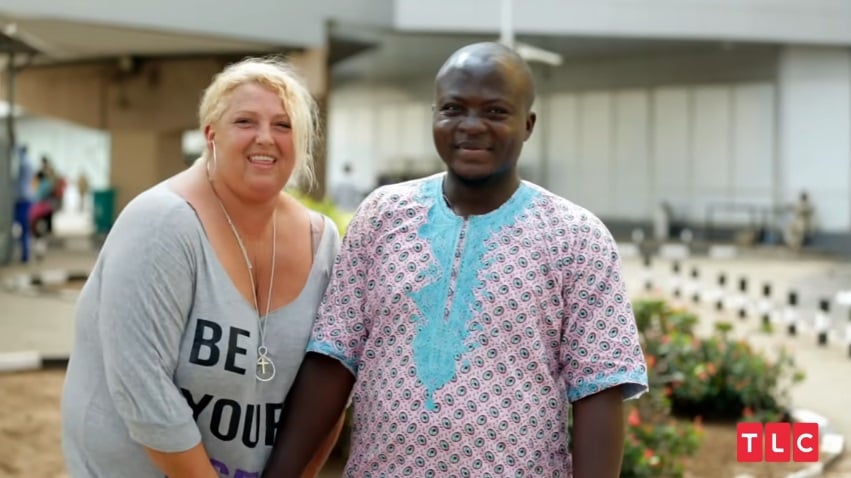 90 Day Fiancé fans were quick to call out Angela Deem for her double standards — she often flirts with men on the show and online, but meanwhile, she gets green eyes whenever Michael Ilesanmi so much as looks in the general direction of another woman. 
Angela and Michael finally addressed these double standards head-on during the 90 Day Fiancé Tell-All. 
"Michael, do you feel that your wife acted appropriately?" Shaun Robinson asked, after airing the footage of Angela interacting with Dr. Obeng. 
"He has to do his job, so…I feel uncomfortable though. I feel so, so, so jealous," Michael replied.
"I'm sure it was innocent, but it does make me think that if he did that she would probably be pi—- too, so," Kalani Faagata added.
Angela then revealed that she went to Dr. Obeng's birthday party in California. She then tries to say she thought she told Michael, who looks upset. When Shaun Robinson asked if Angela was ever alone with Dr. Obeng, she buried her head in her hands.
Shaun Robinson then told everyone that her producer says Dr. Obeng drove Angela home. She then claims she forgot about that too, just like how she forgot to tell Michael about the party. She adds that he drove her home because she was nauseous.
"Are you kidding me? If I was the one that did this, you would curse me out, say all sorts of things, right? Why didn't you tell me this before?" Michael fires off at Angela. She tells him to shut up.
RELATED: '90 Day Fiancé': Should Angela and Michael's Baby Conflict Be a Dealbreaker?