'90 Day Fiancé': Angela Catches Michael in a Lie During the Tell All, and It Has to Do With a Lap Dance
On 90 Day Fiancé: Happily Ever After, the virtual Tell All has finally arrived, and it couldn't be more drama-filled. But what would the end of season 5 be without Angela Deem and her new husband, Michael Ilesanmi, making an eventful appearance? These two did not disappoint, and Angela even catches Michael in a lie during the Tell All.
Angela Deem and Michael Ilesanmi talk about their trust issues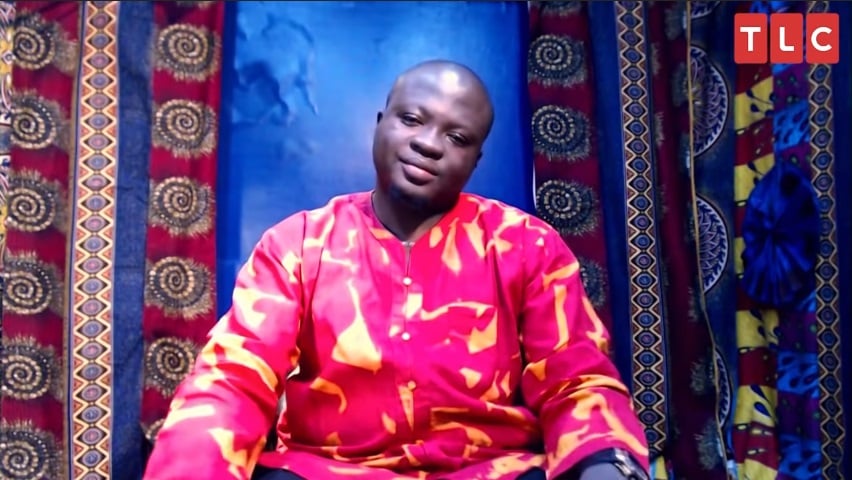 The host, Shaun Robinson, speaks with the couple in the first episode of the Tell All, and it's an eye-opening conversation. She mentions that Angela and Michael had issues with trust before getting married.
"He trusts me," Angela says.
Michael goes on to say that he trusts her, but it's a different story the other way around. "Yeah, I trust her, but when it comes to me, she, Angela doesn't really, you know, trust me a hundred percent," he says.
Elizabeth Potthast Castravet chimes in, and says Michael has given Angela a reason not to trust him. Angela thanks Elizabeth, and agrees.
Michael insists that he apologized to her. "You always apologize after you do what the hell you want to do," Angela snaps back.
Angela makes a joke that if Michael goes into the bathroom, she better be on the phone with him. She laughs about it, and the host then goes on to ask what Angela thinks Michael is doing when he doesn't answer his phone.
"The BJ," Angela replies while laughing. However, she says she's only joking, but Michael is clearly not happy that she brought that up. In the past, Michael admitted to Angela about receiving oral sex from a woman early on in their relationship.
Michael asks how Angela would know if he hadn't have told her that he received the BJ. She insists she'd know. "I believe when you love somebody, you can feel something wrong, and I've always been like that," Angela explains. She says that's how she found out about the BJ. She goes on to say that Michael can be "sneaky."
The joint bachelor and bachelorette party gets brought up next
Next, the events from the bachelor and bachelorette party come up. Michael and Angela went to a strip club, and at one point, Angela says she saw Michael looking at another woman dancing, and she left enraged. It was an explosive moment between them, and it was almost unclear at the time if the two would even get married.
Shaun, the host, asks Michael why he would take her there. He insists he didn't know, and his friend chose the club that they went to. He claims that he told her he didn't look, and things heat up from there on the virtual Tell All.
Angela goes on to say that she was dancing with Michael's friend in hopes that it would make Michael jealous. Michael says he trusts them both, so it was nothing.
Angela catches Michael in a lie during the Tell All
Shaun then brings Larissa Dos Santos Lima into the conversation, and asks her if she would mind if Eric Nichols received a lap dance at a strip club. She says she wouldn't care because they want the money, not Eric.
Then, Shaun asks Michael if he's had a lap dance, and this is where the trouble really starts for him. "Yeah, when I was in college," he replies.
However, that's a contradictory statement compared to what Angela says he told her. "What?" Angela asks. "Well he told, I did a lap dance for him and he told me I was the first one that did that. Michael's got many gosh damn secrets."
Michael insists it was back in college, and he mentions birthday parties. Angela goes on to say that sometimes she's self-conscious, and she was on the day she gave Michael a lap dance in lingerie. She says she did it because he had never had one. Angela clearly caught Michael in a lie about receiving a lap dance from someone else previously.
Colt Johnson chimes in and says he thinks Michael loves her, and Angela has a response to that. "And I love him back, but just like people love candy with diabetes, but it ain't good for them right?" Angela asks.
The subject quickly changes to the recent wedding they had in Nigeria. It's unclear if Angela and Michael are in a good place or not right now after that conversation. We'll have to see how the rest of the Tell All goes.