'90 Day Fiancé': Angela Deem Asks Michael Ilesanmi If They're Going to 'Make It'
Angela Deem and Michael Ilesanmi have finally gotten married in Nigeria. Although it should be a happy time, it's overshadowed by terrible news.
On 90 Day Fiancé: Happily Ever After, Angela Deem and Michael Ilesanmi have finally gotten married in Nigeria. Although it should be a happy time, it's overshadowed by the terrible news Angela receives. She learns her mother is unresponsive, and she's being taken to the hospital. Angela manages to get an earlier return flight home, where she barely makes it in time to say goodbye. After her mother's passing, Angela is truly going through a lot, and she has a conversation with Michael over the phone.
Angela Deem and Michael Ilesanmi get married in Nigeria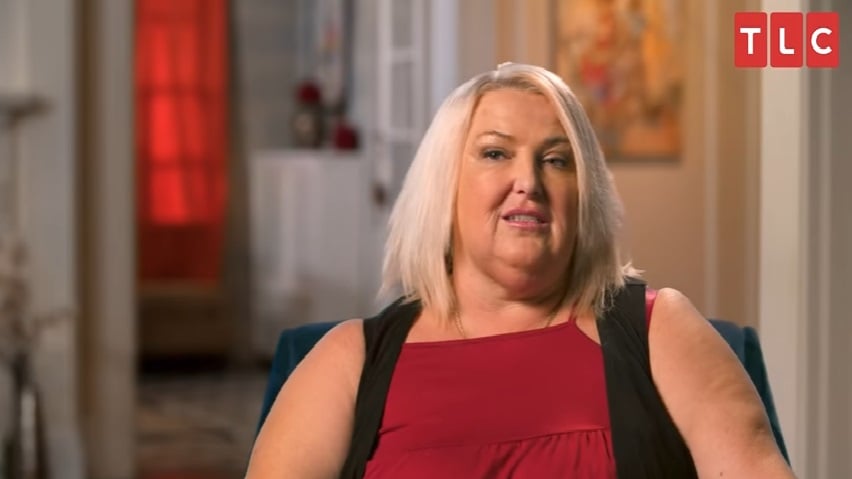 Angela decides to marry her fiancé, Michael, in Nigeria in hopes that it will strengthen their chances of approval for the spousal visa. The goal has always been for Michael to come to the United States, and they both hope this is the right move to make that happen. However, it isn't a guaranteed thing, and their future is still uncertain when it comes to whether or not the marriage in Nigeria will improve Michael's chances of getting to America.
"As we get closer to the ceremony, I keep thinking what a risk I'm taking in marrying Michael," Angela tells producers. "Because there is a chance that we get married and Michael still won't be able to come to the U.S. But, I know marrying Michael is the only way to be together in the United States."
Angela finally walks down the aisle toward her future, where she meets Michael at the other end wearing a purple suit. The wedding ceremony takes place, and when the person performing the ceremony asks Angela to repeat the words, "to obey," she has a hilarious reaction.
"What?" she asks. The words are then repeated, and Angela says, "Obey what? And obey who?" Then she laughs, and barely gets the words out. The couple finally finishes the ceremony, and they're officially married.
Angela receives bad news about her mother, and she barely makes it home in time
The happiness is quickly overshadowed when Angela gets a call from her daughter, Skyla. Angela tells the cameras that her mom is unresponsive and the ambulance came to the house. An hour later, she gets more information that her mom is in the intensive care unit of the hospital. Angela gets a return flight and rushes home to see her mother.
She gets back to Georgia, and goes directly to see her mother in the hospital. Luckily, she's responsive now, and Angela makes it back just in time. 10 days after her return, her mother passes away. Angela is devastated, and left to pick up the pieces. It's a trying time for anyone to be going through, and it's especially hard for Angela, who took care of her mother.
Angela asks Michael if they're going to 'make it'
Angela had to cut her trip in Nigeria short to come home to see her mother one last time. It's an extremely emotional time for her. Plus, she's away from Michael, but she is at least able to call him for emotional support, especially in a time like this.
"Michael's been great over the phone. The point is he's not here physically," Angela tells the cameras. "It's been two weeks since I returned home from Nigeria, and my mom passed away. Honestly, I miss Michael so much right now. Like I really need Michael here with me."
Angela calls Michael, and she says he has a way to use his words to "comfort" her. Michael says he wishes he could have met Angela's mother. Angela says she needs Michael with her, and that's completely understandable.
"It's just a big life event not having your partner here. I mean, it's not fair," Angela tells him. "That's why I wish you would hurry up and get over here. How long do you think it's going to take to get the d*** spousal visa?"
They discuss what they're lawyer told them, and that they need pictures in order for their lawyer to start the spousal visa process. Angela says she sent them all in. "Let's say, if it's faster, probably nine months, 10 months," Michael tells his wife when it comes to when they could be approved. "Max, 18 months."
"Do you think all this we're going through, we're really gonna make it, Michael?" Angela asks him.
"We're gonna make it," Michael tells her. "We just have to be strong for one another."
Angela is grieving, and she needs her husband with her by her side. Will Angela and Michael ever be together in the United States? We'll have to wait and see how things turn out for them.