'90 Day Fiancé': Angela Deem Blames Flashing Camera On Medication
90 Day Fiancé couple Angela and Michael have been clashing over a variety of things this season, and the Tell All episode brought everything to a head. Angela Deem revealed that she'd seen Dr. Obeng outside his office, which had Michael Ilesanmi feeling jealous and hurt. Angela doubled down instead of listening and started yelling and screaming at Michael's Aunt Lydia before finally flashing the camera. It was a lot to take in, and more than most 90 Day Fiancé fans wanted to see. Later, when Angela Deem blamed flashing the camera on medication, fans were not impressed.  
Angela and Michael argue over Dr. Obeng
90 Day Fiancé couple Angela and Michael got into a fight when it came to discussing Angela Deem's relationship with Dr. Obeng. Angela Deem was enamored of the surgeon, who helped her with multiple procedures. Michael was already uncomfortable with how much Angela flirted with Dr. Obeng. 
What he didn't know was that Angela had attended Dr. Obeng's birthday party without telling him — and that the doctor even drove her home. She claimed she forgot to tell Michael, and that the doctor only drove her home because she was nauseous. 
Michael Ilesanmi was not happy to hear that his wife had omitted her attendance to the party. He pointed out to Angela that he always has to tell her exactly where he is and what he's doing or else she gets upset with him. 
"Are you kidding me? If I was the one that did this, you would curse me out, say all sorts of things, right? Why didn't you tell me this before?" Michael asked. 
Angela Deem flashes the camera, blames medication
Angela and Michael became increasingly heated during the 90 Day Fiancé Tell All. Angela Deem told Michael to shut up and then proceeded to get into it with his aunt Lydia. Angela kept interrupting Lydia, and Michael eventually told Angela to let his aunt talk. 
"Shut your f——- mouth! You always do this s—. This is what he does when she is on the f—— phone. Didn't your bother tell you to tell her to stay out of your business?" she yelled, interrupting Michael repeatedly. Aunt Lydia tried to talk, and Angela interrupted her as well. 
The fight continued for quite some time, with Angela, Michael, and Lydia all talking over one another. Angela was, of course, the most foul-mouthed and the loudest of the three. Eventually she decided to flash the cameras. 
"That is my f—– husband. And there's nothing you can do about it, and you won't [unintelligible] about it. You mind your own business, you will not f—– tell my husband what to do. Suck on these brand new f—— t——," Angela Deem yelled as she flashed the camera.  
Later, Angela shared a clip of herself flashing the camera during the 90 Day Fiancé segment. Over the clip, she wrote, "Blame it on the medication." She added a laugh-crying emoji. 
'90 Day Fiancé' fans are not impressed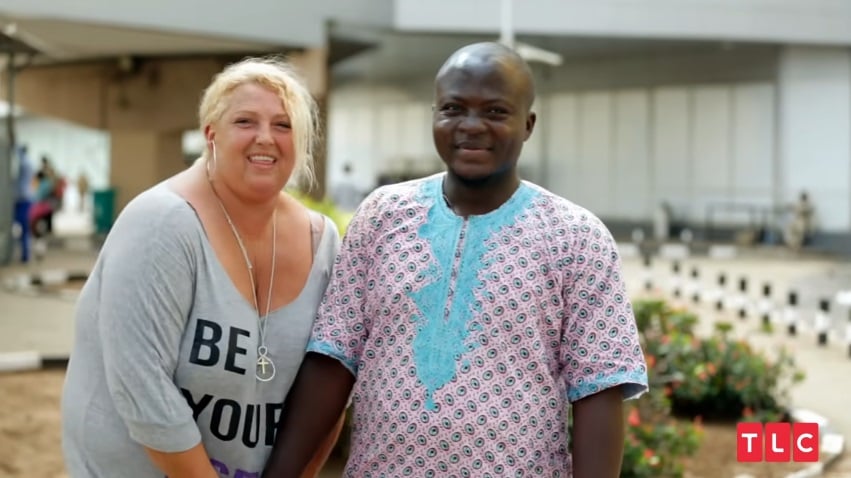 90 Day Fiancé fans were not happy with Angela Deem blaming her behavior on medication. Most of them mocked her claims. 
"I need to be aggressive, loud and super abusive to someone I'm supposed to love. But I don't feel quite at ease with it. Could I get some of your medication to help me through it?" wrote one Redditor.
"Side effects include: diarrhea, nausea, dizziness, flashing your breasts on television," commented another user. 
"I'm surprised she didn't blame it on the stress Micheal causes her… but not surprised she didn't take responsibility for her actions," opined another commenter.