'90 Day Fiancé': Angela Deem Calls Being Married to Michael Ilesanmi 'Hell'
'90 Day Fiancé' stars Angela Deem and Michael Ilesanmi tied the knot in 2020 even though his K-1 Visa had been denied — meaning he would not be allowed to live with his new wife in the US. Now, as she prepares for a new season of 'Happily Every After?,' Angela calls her relationship 'hell.'
90 Day Fiancé stars Angela Deem and Michael Ilesanmi tied the knot in January 2020. But their first year of marriage has been anything but blissful. In a new interview, Angela says that being married to Michael has been "hell," and she's already thought about divorce.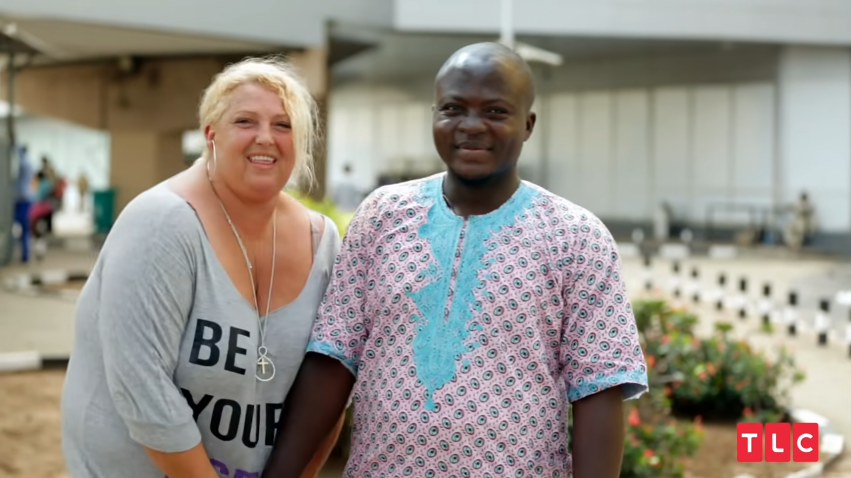 The '90 Day Fiancé' stars tied the knot in Nigeria
90 Day Fiancé fans are very familiar with Angela and Michael, as TLC has followed their relationship over multiple seasons and spin-offs.
They were first introduced in seasons 2 and 3 of 90 Day Fiancé: Before the 90 Days. Then, the couple was part of the cast of the main series, 90 Day Fiancé, during season 7.
After tying the knot in Michael's home country of Nigeria, the couple is now starring in the latest season of 90 Day Fiancé: Happily Ever After?. The new episodes show that they're still in a long-distance relationship during their first year of marriage.
There has also been a ton of drama between Angela and Michael over everything from trust issues to her getting weight loss surgery.
Michael Ilesanmi is still waiting for his visa approval
For more than three years, Angela and Michael have been anxiously awaiting for his K-1 visa to get approved so that he could move to Georgia from Nigeria.
In a late 2019 episode, it was revealed that Michael's application had been denied. But they haven't given up on the idea of him moving to America.
Their plan is for Michael to move to Georgia with Angela, one of her daughters, and her six grandchildren. She is the family's main provider, and she wants Michael to be "Mr. Mom."
None of this has happened, though, as Michael is still waiting for his K-1 visa approval in 2021.
The '90 Day Fiancé' has thought about divorce
Angela recently told Entertainment Tonight that her first year of marriage to Michael has been "hell." She claims it's been so bad that she's already thought about divorce.
"I was definitely talking to the lawyer," Angela revealed. "I said, 'I'm not gonna put up with this. If I put up with this with him all the way over there, what's it gonna be like here?'"
Angela says that Michael has changed since they got married, and fans will see that in the new season of 90 Day Fiancé: Happily Ever After?.
"At one point I was telling Michael, 'Somehow you changed since we got married and we're not even living together, yet. Like, don't take that for granted because there's always a damn divorce court around the corner,'" Angela explained. "I mean, we went to hell. We literally went to hell and it was bad, and you'll see that."
Michael and Angela have some serious trust issues
A preview of the new season revealed that both Angela, 54, and Michael, 32, are dealing with serious trust issues. One clip shows Angela shopping for a tracker to put in Michael's phone. She justified it by explaining that his recent behavior had been "upsetting."
"Being across the world, Michael does a lot of things, I don't know if it was to aggravate me or not, but he wouldn't answer his phone, he'll make me think he was doing something, so I decided to get a tracker on his phone,'" she explains. "I said he's doing something and whether it's not bad or not, it's still upsetting me."
The '90 Day Fiancé' star says long-distance won't work
Angela admits that Michael always gives her "reasons to explode." She says he knows how to upset her, but he likes it because it shows that she cares about him in "some crazy way." One of the biggest issues between them has been his objection to her getting weight loss surgery.
She did it anyway, but she didn't stop with a gastric sleeve. Angela actually got a ton of work done in one day — a gastric sleeve, liposuction, and breast reduction. She says she has lost weight and is feeling better since the procedures. But, surgeries can't fix what's really weighing on her marriage — distance.
"I know deep in my heart we love each other and we got a lot of stuff to work out, but we can't do it long distance, you just can't," she notes. "We made it this far, we're probably going to have more bumps. We're gonna have our ups and downs," Angela said.
Season 6 of 90 Day Fiancé: Happily Ever After? premieres April 25 on TLC and will stream on Discovery+.