'90 Day Fiancé': Angela Deem Discusses Her Fertility With Her Mom in 'Happily Ever After' Sneak Peek
90 Day Fiancé star Angela Deem, a 54-year-old grandmother of six from Georgia, finally plans to marry Michael Ilesanmi, her 32-year-old Nigerian fiancé, in his home country on the fifth season of TLC's 90 Day Fiancé: Happily Ever After.
In the first episodes of the 90 Day Fiancé spinoff, Angela planned for her trip across the globe to marry Michael and bring him to the U.S. at last. But she was worried—especially about her fertility and the scant possibility of having a biological child with Michael at her age. A visit to the gynecologist led to a health scare and the revelation that she didn't have any eggs left. Still, Angela still hoped to "tote a baby" with Michael using a donor egg.
In an exclusive E! News sneak peek of the upcoming June 21 episode of 90 Day Fiancé: Happily Ever After, Angela told her beloved mom—Glenda Standridge, who sadly passed away from ongoing health issues at the age of 77 in Feb. 2020—about her plans to carry a baby for Michael. Needless to say, Angela's mother was shocked at the news.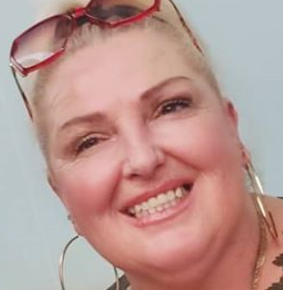 Angela told her mom about her latest doctor visit
In the sneak peek of the upcoming 90 Day Fiancé: Happily Ever After episode, Angela told TLC producers about her close relationship with her mother, who was in ill health at the time. "My mom and me have our ups and downs, but I'm very proud to be her daughter," Angela said. "She's a fighter, and I get it from her."
Sitting down with Glenda, Angela revealed that she'd had a period (or at least what she thought was a period) for the first time in years. The news had made her think that she might even be able to get pregnant on her own. "So, I went to the doctor the other day. I thought I had my period last week," she said to her visibly shocked mother. "I haven't had a period in two years."
"You're going through menopause early," Glenda told her daughter.
But Angela reminded her mom that it wasn't early for her to go through menopause at all. "No, I'm 54, Mother!" the 90 Day Fiancé star said. "I know I look good for 54," she added jokingly.
Angela's mom quipped in response, "No wonder I feel so old," making her daughter laugh.
The conversation turned a bit more serious when Angela revealed that the doctor had discovered some concerning things during her ultrasound—including an enlarged uterus.
"So, I decided to go to the gynecologist. And what she's worried about is the bleeding I'm doing and the lining of my uterus," the 90 Day Fiancé star said. "So she wants me to do an endometrial biopsy. It's to make sure you don't have no cancer cells and stuff."
The '90 Day Fiancé' star's mom seemed shocked at the idea of Angela carrying a baby at her age
Angela told her mom that she was especially worried about her reproductive health because she hoped to carry a baby for Michael in the future. "I'm gonna check on it," she said of her health concerns. "Because I gotta make sure I can tote a baby, can't I?"
Glenda responded in disbelief, "54? Carrying a baby?"
"Well, I carried two babies, Mama," Angela replied, referring to Scottie and Skyla Deem. "If anybody can tote a baby at 54, I can."
But the 90 Day Fiancé star's mother warned her that she might be acting too hastily. "You might as well stop," she advised Angela, adding that it was likely going to be too much stress on her body and mind to become a parent for the third time at 54. "You don't need no more youngins," Glenda declared.
Michael's fiancée seemed devastated about her mom's health
Angela told 90 Day Fiancé producers that she was worried about her mother's health. "Mama's not doing good," she admitted, as tears filled her eyes. "She's got pneumonia."
And, while she longed to get married in front of her mother before she passed away, the K-3 spousal visa that Angela and Michael were hoping to get required them to get married in Nigeria instead of in the U.S. "I'm going very soon to Nigeria to marry Michael," Angela explained. "So I need to tell my mom."
As she began to break down in tears, Angela admitted that—despite the happiness she hoped to find with Michael—it was tragic not to be able to involve her mother in the wedding planning process. "The most exciting thing for her life is to see me get married," the 90 Day Fiancé star said sadly. As she choked up, Angela lamented, "And she can't be a part of it."