'90 Day Fiancé': Angela Deem Flashes Crotch on 'Bares All', Gives Behind the Scenes Information About Tell-All
90 Day Fiancé star Angela Deem flashes her crotch, explaining what surgeries she plans on getting next. Then, the 90 Day Fiancé: Happily Ever After? star blames the medication for her strange behavior at the tell-all episode. Angela then breaks down new information on that now-infamous tell-all episode.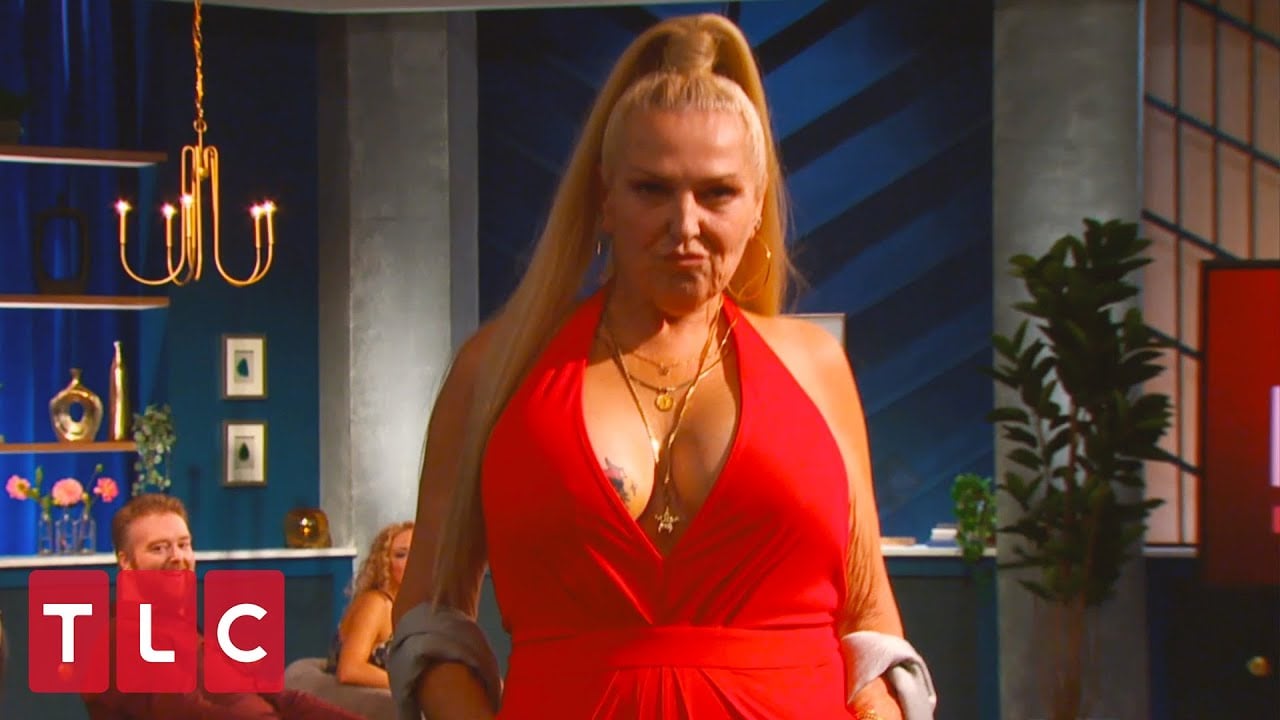 Angela flashes her crotch on '90 Day Bares All'
The host of 90 Day Bares All, Shaun Robinson, who also hosts the reunion episodes for the franchise, asked Angela about her cosmetic surgeries. Angela tells her that she wants to remove the extra skin around her arms and on her thighs in the Instagram clip. While explaining what surgery she wants to get done, she lifts her skirt, opens her legs, and shows her thigh skin. That's when she flashes the camera crew her crotch.
Anglea says that the black nylon she's wearing is "holding her together." Shaun asks which cameraman is behind the camera. She says, "You've just given Ortiz a show." That's when Angela continues to wave her leg around in a teasing manner. She asks Shaun if she could see anything through the nylon, in which the host replies that she could see "a little bit." That's when Angela says, "I'm so sorry. It's a granny crotch, don't worry about it."
Angela blames medication for behavior on '90 Day Fiancé' tell-all
The 90 Day Fiancé star said she blames her pain meds for her strange behavior at the tell-all. She says that she was fresh out of surgery and was advised not to fly. She explained that she and her daughter, Skyla, spent the night on the town in New York and then had trouble sleeping that night before the tell-all.
With the tell-all filming being early the following day, Angela blames the lack of sleep but mostly the medication for her odd behavior. She says that she took a pain pill that morning, which made her act strangely. Angela even said that she didn't know why she flashed the cameras. However, she stands by the message behind the behavior.
Angela reveals she hasn't spoke to Michael's Aunt Lydia since the tell-all
Angela had lost her weight thanks to the help of gastric bypass surgery. After she was unhappy with her breast reduction, she revealed her new, larger set of breasts to her cast members. The main reason that Angela freaked out at the Happily Ever After? tell-all episode was because her husband, Michael Ilesanmi's Aunt Lydia, disagreed with her about cosmetic surgery. That's when Angela flashed Aunt Lydia, then proceeded to flash the cameras before storming off the set for the second time.
In the recent update on Bares All, Shaun asks Angela if she and Aunt Lydia have made amends since that major blowout. According to Angela, she hasn't spoken to Michael's aunt since then. However, she did say that she "felt bad" about her behavior, especially for "cussing her out."
Angela is no stranger to showing skin on 90 Day Fiancé and isn't shy about flashing. She's undergone many surgeries and has even flashed her breasts to cameras. Though, it still came as a shock to fans to see Angela flash her crotch to the production, whether on purpose or by accident.