'90 Day Fiancé': Angela Deem Gets a Sign That She Might Be Able to Have a Baby With Michael Ilesanmi
Angela Deem and Michael Ilesanmi of TLC's 90 Day Fiancé became famous for many things—like having sex 38 times in two weeks, Donald Trump boxers, no shortage of explosive arguments, and the now-notorious phrase "tote a baby."
Angela, a 54-year-old grandma of six from Georgia, wanted to "tote" an egg donated by her daughter, Skyla Deem (who, by the way, patently refused to be an egg donor), in order to have a biological child with her 32-year-old Nigerian fiancé, Michael. Angela visited an ob/gyn who told her that, at her age, having a biological child was unlikely—but that didn't stop her from hoping against hope.
The upcoming season of 90 Day Fiancé: Happily Ever After premieres on TLC on Jun. 14, and it looks like Angela and Michael haven't given up on having a biological child together. On TLC GO's early sneak peek of the season premiere, Angela told Michael that she'd actually gotten her period after quite some time without it, which gave her hope that they still might be able to conceive a child together.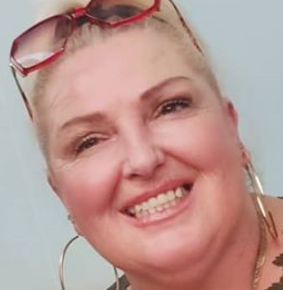 Angela said she needed to get Michael to the U.S. quickly due to 'her age'
Sitting down with her daughter, Skyla, to discuss her hoped-for future with Michael, Angela revealed the couple's tenuous immigration status on the season premiere of 90 Day Fiancé: Happily Ever After.
Michael had applied for the K-1 spousal visa in order to join Angela in the U.S., but his initial interview didn't go well. In fact, the American embassy recommended that Michael's visa application be denied. Still, Angela explained, they wouldn't know what was really going on until they received an official letter.
The 90 Day Fiancé star was especially concerned about her age, as she wanted to raise her grandkids and possibly even start a family of her own with Michael. "I don't know how long the K-1 visa letter's gonna take," Angela lamented. "It might not get here for six months to eight months, and it hasn't come yet. I'm not getting no younger, Skyla."
The grandmother of six added, "We're wasting valuable time with my age…I want to be able to do things with the kids and Michael, as, I got a husband and they got a granddaddy to do things with them."
The '90 Day Fiancé' star told her future husband that she had finally gotten her period again
Michael's American fiancée made no bones about the fact that she was still hoping for a biological child with her future husband. "It's going to be me and Michael, the six grandkids, and maybe a new baby," Angela told TLC producers.
Later, as she took Michael on a virtual "tour" of their new house in her home state—where they would hopefully live together—Angela told her fiancé that she had unexpectedly started her menstrual cycle again. The news made her think twice about her possible fertility.
"Michael, I don't feel good today. Are you ready for this?" she announced. "I am on my period."
Michael reacted with shock and glee, asking, "When did it start?"
"Four days ago," Angela replied. "I haven't had a period in two damn years!"
"Well, that's good," Michael said, hinting that starting a family might be an option for them after all. "That's a good sign, baby."
"I don't know what this means," Angela told 90 Day Fiancé producers of her surprising cycle. "But knowing how important a baby is to Michael, it gave me hopes that I could have my own biological child with Michael."
The grandmother of six planned to marry Michael in Nigeria so they could move forward with their relationship
Michael and Angela's desire to start a family of their own also made them anxious to be together in the same country as soon as possible. If they weren't able to make the K-1 visa work in time, Angela told Skyla that she planned to marry Michael in Nigeria instead—which would allow them to apply for the more readily accessible K-3 spousal visa, for already-married couples.
But Angela's daughter didn't see the plan in the same light that her mother did. "I knew you was gonna do this," she complained, clearly unhappy about her mom's choice.
Angela explained that this might be the only practical option to get her fiancé to the U.S. "Michael and I made a deal," the 90 Day Fiancé star said. "If I hear anything about the K-1 visa, Michael will come to the U.S. and have our 90 days, and get married here. But if the K-1 visa don't come through, we're going to get married in Nigeria."
Hopefully, she added, this would make the process that much faster—thereby allowing her to get pregnant before her time ran out. "I love him, and I just want to do what will get Michael here in the quickest way possible," Angela explained.
But Skyla warned her mom that she might be rushing into things too quickly because of her fertility issues and her eagerness to be with Michael. "I cannot believe Mama is actually going over there to Nigeria to marry Michael," Angela's daughter exclaimed. "Mama really needs to wait on the K-1 and have the 90 days, because she really needs to get to know Michael around her family and see how he acts under pressure."
Angela's daughter added that she might not be willing to travel to Nigeria to act as a witness to her mother's wedding if Angela didn't consult with a lawyer first to see what she was getting herself into.
"Mama really needs to think this through before she jumps into marrying Michael," the 90 Day Fiancé star's daughter advised. "For her to take this chance is scary. She might regret it."