'90 Day Fiancé': Angela Deem Gets 'Devastating' Health News and Jokes About Michael Ilesanmi's Genitalia in a 'Happily Ever After' Sneak Peek
Angela Deem and Michael Ilesanmi have overcome many hurdles on their journey to wedded bliss since first appearing on TLC's 90 Day Fiancé.
Angela, a 54-year-old hospice caregiver and grandmother of six from Hazlehurst, Georgia, met 32-year-old Michael, from Lagos, Nigeria online. Michael and Angela quickly struck up a heated romance. After meeting in person, they couldn't get enough of each other and got engaged.
Along the way, though, Michael and Angela have navigated jealousy and trust issues, obstacles to getting their K-1 visa, a significant age difference, and the disapproval of Michael's friends and family. Most of all, though, the May-December 90 Day Fiancé couple was concerned about being able to have a biological child together. Angela wanted to "tote a baby" using a donor egg from her daughter, Skyla Deem, but Skyla refused.
On a sneak peek of the upcoming June 22 episode of 90 Day Fiancé: Happily Ever After, Angela visited a gynecologist before heading out to Nigeria to see if she might be able to "tote a baby" after all. Instead, she found out some potentially frightening news.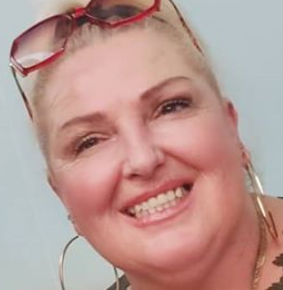 Angela visited a gynecologist to see if she might be able to 'tote a baby'
Before heading out to Nigeria for what she hoped would be the final time before their wedding, Angela visited a gynecologist to discuss her fertility.
The 90 Day Fiancé star had previously gone to a fertility clinic in Nigeria, where she was told she had a single egg left. Now, Angela had recently started her period after over two years without one—leading her to think there might be a chance she could have a biological child after all.
"I gotta go to the gynecologist to see if this period that I've started all of a sudden can help me tote a baby with Michael," Angela explained.
Introducing herself to her doctor, Dr. Carmela Pettigrew, Angela explained her unconventional situation. "I have a fiancé in Nigeria," she said. "He's 20 years younger than me, and he wants a family, and I'm 54."
"And you're still having a period?" Dr. Pettigrew asked in disbelief.
"Funny you mention that," Angela replied, "because I'm having a period. I just started. I haven't had one in three years."
Angela's clinician warned her that she might not get the news she'd hoped for. "At age 54, it's very unlikely that it is a period," Dr. Pettigrew explained. "And so sometimes that can mean something wrong is going on." She told Angela that the "egg" might have in fact been an ovarian cyst—but a vaginal ultrasound would help them figure it out, once and for all.
Angela wanted to know the cold, hard truth about her fertility. "With my age, do you think that it can happen?" she asked hopefully.
Dr. Pettigrew answered truthfully, "Honestly, at 54, it will be much more difficult physically."
The '90 Day Fiancé' star got bad news instead
Angela's doctor told 90 Day Fiancé producers that there might be an underlying health condition causing Angela's bleeding. "I know Angela is coming here, and she's very hopeful," Dr. Pettigrew said. "But with the abnormal bleeding and the cyst, hopefully I don't have to give her any bad news today."
The 90 Day Fiancé star didn't miss the chance to crack a joke as her doctor conducted the vaginal ultrasound. "Oh, Lord. That's bigger than Michael's penis," she laughed. "I'm just kidding!"
As the ultrasound continued, Dr. Pettigrew unfortunately had some bad news for Angela. "I'm not finding your actual ovaries," she told her patient. "Once you go through menopause, they just shrink down, and they're very, very small."
Sitting down with Angela after her ultrasound to discuss the results, the gynecologist broke the news that Angela was very unlikely to be able to get pregnant with Michael biologically. "I don't see any signs of [an egg], no," she told Angela. "Your chances of getting pregnant on your own are essentially zero."
The 90 Day Fiancé star told producers that the revelation left her brokenhearted. "When the doctor tells me I don't have any eggs left, I feel devastated," Angela said sadly. "If I can't have a baby for Michael, that really could ruin our relationship."
Still, Dr. Pettigrew said, there was still hope that Angela and Michael could have a baby together through other means. "You could get pregnant, more than likely, with in vitro fertilization with a donor egg," she explained.
Angela's doctor advised her to get a biopsy
What's more, Dr. Pettigrew had yet more upsetting news to share about Angela's health. The gynecologist told the 90 Day Fiancé star that she had an enlarged uterus and signs of a possible uterine fibroid, which could potentially be a sign of cancer.
"You do need to get an endometrial biopsy," the doctor told a serious-looking, stricken Angela. "Because when you're menopausal, and you have bleeding, the concern is that you might be growing uterine cancer. An ultrasound is not going to tell you that."
Angela asked sadly, "And if that came back positive, then we wouldn't tote a baby right now, right?"
"That's exactly right," her doctor agreed.
While Angela tried to stay positive about the news, she admitted that the outcome of her visit terrified her. While she'd believed she was just going to talk to her doctor about her fertility, now she had a cancer scare to navigate.
"Here I thought my biggest worry was not to be able to tote a baby for Michael," Angela told 90 Day Fiancé producers. "But now my biggest worry is, I could have cancer! That's terrifying for anyone."