'90 Day Fiancé': Are Angela Deem and Michael Ilesanmi Still Together After Explosive Tell-All Fight?
After the explosive 90 Day Fiancé: Happily Ever After? two-part tell-all event, fans are wondering if Angela Deem and Michael Ilesanmi are still married or not. Angela walked off the stage not only once, but twice, ending the conversation with Michael with "I'm done." Fans are left confused, wondering if they're actually done, or just another false breakup.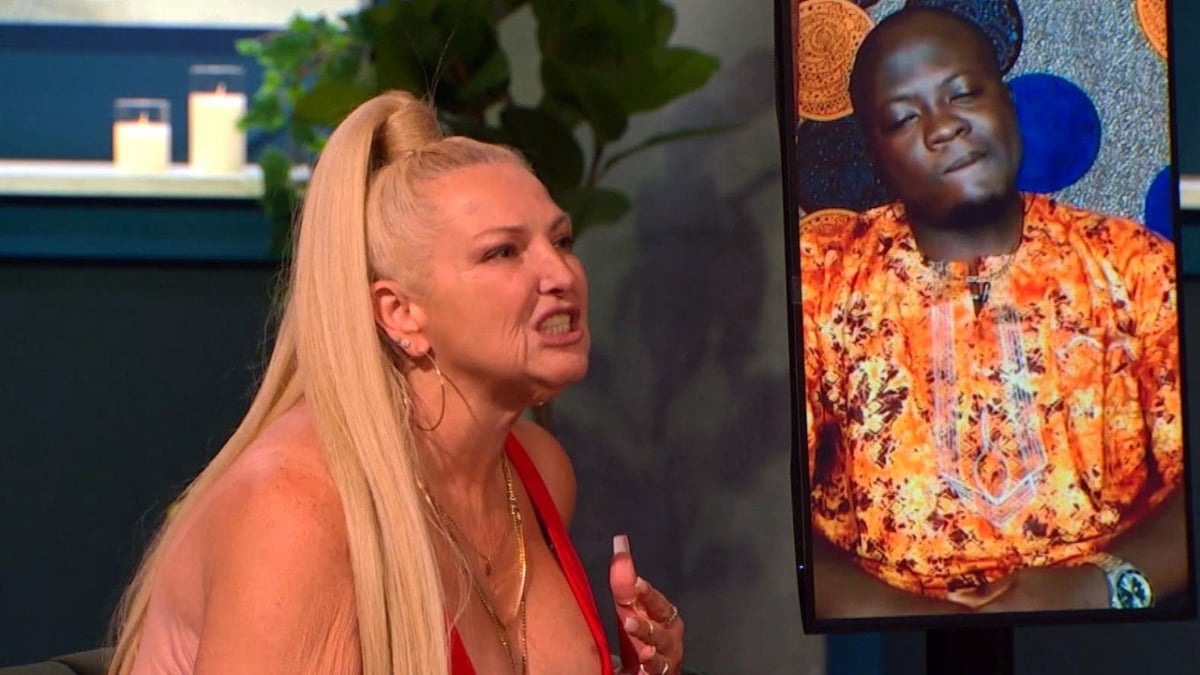 Angela breaks up with Michael at the '90 Day Fiancé: Happily Ever After?' tell-all
On the 90 Day Fiancé: Happily Ever After? Season 6 Tell-All part 2 special, which aired on Sunday, August 22nd on TLC, Angela made it clear that she wants to end her relationship with her husband Michael. Angela's final straw was after Michael's aunt Lydia said that Angela prioritizing weight loss and cosmetic surgeries over having a child with Michael was not right. Angela surprised cast members and audiences when she expressed her frustration by flashing Aunt Lydia and the cameras and proceeded to storm off the set.
After apologizing for her behavior, she returns. The conversation turned to the fact that Michael isn't being honest with her. She claims that she caught him in a lie about being at a party, which he denied. Angela yelled at Michael on video chat, "I don't want a divorce. I'll just do what I want to do. I got married in Nigeria, and it ain't legit here. F*ck you, have a good life. You go to hell, you son of a b*tch. We're done." She then stormed off the set for a second and final time. Once backstage, Michael calls Angela, where the conversation only gets worse. She tells her husband, "I'm going out … and I'm going to get some good attention." While she tells producers that she doesn't see this as a breakup, she isn't going to let Michael control her and she's going to do what she wants.
Angela confirms she and Michael are still a couple
While Angela claims it's not over fans thought that this explosive fight could have been the end for the 90 Day Fiancé couple. Despite their roller-coaster relationship, it appears that Angela and Michael are still together. The couple's internet presence still appears to be intertwined as they share an Instagram page and a Cameo account. The most recent post made on Saturday, August 21st, that the couple posted a photo of a fake account that is pretending to be the real Michael. Asking for support from their fans to help ban it by reporting it.
On August 1st, Angela and Michael's account posted a series of selfies of Michael, with the caption "Happy New Month fam," with the hashtag, "#letlovelead." The 90 Day Fiancé couple's social media account and posts seem to suggest that they're still very much together. While they might be together, many fans think that a breakup could be on the horizon for this newly married couple.
The on-again-off-again relationship of Angela and Michael
Angela and Michael married in Nigeria on January 27, 2020, but it appears that the honeymoon didn't last long for this couple. Angela and Michael have been separated due to the travel ban after the Coronavirus (COVID-19) pandemic. During this time, Angela has described their long-distance marriage as "hell." After going through with weight loss surgery in the hopes of being healthier to eventually "tote" Michael's babies, she is now completely against the idea of carrying his children at the age of 55 due to health risks and with the fact that she doesn't want to feel pressured into having more children.
With the lack of trust, Michael's family putting pressure on Angela to have children, and the border closures, it seems unlikely that this couple will be able to continue on much longer. Some fans have expressed their concern for the health of their relationship, calling them toxic and even going as far as calling Angela's behavior abusive.
Regardless of their issues, it seems that this 90 Day Fiancé couple will continue to try to make their long-distance marriage work, despite not having any of the same goals for their future. While it is possible that the couple will be featured in the future, the only updates fans will be getting will be the ones provided by the couple on their joint Instagram account.
RELATED: '90 Day Fiancé': Angela and Michael Fight Over Double Standards, Dr. Obeng