'90 Day Fiancé': Angela Deem Runs Away Screaming and Vomits In New 'Happily Ever After' Sneak Peek
90 Day Fiancé star Angela Deem and her younger fiancé, Michael Ilesanmi, have always been open about their many differences.
In addition to their three-decade age gap, Angela is a grandmother of six from rural Georgia, while Michael is a childfree, never-married man from Lagos, Nigeria. Angela and Michael have clashed many times due to Angela's jealousy and their cultural differences, especially when it comes to gender norms and their expectations about their lifestyle. Michael seems comfortable with the Nigerian way of life, while Angela describes herself as a diehard American.
In a new sneak peek of an upcoming episode of TLC's 90 Day Fiancé: Happily Ever After, the couple's differences were more obvious than ever when they visited a local Nigerian market in preparation for a family dinner. Angela was so disturbed by what she saw at the food market that she ran away screaming, causing a scene as onlookers watched.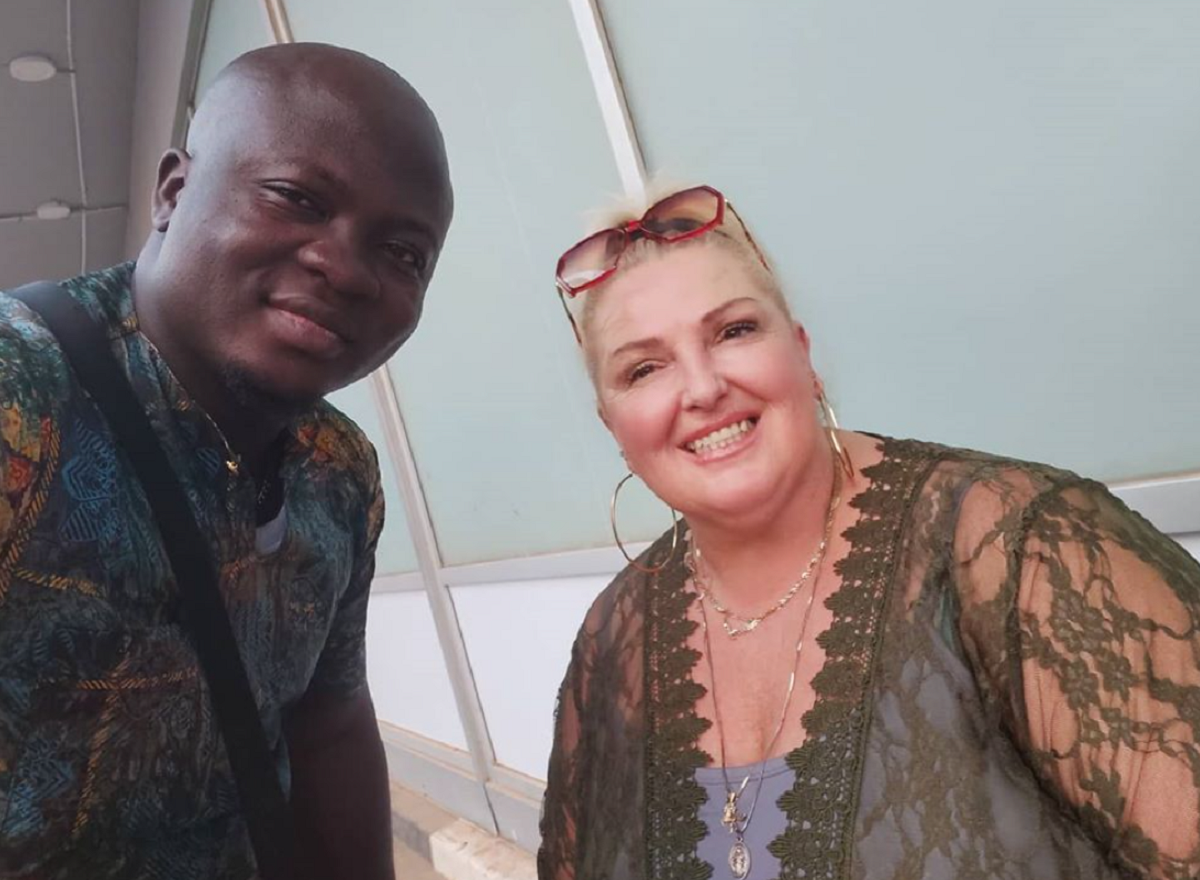 Angela and Michael visited a local market to buy food for their evening meal
Shortly after her arrival in Nigeria, Angela headed out to a local outdoor food market with Michael. Her fiancé explained that they were buying food at the market because his mother and Aunt Bisi were coming over for dinner to discuss the couple's wedding plans. Michael and Angela planned to get married in Nigeria in a matter of weeks, so there were plenty of details to work out.
But as the 90 Day Fiancé couple pulled up to the market, Angela was immediately confused. "I thought we were going to a grocery store market," she said, looking at the open-air fresh market and complaining about the oppressive heat. "F*ck, I can't do this," she exclaimed.
"This is how we buy groceries in Lagos," Michael explained.
But Angela wasn't impressed. She told 90 Day Fiancé producers that she immediately felt uncomfortable as they browsed the rows of produce, meat, and rice. "Pulling into this market, I already know this is not going well," she admitted, swearing under her breath.
Michael's bride-to-be grew increasingly uncomfortable in the unfamiliar environment
Angela explained that she was used to a very different shopping experience. "I go into a grocery store, where it's air conditioner, where things are processed, canned, you know?" she described of her approach to food shopping in the U.S. "Just looking around, I don't like what I see."
The grandmother of six looked visibly uncomfortable as she and Michael bought rice from a vendor. "Do you have some that's in a bag?" Angela asked the seller, who obliged her by placing the rice in a can and then in a plastic bag. "I don't want it scooped out from the top."
Next, Michael wanted to buy tomatoes so they could make homemade sauce for the rice. Looking like she desperately wanted to leave the market at any moment, Angela refused. "Michael, this is getting out of hand now. We're just going to order a pizza," the 90 Day Fiancé star urged her future husband.
"My mom doesn't eat pizza," Michael objected, seeming confused as to why his bride-to-be was so horrified by her surroundings.
Angela ran away in horror after seeing goat heads on display
But the final straw for Angela came when Michael wanted to purchase meat for their dinner. The rows of freshly butchered animals and large cuts of meat disgusted the 90 Day Fiancé star.
"We are getting goat," Michael announced. In response, Angela pulled her shirt over her nose and mouth, seeming to get nauseous from the smell.
"No, we're not!" she yelled, as Michael pulled her towards the meat vendors. "I'm not going down there and getting no meat. No, no, no, no, no, Michael!"
Angela grew increasingly panicked, until she finally glimpsed a row of goat heads, complete with eyes and tongues intact. "Aaagh! I'm done!" she screamed, running from the market as Michael followed her in shock. Curious onlookers watched as the 90 Day Fiancé star made a scene.
For his part, Michael was bewildered by his fiancée's reaction. "She saw a goat's head. She freaked out," he told 90 Day Fiancé producers. "She ran past me—she almost hit me, push me to the gutter. Why [are] you so scared of the goat's head? She was so nervous."
Angela gagged and vomited next to the car multiple times before she unleashed her repulsion on her fiancé. "I'm not a Nigerian woman, Michael. I'm American," she yelled. "I ain't eating no frickin' goat's head. F*ck that s*it, man. You ain't getting me sick."
"Some things I can't do, man," the 90 Day Fiancé star continued, turning to throw up again. "I can't live like this. God, thank you for the United States of America."
Michael apologized and tried to calm Angela down, but she wasn't having it. "I can't go back to that meat. I probably got malaria now," she declared. "You know I'm a hypochondriac, and I'm feeling sick."
"I'm sick to my guts from seeing it," Angela continued, imitating the dead goats' lolling tongues. "Like, the goat head was sitting—two of them!—on a table, like, 'Help me.' And they're dead!"
The 90 Day Fiancé star declared in no uncertain terms that she was ordering a pizza for dinner, especially after the market had turned her stomach.
What's more, she complained to TLC producers, she didn't understand why Michael hadn't anticipated how horrified she would be by the market. "I can't believe Michael brought me here and made me buy these dead animals and goat heads," Angela exclaimed, adding that he couldn't expect his American fiancée to be comfortable with Nigerian customs.