'90 Day Fiancé': Angela Deem Tells Michael Ilesanmi He Can 'Keep That Green Card and Stick It Up His A**' in New 'Happily Ever After' Sneak Peek
90 Day Fiancé stars Angela Deem and Michael Ilesanmi have never seen eye to eye when it comes to gender norms and expectations.
Michael, a 32-year-old man from Lagos, Nigeria, has somewhat more traditional ideas about gender differences. Meanwhile, 54-year-old Angela, a grandmother of six from Hazlehurst, Georgia, is unapologetically outspoken and seems to want to take the upper hand in her relationship with Michael. Before their wedding in Nigeria, those differences became even more obvious, as reality set in and they began to discuss what their life together would really be like.
In a new sneak peek of an upcoming episode of TLC's 90 Day Fiancé: Happily Ever After, Angela and Michael argued about how to divide the labor in the kitchen as they prepared to make a meal for Michael's aunt and mother. Angela accused Michael of wanting her to "act like a Nigerian woman" and even screamed at him about wanting a green card.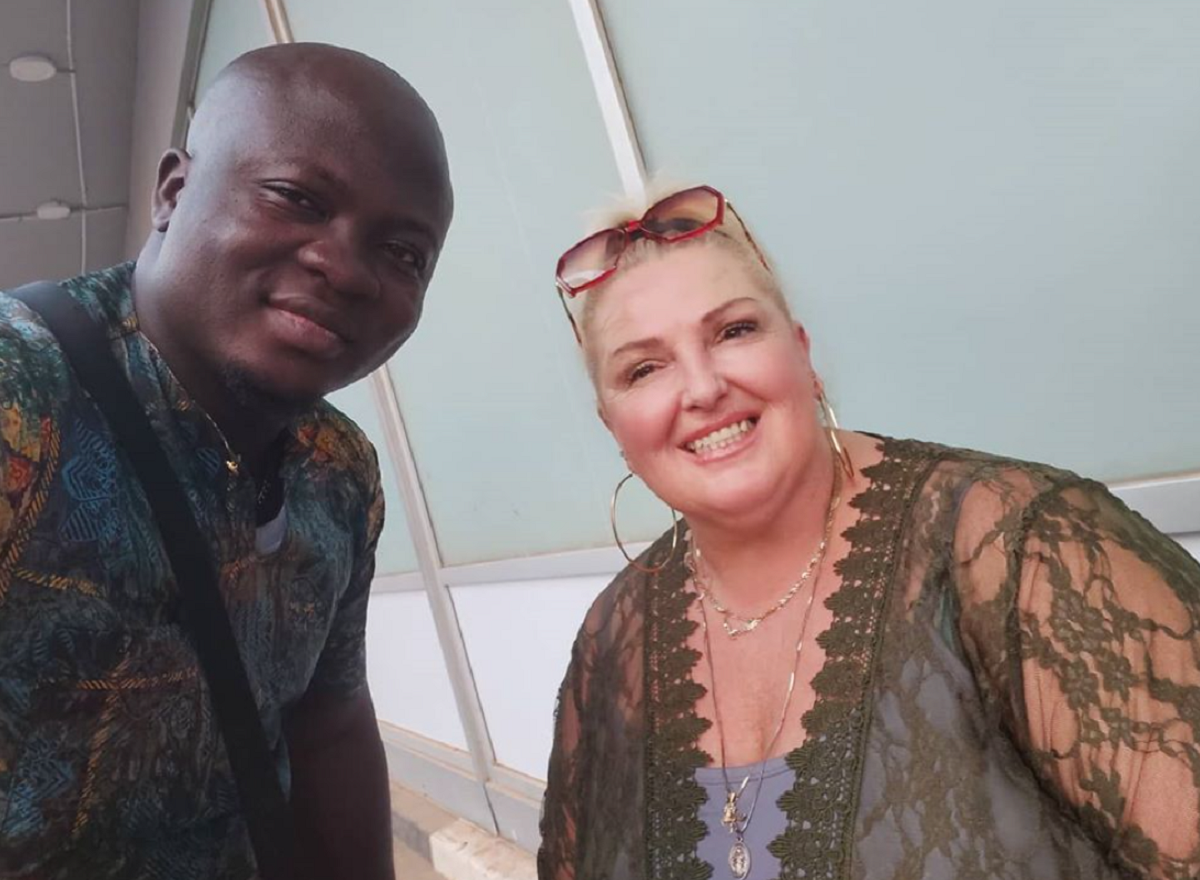 Michael asked Angela to prepare food for his mother and aunt
Shortly after Angela's arrival in Nigeria for their wedding, Michael and Angela traveled to a local outdoor market to buy food for an evening meal with Michael's mother and aunt. Michael explained that he wanted to sit down with his future wife and female relatives so they could plan their upcoming nuptials.
On the way to the market, Angela immediately told Michael that she expected him to do the cooking. "Cook them what you know how to cook," she declared.
But Michael reminded Angela that, in his cultural tradition, it was a woman's job to prepare and serve meals. "You need to serve the food for dinner," the 90 Day Fiancé star said. "We are in Nigeria."
Angela immediately began to complain that she couldn't be expected to follow Nigerian customs.
"Listen, every time I come to Nigeria, I'm not doing that Nigerian woman thing now," the 90 Day Fiancé star yelled, adding that she expected Michael to push back against his family's expectations. "Tell your mom this is how it is."
"When they come to my apartment, the rules change to the American," Angela continued. "They need to know how we do it. You're gonna help me in the kitchen. You're gonna help me set the table. I'm not giving a damn."
Michael promised his fiancée that he didn't expect her to follow his traditions forever—just for now, while they were in his home country. "This is Nigeria. When we get to the States, it will be different," he assured her.
But Angela wasn't having it. "No, you want me to live like a Nigerian woman. I'm not!" she exclaimed.
The '90 Day Fiancé' stars argued about their expectations for marriage
When describing his ideal marriage, Michael told 90 Day Fiancé producers, he did expect some division of labor according to gender. He was willing to compromise somewhat, however.
"Me picturing the wedding lifestyle, you know, married lifestyle, I think my wife should be the one cooking," Michael said. "But I also assist, but mostly to be her cooking and serving the family, you know?"
Meanwhile, Angela said she wasn't planning to change her behavior for any man—even Michael. "He'll see, because I'm not doing any of that s*it," she said in no uncertain terms.
"I'm not waiting on y'all," Angela told Michael as they made their way to the market. "And if that's what you're waiting on for me to get married, you're wasting my time, because there will be a divorce. And you can keep that green card and stick it up your a**."
Michael seemed deeply offended by Angela's reference to the visa he'd need to live in the U.S. with her—and the insinuation that that's what he wanted from his bride-to-be. "Stop that. I'm not marrying you because of [a] green card. Stop that talk, please," the 90 Day Fiancé star said.
But Angela insisted that their relationship wouldn't work out if Michael didn't learn to teach his family to "respect" American culture and her way of life, especially when they were in her living space. "This is my apartment!" she yelled.
Her future husband asked her pointedly, "It's your apartment or our apartment?"
"It's mine," Angela declared. "It's ours," Michael retorted. "Then pay for it," Angela snarked in response.
While Michael said that their money was entirely shared, Angela reminded him that that wouldn't be the case until they were legally married.
Angela exclaimed that she was not going to 'act like a Nigerian woman'
Angela told 90 Day Fiancé producers that Michael needed to "learn what she expected of him," now that they were finally about to get married. And, if he couldn't adhere to those expectations, she suggested that they might not be right for each other after all.
"First of all, I didn't come to Nigeria to be the cooker. I'm not cooking a damn thing," Angela sneered.
Michael assured his American fiancée that he didn't expect her to "act like a Nigerian woman," as she so often claimed. "I am not saying you should act like a Nigerian," he promised her.
"Well, I'm not going to!" Angela screamed in response. "Get it through your thick skull."