'90 Day Fiancé': Angela Deem Tells Michael Ilesanmi She Won't 'Bend Over' For Him In Explosive New Sneak Peek
Angela Deem and Michael Ilesanmi got into a massive argument in a recent sneak peek of an upcoming episode of TLC's '90 Day Fiancé: Happily Ever After.'
Angela Deem and Michael Ilesanmi have had a rollercoaster relationship since they first appeared on TLC's 90 Day Fiancé: Before the 90 Days. And on recent episodes of the fifth season of 90 Day Fiancé: Happily Ever After, the 54-year-old grandmother of six from Hazlehurst, Georgia, and her 31-year-old future husband from Lagos, Nigeria, their road to their wedding day in Michael's home country has been as turbulent as ever.
After reluctantly agreeing to marry Michael in Nigeria due to K-1 visa delays, Angela argued with her younger fiancé constantly over their cultural differences and romantic jealousy. Angela particularly bristled at comments made by Michael's Aunt Lydia, who argued that wives should be "submissive" to their husbands.
In a new sneak peek of an upcoming 90 Day Fiancé: Happily Ever After episode, Angela and Michael got into a major brawl after Angela's stand-off with Aunt Lydia.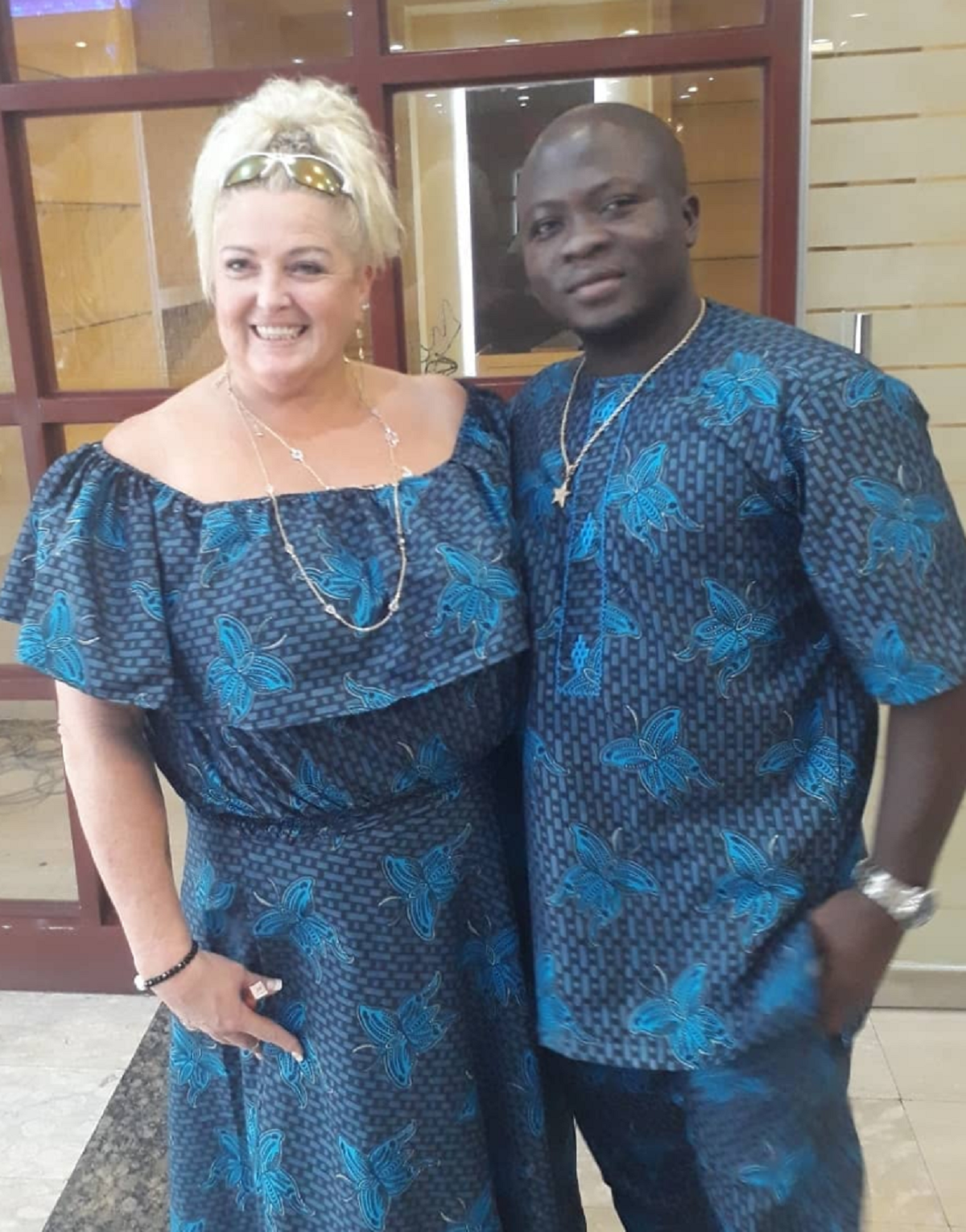 Michael said he felt he had to choose between Angela and his family
After Angela stormed out of the restaurant, Michael's aunt confronted him about his future wife's behavior.
"Do you really want to still marry this woman?" Lydia asked her nephew, arguing that Angela was condescending and controlling of her husband-to-be. "With what I've seen, she's just making you to feel as if you are a child."
Michael sighed and explained that he'd been with Angela for "three years already," so he wasn't fazed by her actions anymore.
"Nothing that she does surprises me now," the 90 Day Fiancé star assured his aunt. "I know I will be able to handle her."
But on the way back to the apartment he shared with Angela in Nigeria, Michael shared his concerns with TLC producers. Michael admitted that he felt as though he had to choose between Angela and his family, which wasn't fair to him. He wanted to achieve a peaceful resolution for all the important people in his life.
"I'm getting married soon, and I want both sides to be happy," Michael explained. "My wife-to-be to be happy, and my family's side to be happy as well."
Angela claimed that Michael didn't 'stand up for her' to his family
When Michael got back to the apartment, Angela was waiting for him with her teeth bared, ready for a fight. She immediately declared that the wedding was off.
"I'm done. It's done," Angela exclaimed. "You ain't done nothing but lie to her and me. You lie to me all the damn time, and now you lie to her."
Angela explained that she felt betrayed by Michael, especially because he refused to inform his family that she wouldn't be a submissive wife. The 90 Day Fiancé star claimed that Michael's behavior was dishonest on both sides.
"When Michael refused to stand up for me and stayed with his aunt at the restaurant," Angela lamented, "that right there told me that he's been lying to me this whole time, or he's lying to his family."
She continued, "Michael already knows that I am not—and I repeat, I am not—going to be the submissive wife that they suggest to Michael that I be." Angela complained that Michael's refusal to "speak up for her" with his relatives showed that he wasn't fully devoted to her.
Angela informed Michael in no uncertain terms that she wasn't about to change for him or any man.
"I walked up on you telling her I will change," she snapped. "F*ck, I am who I am, and you take it or leave it."
Michael remained calm as Angela yelled, although he was visibly upset. He pleaded with Angela to calm down and stop raising her voice, but she wasn't having it.
"You can lie all day in a calm voice," she pointed out as her temper flared. "I don't sit back here and pretend to be something I'm not."
The argument almost turned physical on Angela's part before she stormed out
As the argument escalated, Angela demanded that Michael leave the apartment altogether. The 90 Day Fiancé star declared that she didn't want to spend one more moment with him in the same space.
"Get your a** out of here, pack your bags, and go to your mama's," she demanded. But Michael refused, saying they just needed to calm down and talk things out.
When Angela started gesturing wildly with her hands, Michael said she needed to back off and give him space.
"You need to put your hands down," Michael told Angela.
"Make me! Make me!" Angela screamed in response, flicking her hands near Michael's face.
Finally, Angela turned in disgust and began to pack her bags to leave. "F*ck you! You little f*cking boy!" she yelled, yanking her suitcase out of the apartment. "I'm not gonna sit here and degrade myself no more. This is what I gotta put up with to say 'I do?' Well, f*ck it. I say I won't."
Angela told Michael that she was headed to a hotel. "I want a new man. I don't want you no more," she exclaimed. Michael begged her to stay, but Angela delivered a tirade about her frustrations with Nigerian culture and his family's expectations before storming out.
"There's nothing wrong because I won't kiss your f*cking a**," the 90 Day Fiancé star exclaimed. "When I do something wrong, I won't bend over and let you put a d*ck in me. When you do something wrong, I'm supposed to cook you a f*cking meal?"
"B*tch, who do you think I am? I'm an American! God," Angela yelled as she left.
Meanwhile, Michael told 90 Day Fiancé producers that he thought the issue was simply a "misunderstanding" on Angela's part.
"I'm taking 'submissive' as, make your husband happy, make your wife happy," Michael explained. "I don't want any issues. I just want a peaceful and successful marriage. That's it."
Visibly devastated, Michael buried his head against the apartment door in despair after Angela left.