'90 Day Fiancé': Angela Deem Thinks Her Intestines Are a Baby and Still Wants to 'Tote an Egg' On 'Happily Ever After'
Angela Deem and Michael Ilesanmi quickly became one of the most popular and talked-about couples on TLC's 90 Day Fiancé: Before the 90 Days. The significant age difference between 54-year-old Angela, a grandmother of six from Hazlehurst, GA, and 32-year-old Michael, who hails from Nigeria, raised some eyebrows—along with Angela's jealousy and her often outrageous behavior.
While many fans thought Michael and Angela were a mismatch, leaked wedding photos suggest that the couple did ultimately get married and apply for a spousal visa.
On the upcoming fifth season of 90 Day Fiancé: Happily Ever After, trailers and preview clips show that the problems between the couple, from cheating accusations to cultural differences, are far from over. But most surprisingly, it looks like Michael and Angela are still hoping to have a biological child together.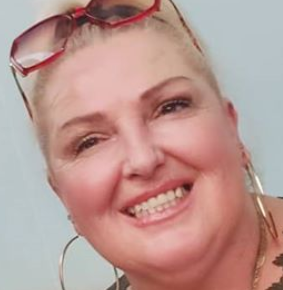 Angela pushes back against the idea that she should be submissive to Michael
In one clip from 90 Day Fiancé: Happily Ever After, which premieres on TLC on Jun. 14 at 8 p.m. EST, Michael's relative lectures Angela about being an obedient wife to Michael. Angela has pushed back against this notion in the past, and it doesn't look like she's any fonder of it now that she's actually married to him.
"As a Nigerian, you have to be very submissive to your husband," Michael's relative (possibly his mother) tells Angela.
But Angela isn't having any of it. "And I told you I'm not doing that," the 90 Day Fiancé star retorts angrily.  
Later, in an explosive fight about their respective gender roles in marriage, Angela curses at Michael and screams, "I am who I am, and you can take it or leave it!"
"You need to put your hand down," Michael replies, as Angela begins to point in his face.
"Make me! Make me!" she yells, waving her hands in his face aggressively as the fight escalates.
The '90 Day Fiancé' star wonders if Michael is cheating in another clip
In another clip, it looks like Angela is still worried that Michael isn't ready to be completely faithful to her. "Me and Michael fight a lot, and then we make up a lot," she tells TLC producers.
When Angela and Michael are on a phone call, they get into a major fight over an unfamiliar ringtone on Michael's phone. "What was that?" she asks him suspiciously.
"It's the ringtone," Michael replies.
But Angela isn't convinced that there's nothing shady going on. "What? Why are you nervous about that ringtone?" the 90 Day Fiancé star demands. "So who is the ringtone for?"
Michael assures her, "It's a general ringtone, baby. I don't set it."
His wife doesn't buy it. "I've never heard that ringtone before, and I've heard your phone ring!" she screams.
Still, Angela insists that she and Michael will stay together—come hell or high water. "We love each other, and we're going to be together, one way or another," the 90 Day Fiancé star says confidently.
The '90 Day Fiancé' couple is still hoping for a baby
Angela and Michael made headlines because of their desire to have a biological child together, despite Angela's advanced maternal age.
The mom and grandma famously wanted her daughter to donate an egg—so Angela could "tote an egg" and hopefully give birth—after she found out that she had only one egg left, according to a fertility doctor. Angela's daughter refused to be an egg donor for her mom, but the couple didn't give up on their hopes for a baby.
While many 90 Day Fiancé fans were dubious about the couple's ability to have a biological child together, it looks like Angela still hopes against hope. "There's a baby in there," she says reverently during an ultrasound in one clip from 90 Day Fiancé: Happily Ever After.
Angela's clinician corrects her, "That's intestines."
Baby or not, Michael and Angela's journey on the upcoming season looks like it'll certainly be eventful.