'90 Day Fiance': Are Ariela and Biniyam in Trouble? New Season Teases Ex-Husband Drama
90 Day Fiancé: The Other Way Season 3 is coming soon, and it's bringing back Ariela Weinberg and Biniyam Shibre. The couple met in Biniyam's home country of Ethiopia, and despite the ups and downs in their relationship, the two seem to have made it work. That being said, the new season of The Other Way teases some major drama, including Ariela's ex-husband coming to visit her in Ethiopia. That's left some 90 Day Fiancé fans wondering if Biniyam and Ariela will be able to make it work, and if the two will ever make it to the United States together. 
'90 Day Fiancé' preview teases ex-husband drama
Both Ariela and Biniyam have been married before, and it seems the coming season of 90 Day Fiancé: The Other Way will see part of Ariela's past coming back into her life.
In an announcement that shocks Biniyam and his family, Ariela tells them that her ex-husband will be coming to their home to visit her in Ethiopia.
"I won't let him take Ari back to America," Biniyam tells the cameras. 
The preview then shows Ariela's ex-husband and Biniyam duking it out with training pads. Eventually, Biniyam has her ex-husband down on the floor and puts him in a choke hold. Her ex-husband taps out, and Biniyam seems to ignore it.
Later, Ariela is leaving Ethiopia, and Biniyam expresses concern that he'll never see her again as the camera follows her entering the airport. 
"It was very scary to say goodbye to her. I don't have much confidence that they'll come back," he tells producers. Later, we see the two chatting over a video call.
"You left me," Biniyam tells Ariela. 
"I will never go back to Ethiopia after what you have done to me and Avi," she replies. It remains to be seen what Biniyam has done, but it has left some fans wondering if the couple will be able to stay together.  
Will Ariela and Biniyam stay together?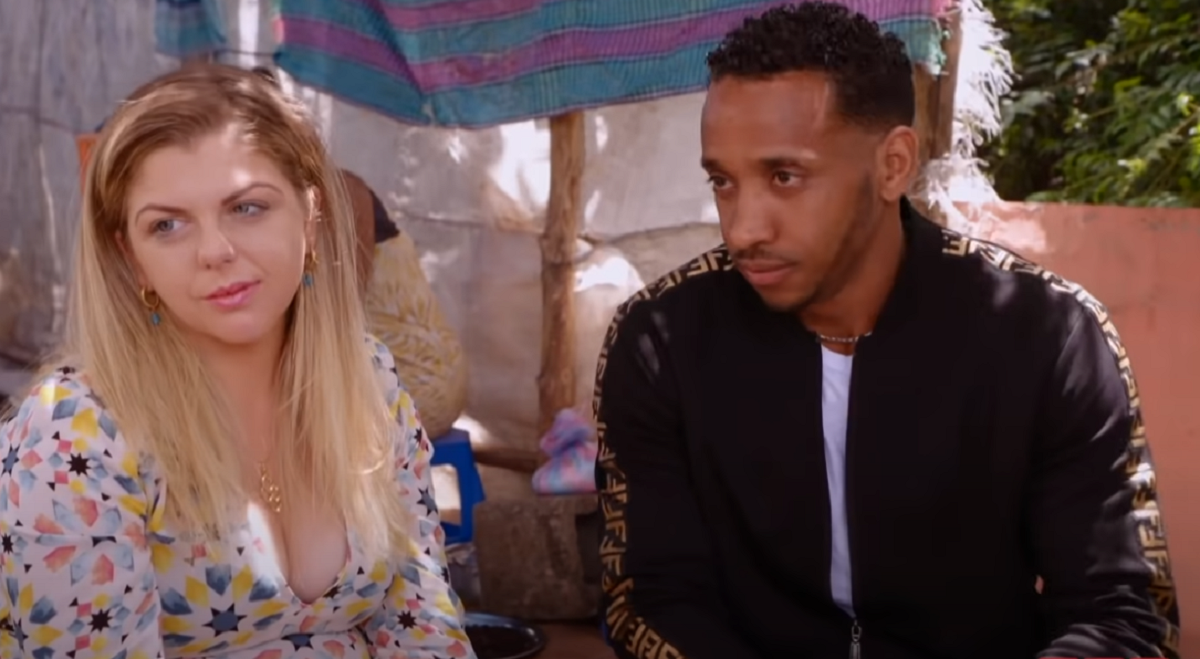 [Spoilers ahead for '90 Day Fiancé': The Other Way Season 3.]
90 Day Fiancé star Biniyam Shibre has struggled with obtaining a visa to stay in the United States. He was denied three times during his marriage to his ex-wife, an American, and was allowed to visit only for the birth of his son. 
Now that he and his first wife have divorced, it may look somewhat sketchy on Biniyam's visa application that he's trying again with a second American woman. Biniyam, Ariela, and fans alike have been left wondering whether or not the 90 Day Fiancé star will ever get his visa. 
This, combined with the currently unknown thing Biniyam has done to upset Ariela, has left their future murky.
However, a fan sighting has suggested that the two are staying together now in New York City, and don't have immediate plans to return to Ethiopia. 
"[W]ell anyway, fast forward to me waiting around like a total goon to find out who it is, and I see Biniyam walk downstairs and right by me!," posted the Redditor who sighted the reality star. 
"Someone at the restaurant told me that he and Arielle are staying here indefinitely and are considering moving here, but they were talking about how they don't have jobs," they added. 
Meanwhile, a New York-based aesthetician added photos of Ariela Weinberg getting her new lip fillers done. Ariela reposted them to her own Instagram story, furthering fans' suspicion that she is in New York.  
The two also frequently share photos together, and are often posting about their son, Aviel. It seems as if the two are indeed in a good place, but the coming season of The Other Way will tell us more.